Key points:
CarMax stock fell despite the company's revenues surging 48.8% to $7.7bn.
Investors ignored the news in a classic 'buy the rumor, sell the news' event.
So should you buy CarMax stock? Read on to find out…
The CarMax, Inc (NYSE: KMX) stock price plunged despite reporting excellent Q4 and Full-year 2021 results. The company sold 343,413 units in Q4, representing an 11.3% increase from the figures reported in Q4 2020.

The company sold a total of 1,630,550 during the entire year and generated $7.7 billion in revenues, a 48.8% increase from the FY 2020 revenues.
CarMax's net revenues surged 68.3% to $31.9 billion, yet investors were largely unimpressed by the excellent results.
Maybe investors were concerned about the weak results reported in Q4 2021 as the company's net earnings in Q4 fell 22.8% to $159.8 million compared to Q4 2020. However, the firm's annual earnings grew 54.2% to $1.2 billion.
It is not clear why CarMax shares fell instead of spiking higher, but the stock had recouped some of its losses at writing.
The company's financing unit also showed significant improvement after its income rose 3% in Q4 to $193.8 million, but the annual figure stood out because it grew 42.4% to $801.5 million.
CarMax also grew its share of the retail market to its highest level since the current CEO took over, reflecting its ability to deliver a customer-centric experience within the auto industry.
Unfortunately, the sellers outnumbered the buyers pushing the CarMax stock price lower despite the positive full-year results.
Bill Nash, the CarMax president and CEO, said: "We are extremely proud of our accomplishments in fiscal 2022, which we believe position us well for continued long-term growth across our retail and wholesale business and CarMax Auto Finance,"
Adding:
"The rollout and rapid adoption of our online instant appraisal offer has solidified our position as the nation's largest buyer of vehicles from consumers, nearly doubling our fiscal 2022 inventory self-sufficiency and propelling our wholesale business to new heights. We continue to expand the availability of our end-to-end, unaided online experience, and we expect to have this capability available to 100% of customers by the end of our first quarter. We also continue to enhance our finance-based shopping experience, further positioning our business for growth."
I would buy CarMax shares at current levels since they have formed a bottoming pattern on the daily chart. However, a break below the $94 level would invalidate the bullish thesis, and I would get out of the trade.
CarMax stock has the potential to rally to the $120 level if they break above the $105 level shown on the chart below.
*This is not investment advice. Always do your due diligence before making investment decisions.
CarMax stock price.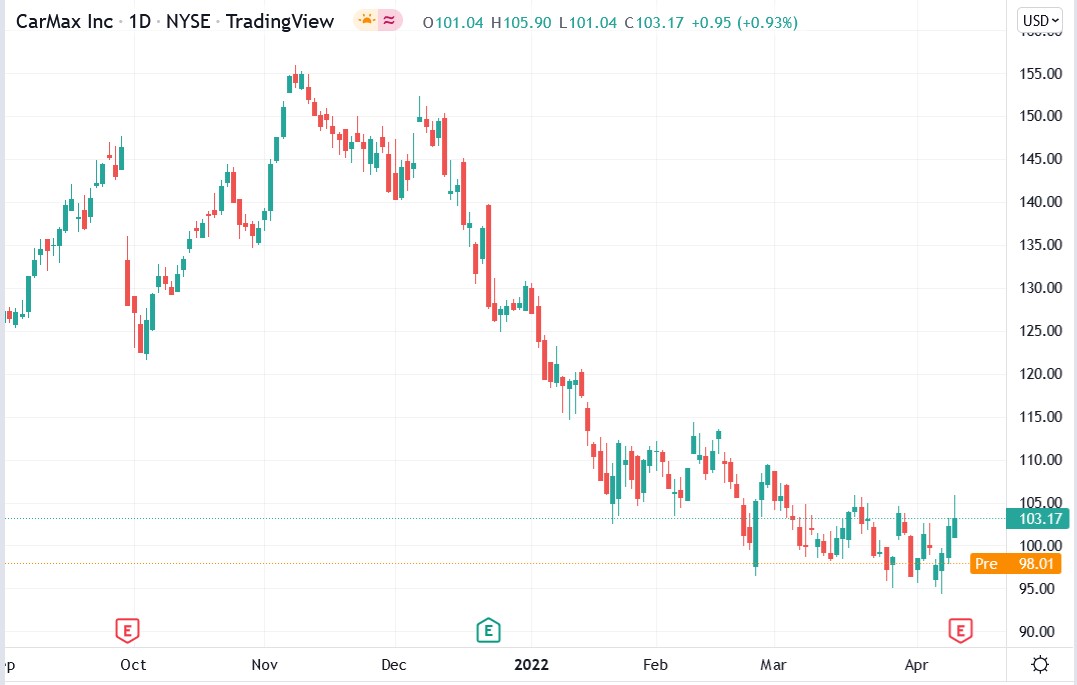 The CarMax stock price plunged 5% to trade at $98.01, falling from Monday's closing price of $103.17.