Key points:
The SQQQ stock price has risen 28.2% this year, attracting attention.
Many investors are wondering if they should buy the inverse 3X short ETF.
However, buying an inverse short ETF is not suitable for retail investors.
The ProShares UltraPro Short QQQ ETF (NASDAQ: SQQQ) stock price has risen 28.2% this year as the US stock markets fell. And you might be wondering whether it is an excellent time to buy the ETF as the markets seem likely to keep falling.

Firstly, investors should know that SQQQ is a 3X inverse short ETF that tracks the price changes of the Nasdaq exchange but in the opposite direction. Therefore, the ETF tends to rally when the NASDAQ falls and vice versa.
SQQQ has attracted much attention after the massive selloff that saw the Nasdaq index fall heavily at the beginning of the year, which drove the inverse ETF higher. Therefore, it is only natural that investors consider adding the ETF to their portfolios.
However, I believe that buying SQQQ stock is a bad idea for most investors, except for those professional traders, investors and institutions that use the ETF as a hedge against potential market declines.
Still, even these sophisticated investors do not hold SQQQ for long periods due to the high fees associated with holding the inverse ETF compared to other solid ETFs with much better long term returns and lower risk profiles.
SQQQ's long term returns are horrible. The stock is a known destroyer of investor capital, with some estimates putting its long term returns at negative 1 million per cent given the vast number of reverse stock splits that have been executed to shore up its prices.
Earlier this year, SQQQ conducted yet another reverse stock split to shore up its prices after last year's rally erased almost 90% of its value as the NASDAQ surged higher.
Given that stock markets tend to rise over time, investing in an inverse short ETF that tracks the stock market is a recipe for disaster over the long term.
Most professional traders and institutions that buy and sell the ETF do so to hedge their long-term stock market bets.
Therefore, while SQQQ's recent gains make it attractive, I would urge most retail investors not to buy unless as a hedge since the chances of losing one's capital by holding the ETF are just too high. There are better ways to invest your money in the markets.
However, I understand that there are investors who know how to use the ETF to hedge their bets, and I salute such investors who keep the ETF alive. I am staying far away from this ETF.
*This is not investment advice. Always do your due diligence before making investment decisions.
SQQQ stock price.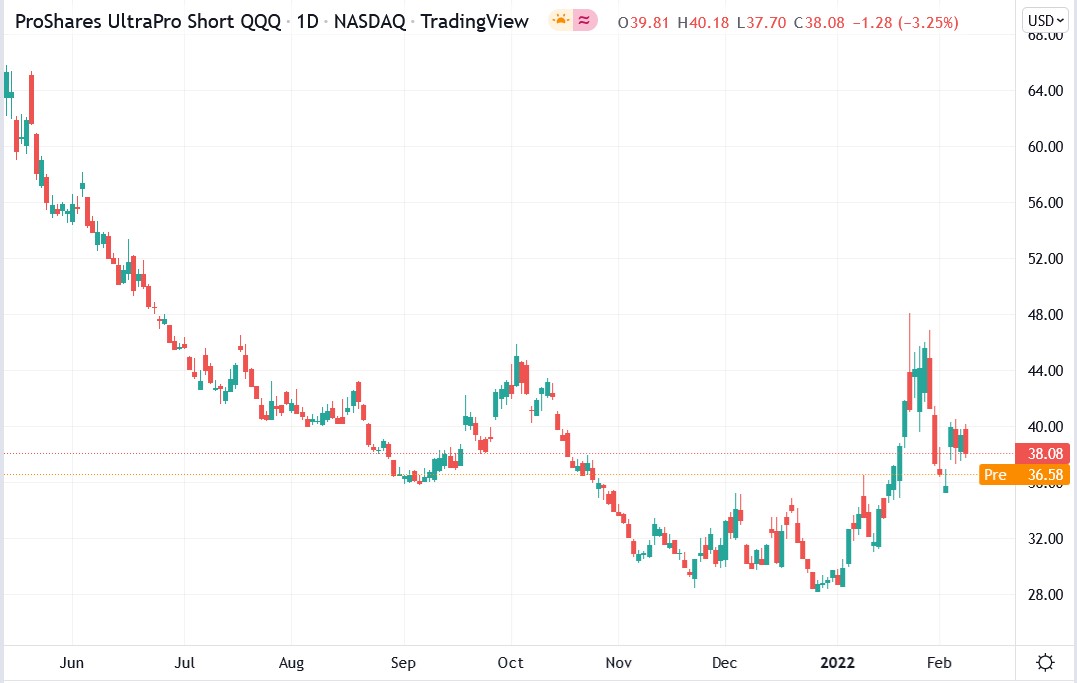 SQQQ stock is up 28.22% in 2022 as the US stock markets fell. So should you buy the short ETF?