Shares of  Skinbiotherapeutics PLC (LON: SBTX) rose 13.4% after the life sciences company released its financial results for the six months ended December 31, 2020, which were better than expected.
The company reported a healthy cash position of £5.5 million at the end of December following October's £4.45 million capital raise via an open offer.
The firm reported several other milestones, including completing the combined and formulated blend of probiotic food supplement, AxisBiotix-Ps™, by its partner Winclove, which was achieved ahead of schedule.
Skinbiotherapeutics also started the consumer study of its AxisBiotix supplement, which treats aggressive skin conditions by balancing the gut microbiome to stop the overproduction of new skin cells.
The firm is also collaborating with Croda, the chemicals giant, to incorporate its SkinBiotix technology into cosmetics products. The two firms are currently focused on scaling-up the manufacture of lysate to commercial volumes, with 2022 being the target date for commercialisation.
Stuart Ashman, kinBioTherapeutics' CEO, said: "We acted decisively and swiftly in adapting our AxisBiotix-Ps™ food supplement consumer study into a format that allowed for remote participation, which we successfully launched post-period end. Our SkinBiotix cosmetic programme is progressing on schedule, with Croda/Sederma making excellent strides on both the manufacturing and commercial positioning sides. We anticipate seeing significant progress in both areas of work during 2021."
The company has adequate financial resources to explore using its technology in other areas by expanding its virtual R&D operations into true in-house capability.
The company spent £205,027 on R&D costs, which is almost half of the £423,214 spent on operational costs, adding up to its £628,241 pretax loss compared to the previous year's £889,002 pretax loss.
Skinbiotherapeutics share price.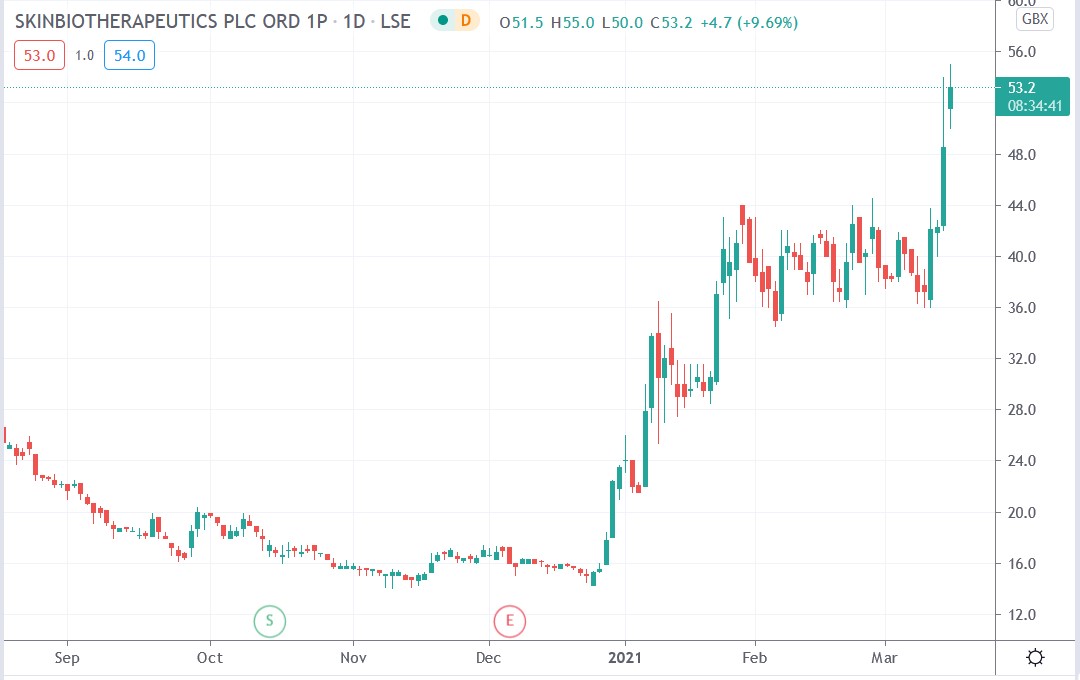 Skinbiotherapuetics shares surged 13.4% to trade at 55p after rising from Friday's closing price of 48.5p.