Shares of Snap Inc (NYSE: SNAP) are rallying premarket on Friday after the company reported revenue increased 66% to $770 million in the first quarter of 2021 compared to the previous year.

Snap's share price premarket is trading 5.82% higher at $60.37.
While the company's revenue topped analyst estimates, the social media platform also reported that daily active users grew 22% to 280 million, above analyst estimates of 275 million.
Daily active users increased sequentially in North America, Europe and the Rest of the World, according to the company, and for the first time, the majority of Snap's users were using the Android version of its app.
Snap's net loss in Q1 came in at $286.9 million or $0.19 per share, narrowing from the $305.9 million or $0.21 net loss in Q1 the previous year.
Looking ahead, the company forecast revenue to be between $820 million and $840 million for Q2 2021, while it estimates Adjusted EBITDA will be between -$20 million and breakeven compared to the -$96 million in Q2 2020.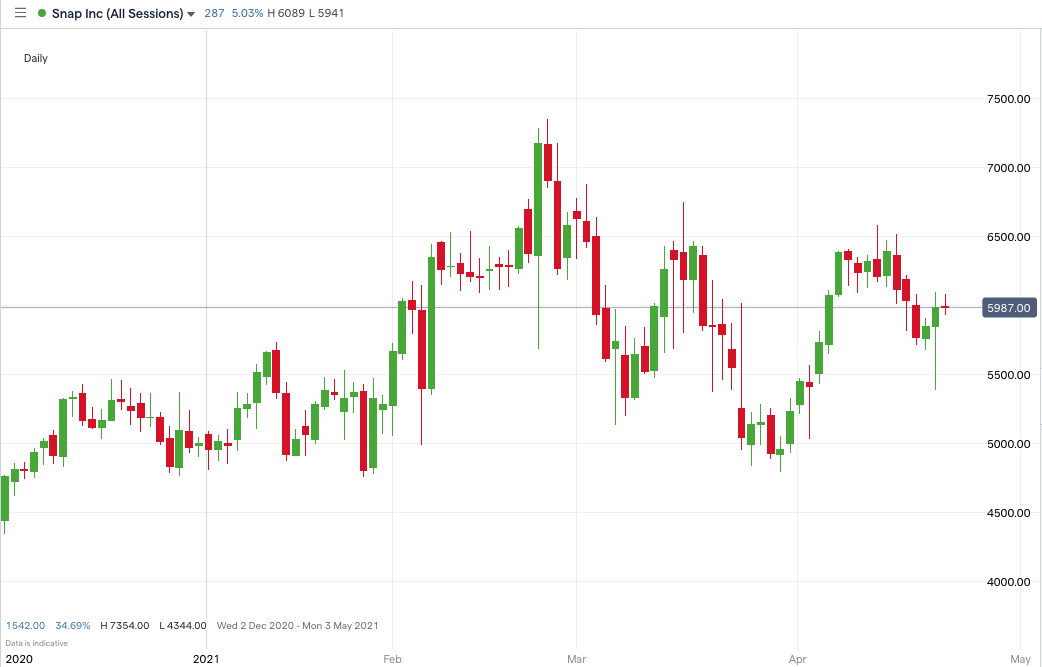 "We began 2021 by achieving our highest year-over-year revenue and daily active user growth rates in over three years during the quarter, and delivering positive Free Cash Flow for the first time in Snap's history as a public company," said Evan Spiegel, CEO.
"The strength of our business underscores our relentless focus on product innovation and is a testament to our team's ability to execute well together over the long term," added Spiegel.
Following its earnings report, Snap's price target was raised to $75 from $66 at Barclays, while Piper Sandler reiterated its $83 target, saying their long term thesis was unchanged.
Should you invest in Snap Inc shares?
Tech stocks offer some of the best growth potential, but time and time again, traders and investors ask us "what are the best tech stocks to buy?" You've probably seen shares of companies such as Amazon and Netflix achieve monumental rises in the past few years, but there are still several tech stocks with room for significant gains. Here is our analysts view on the best tech stocks to buy right now