Key points:
SOC Telemed shares soared 335% on an overpriced takeover offer.
Patient Square Capital is acquiring the acute telemedicine company.
Investors cheered the acquisition, as evidenced by today's rally.
The SOC Telemed Inc (NASDAQ: TLMD) stock price soared 335% during premarket trading after accepting a takeover offer from Patient Square Capital valuing each of its outstanding shares at $3.00.

The acquisition price represents a 366.1% premium to SOC Telemed's closing price on Wednesday, 2 February 2022. As a result, investors cheered the announcement, evidenced by the rally in SOC Telemed's share price.
The company, which provides acute care telemedicine, revealed that its current CEO, Dr Chris Gallagher, who assumed his role in September 2021, will continue leading it after it becomes a private company following the deal's approval.
SOC Telemed's shareholders will be called to an extraordinary general meeting to approve the acquisition, with the board recommending the all-cash deal since it unlocks significant value for shareholders.
The company already has the approval of shareholders owning about 39% of its outstanding shares but needs the approval of a more significant percentage of shareholders.
Steve Shulman, SOC Telemed's Chairman, said: "Patient Square Capital's acquisition of SOC Telemed, which is the culmination of a comprehensive process, represents a compelling opportunity for all stakeholders. After being approached by Patient Square Capital, we formed an independent committee of the Board, which thoroughly reviewed the proposal with the assistance of independent financial and legal advisors."
Adding:
"Following the independent committee's unanimous recommendation, the Board unanimously determined that the all-cash offer unlocks maximum value to stockholders and that the experience and resources of Patient Square Capital would best position the Company for growth in the years to come. Lastly, today's announcement is a testament to the hard work of the SOC Telemed team, which worked tirelessly to achieve an optimal outcome for our stakeholders."
Dr Chris Gallagher, SOC Telemed's CEO, said: "Today's announcement validates SOC Telemed's market-leading technology-enabled clinical services platform for acute care telemedicine, which we have deployed across more than 1,000 facilities nationwide,"
Adding:
"The last several years have revealed the critical ways that technology can expand access to care, improve clinician efficiency, and enable more cost-effective care delivery. Achieving those goals will require focus, time and meaningful investment in the years to come. We believe that as a private company, with the expertise and support of the team at Patient Square Capital, SOC Telemed will be best positioned to meet the growing needs of patients, physicians and our hospital partners."
*This is not investment advice. Always do your due diligence before making investment decisions.
Soc Telemed stock price.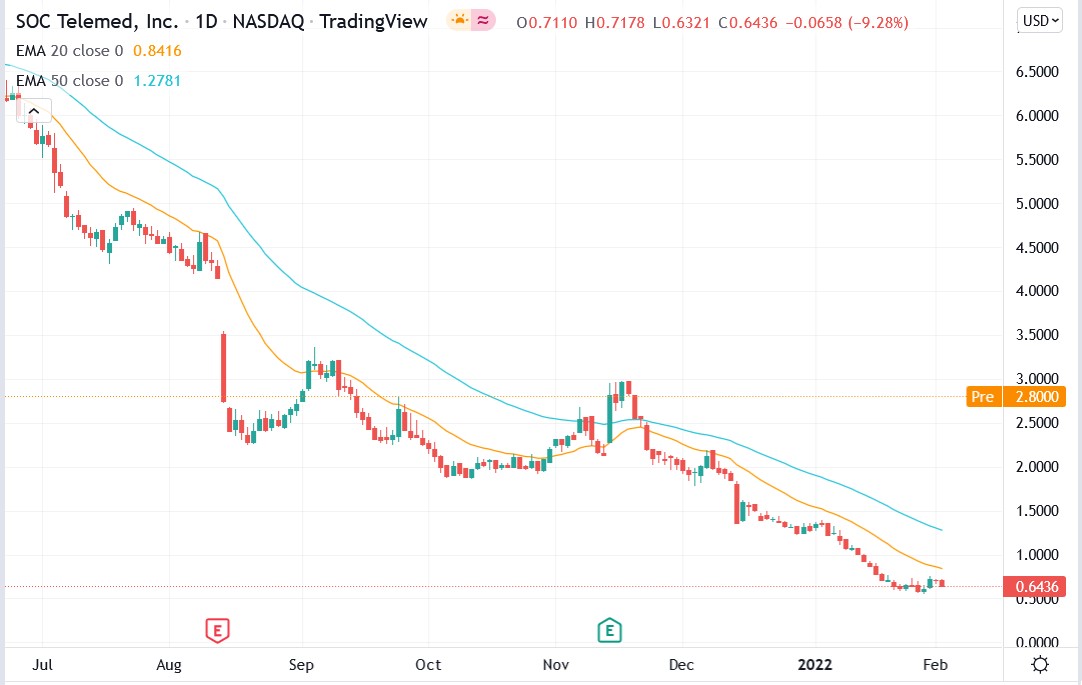 SOC Telemed shares soared 335% to trade at $2.800, rising from Wednesday's closing price of $0.6436.