Shares of the podcast streaming giant Spotify Technology SA (NYSE: SPOT) were down 6% during premarket trading after the company released its financial results for Q4 2020, despite most metrics being within or above guidance metrics.
Inventors sold Spotify shares based on some of the negative issues highlighted in the report such as the surge in operating costs driven by payroll taxes, which rose to €65 million, a whooping €56 million more than expected.
The selloff could also be driven by the fact that traders assume that Spotify revenues and premium subscribers growth have peaked. The addition of the Joe Rogan podcast drove many new users to the platform, and there is only one Joe Rogan.
However, the streaming company highlighted several growth strategies in new markets that could generate future subscriber growth, but it seems like the markets were unconvinced.
The payroll costs also weighed heavily on investor sentiment towards the company, given that they are a recurring cost that cannot be easily reduced.
The company added 25 million users during Q4 bringing its total monthly active users (MAUs) 345 million, a 27% increase compared to Q4 2019. Spotify attracted 74 million new users during the entire year compared to 64 million users in 2019.
The streaming company grew its premium subscribers 24% annually to 155 million subscribers with a record 30 million subscribers joining throughout the year.
Spotify generated €2.17 billion in revenues during Q4, a 17% increase to 2019 figures, while premium revenues rose 15% to hit €1.89 billion. The company's margins also rose to 26.5% in Q4 exceeding its guidance range.
Spotify still booked a net loss of €0.66 ($0.79) per shares compared to a €1.14 net loss in 2019.
Spotify share price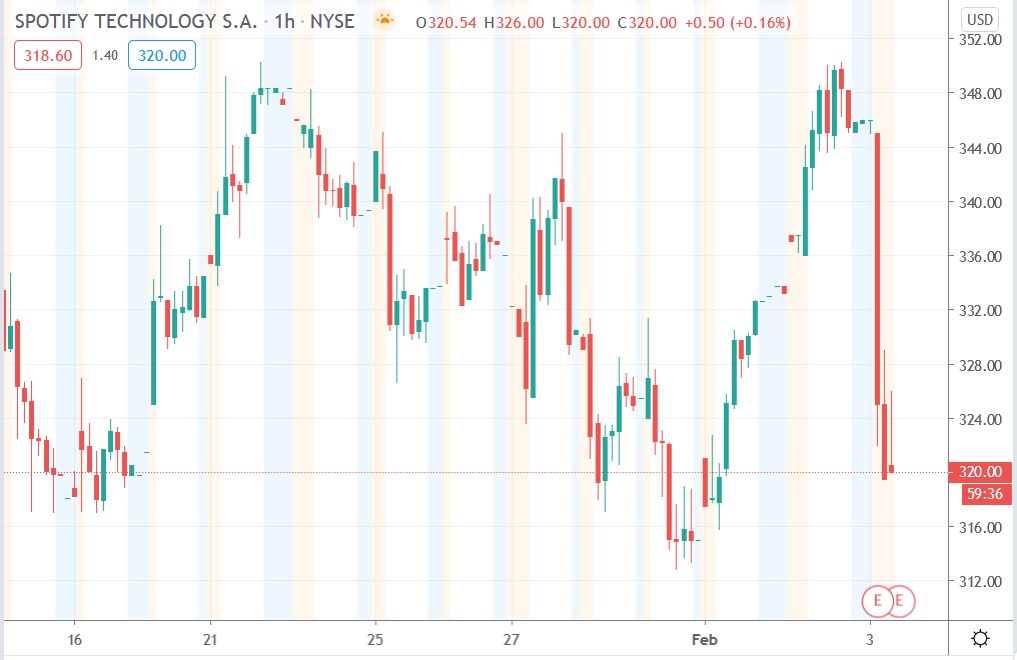 Spotify shares fell 7.4% to trade at $319.5 having dropped from Tuesday's closing price of $345.05.