Shares of Superdry PLC (LON: SDRY) fell 14.17% after the UK branded clothing retailer reported a larger than expected loss for the first half of its 2021 financial year.

The company reported a pretax loss of £18.9 million ($25.7 million) for the 26 weeks ended 24 October 2020, compared to a £4.2 million loss during a similar period last year.
The clothing company attributed the loss to the closure of 72% or 173 of its stores due to the coronavirus lockdown measures as of 9 January 2021. The firm's revenues also fell to £282.7 million versus the prior year's reading of £369.1 million.
Superdry expects to remain in a positive cash position driven by cost-cutting measures that have left the retailer with £54 million cash at the bank as of January 9 and £130 million in readily available liquidity.
The retailer saw its revenues fall 27% in the 11 weeks to January 9 driven by a 52% drop in in-store sales and a 23% decline in wholesale revenues with e-commerce revenues rising 13% offsetting some of the losses.
Superdry confirmed that it is making great progress with its influencer-led, digital marketing strategy, enabling the company to better target new and existing customers. The firm has recently partnered with Neymar Jr, who has 143 million global social media followers as part of this strategy.
Julian Dunkerton, Founder and Chief Executive Officer, said: "Covid-19 has brought substantial challenges to Superdry as with many other brands, and this has continued through the first half and into the second with renewed lockdowns in our key markets."
Adding:
"While revenue and underlying profit have been impacted by the external conditions, the brand has continued to focus on the reset, however, with over 70% of stores currently closed and having to shut a significant number over the peak, it will take time to see the benefits of all our hard work flow through to the results."
Superdry share price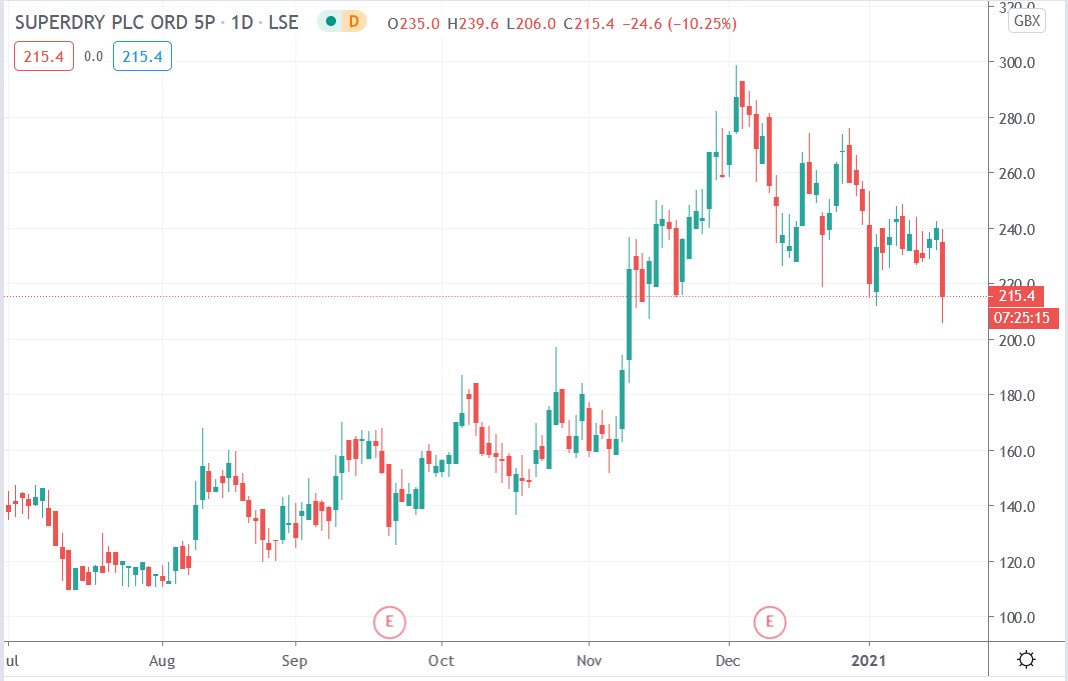 Superdry shares fell 14.17% to trade at 206p having dropped from Monday's closing price of 240p.