Key points:
Synairgen shares surged 17.4% on its participation in a critical trial.
Investors cheered the announcements, as evidenced by today's rally.
However, the financial impact of the same is not clear.
The Synairgen plc (LON: SNG) share price surged 17.37% on the company's participation in the UNIVERSAL trial spearheaded by the University of Southampton's Clinical Trials Unit and funded by Janssen.

The Understanding Infection, Viral Exacerbation and Respiratory Symptoms at Admission-Longitudinal (UNIVERSAL) trial seeks to develop a prospective longitudinal clinical database of respiratory viral infections in hospitalised patients.
The data collected from the trial will inform the future development of potential antiviral drugs to treat severe viral lung infections that emerge during various seasons while at the same time treating emerging viral threats.
Also read: Five Best Pharmaceutical Stocks To Watch In 2022.
The UNIVERSAL trial will kick off with the recruitment of 1,000 patients and will take place in 10 UK sites, with the first patient being recruited on 1 September 2022. Synairgen will supply the equipment used during the trial.
However, the overall impact of the trial on Synairgen's finances is yet to be determined after the company's lead COVID-19 drug candidate, SNG001, failed to meet its primary endpoints during the phase three clinical trial earlier this year.
Prof. Tom Wilkinson, the Lead investigator of the UNIVERSAL trial, added: "As seen over the course of the pandemic, individual response to respiratory virus infection is variable from patient to patient, ranging from mild symptoms requiring no treatment to severe illness requiring higher levels of care. This observation highlights the need for a study like UNIVERSAL to better understand this patient journey to enable the development of effective therapeutics for respiratory viral illness beyond COVID."
Richard Marsden, Synairgen's CEO, commented: "The COVID-19 pandemic highlighted the important link between research and clinical care and its impact on the timely development of much-needed antivirals for severe lung viral infections caused by seasonal viruses and emerging respiratory viral threats. Our collaboration on the UNIVERSAL trial will help better understand what could predict clinical outcomes in patients hospitalised with respiratory symptoms due to infection with a range of respiratory viruses. The UNIVERSAL trial will help to further inform the development programme of SNG001, our investigational broad-spectrum antiviral."
*This is not investment advice.
Synairgen share price chart.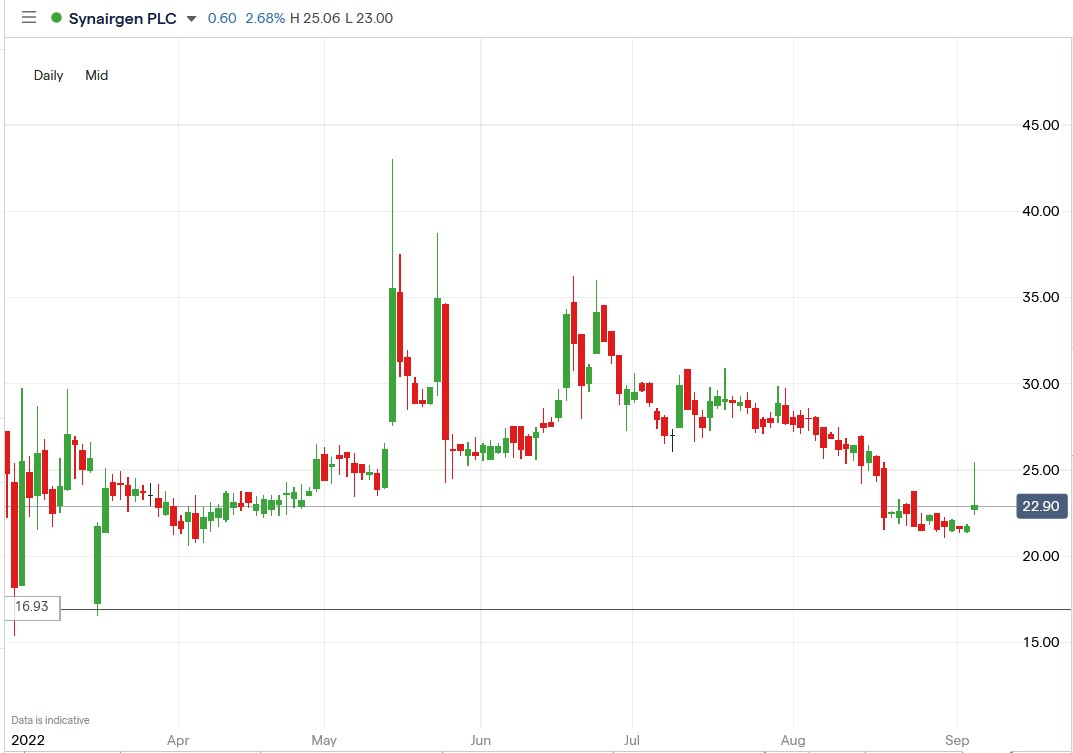 The Synairgen share price surged 17.37% to trade at 25.47p, rising from Friday's closing price of 21.70p.