Key points:
Synairgen's share price rallied 13.5% on positive long COVID trial data.
Investors cheered news that the complete analysis would be released soon.
However, the drug is still far from being commercialised.
The Synairgen plc (LON: SNG) share price rallied 13.5% after announcing that it would present the complete analysis of the 60 and 90-day follow-up visits from participants in the Phase 3 SPRINTER trial, which targeted patients hospitalised with COVID-19.

While the study failed to meet its primary endpoints based on results released on 23 February 2022, triggering a massive selloff in Synairgen's share price, the company did not give up entirely on its SNG001 drug molecule.
Also read: The Best Biotech Penny Stocks Under $5 To Buy Right Now.
Synairgen believes that the drug, an interferon beta molecule, can still be effective at treating long COVID symptoms and other viral infections that target the respiratory tract and the lungs.
The biotech company revealed that initial results indicate that SNG001 is effective at reducing the relative risk of developing recognised symptoms of Long COVID at day 60 and day 90, compared to the placebo.
Investors cheered the announcement, proving that SNG001 can still be used to treat COVID-19, but not as it was initially imagined. Synairgen still has to prove that the product is marketable and that there is a large enough patient base to make the drug a commercial success.
Richard Marsden, Synairgen's CEO, commented: "The announcement of this data from our 60 and 90-day follow-up in patients who participated in the SPRINTER trial adds to our rationale of supporting further development and investigation of SNG001 as a broad-spectrum antiviral for severe respiratory infections. We look forward to presenting the results at IDWeek in October."
Meanwhile, Synairgen shares are still down 89.22% for the year after the February crash triggered by the failure of its Phase III SPRINTER clinical trial. The shares are still far from a recovery.
Investors should also remember that SNG001 is not approved anywhere in the world and that the company will have to file documents for its approval if the data from the ongoing analysis shows that the drug molecule can be used as a treatment option.
*This is not investment advice.
Synairgen share price.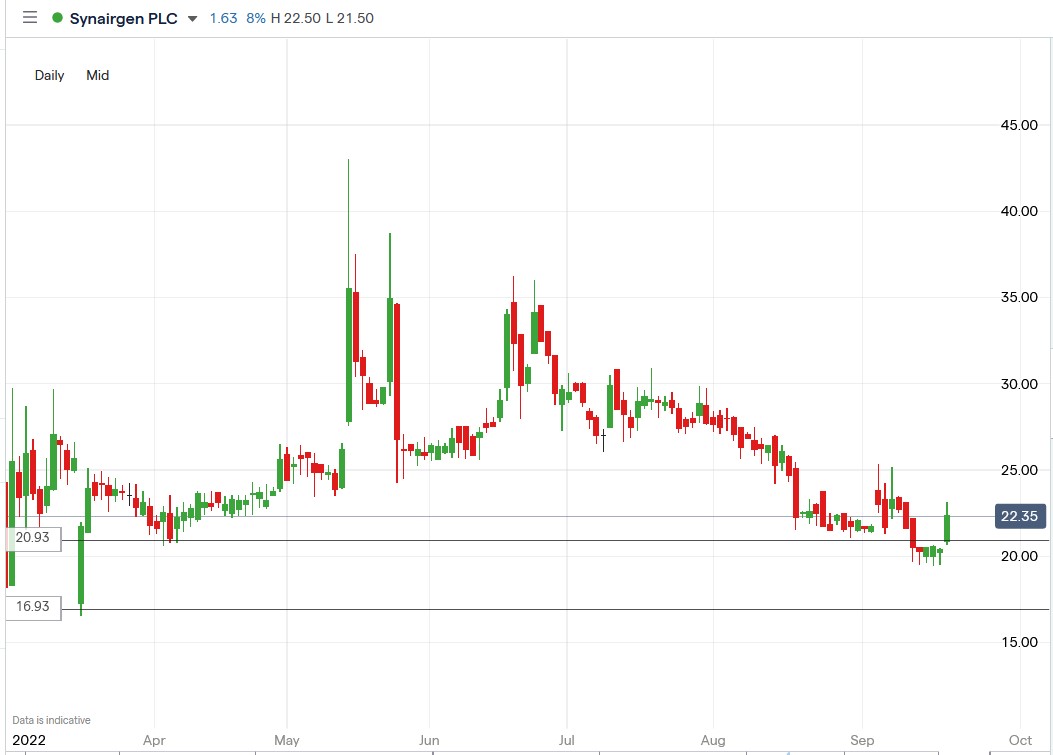 The Synairgen share price rallied 13.5% to trade at 23.12p, rising from Friday's closing price of 20.37p.