Shares of Teladoc (NYSE: TDOC) today fell 7.7% after it announced a deal to acquire Livongo Health (NASDAQ: LVGO) in a cash and stock deal valued at $18.5 billion. Teladoc intends to capitalise on the huge demand for virtual health services in the US that was driven by the Coronavirus lockdown measures, which saw most Americans stuck at home.
The lockdown measures made the demand for virtual consultations and home visits by doctors skyrocket, which has been a major boon for Teladoc as it provides virtual health services.
Livongo Health share price was up 6.28% to trade at $153.60 but had initially rallied to $167.87 after the announcement, while Teladoc shares were down 2.57% at the time of writing.
According to a joint press statement, the deal "creates a global leader in consumer-centred virtual care."
Jason Gorevic, Teladoc's CEO was quoted saying that: "Livongo is a world-class innovator we deeply admire and has demonstrated success improving the lives of people living with chronic conditions."
Teladoc share price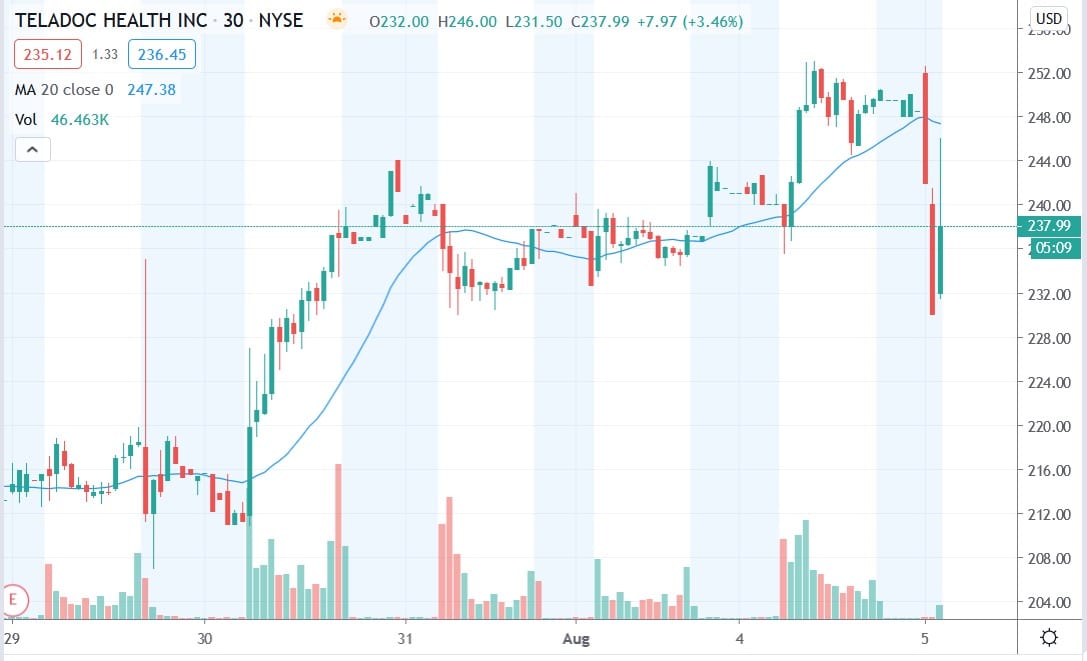 The new entity is expected to have pro forma revenue of about $1.3 billion for 2020, equal to pro forma growth of 85%.
The company's share price fell by 7.7% to $230.17 premarket from yesterday's closing price of $249.42 but has since recovered some of its losses.