Key points:
ASOS shares plunged 35.9% as customer shopping trends shifted.
As a result, the fast-fashion company slashed its yearly profits guidance.
In addition, the company's performance is being affected by the high inflation.
The ASOS plc (LON: ASC) share price plunged 35.9% after releasing an update on its trading results during the three months to May 31. The fast-fashion company revealed that it had experienced high returns during the three months as consumer shopping trends shifted due to the record-high inflation.

Unlike its peer Boohoo, ASOS's UK sales rose 4% to £431.8 million, while its US sales rose 15% to £141.9 million from £117.5 million. However, the company slashed its sales and earnings guidance in line with the uncertain environment as the impact of high inflation persists.
Investors were also surprised to see Asos appoint two new top executives. José Antonio Ramos Calamonte was appointed Chief Executive Officer (CEO), while Jørgen Lindemann was named Chairman.
ASOS overwhelmed investors with today's update as it slashed its revenue growth targets for the current year to between 4% and 7% while lowering its pretax profits target to between £20 million and £60 million.
The selloff in ASOS shares was more brutal than that witnessed in the shares of its fast-fashion competitor Boohoo, which also reported disappointing figures during the same quarter. However, unlike Boohoo, this was the first time that Asos has had to deal with significant customer returns.
The fashion company just appointed two new senior executives in the middle of a massive selloff in the retail sector, which is generally regarded as a risky move.
Positive highlights from the trading update included increased the company's active customer base by 100,000 new customers. ASOS is also rolling out its Partner Fulfills program in the UK and is looking to expand the program to other European countries later this year.
ASOS further reported a significant improvement in sales from its Topshop and Topman brands. In addition, the firm's partnership with Nordstrom is also paying off as it expands the collection available on Nordstrom.com. As a result, the firm is now a full-fledged fast-fashion brand.
Should you buy ASOS shares? The short answer is no. Investors could be in for more pain as the high inflation environment persists.
*This is not investment advice. Always do your due diligence before making investment decisions.
ASOS share price.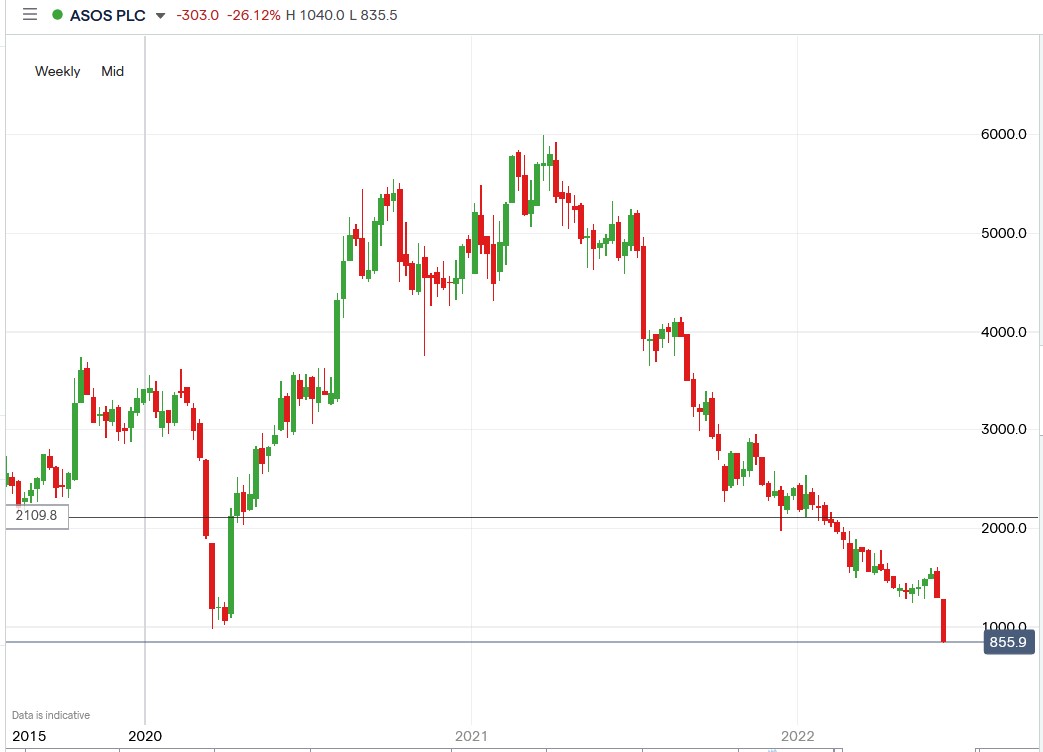 The ASOS share price plunged 35.9% to trade at 833.9p, falling from Wednesday's closing price of 1301.0p.