Key points:
Draganfly's stock soared 105% after receiving an order for up to 200 drones.
The drones are for use in Ukraine as the war with Russie continues.
Investors bought Draganfly stock on the news driving its shares higher.
The Draganfly Inc (NASDAQ: DPRO) stock price soared 105% after the company received an order of up to 200 units of its Medical Response and Search and Rescue Drones from Coldchain Delivery Systems, LLC.

The drones are to be delivered to Revived Soldiers Ukraine (RSU) to help soldiers wounded in the ongoing war with Russia and deliver much-needed medical aid to those in need across the country.
Draganfly said it was ready to immediately deliver at least ten drones as part of the order and offered to donate three extra drones to RSU as part of its contribution to help Ukraine win the war.
Investors were pleased with the news, evidenced by the over 23.6 million shares that had changed hands during premarket trading.
Draganfly's drones are made in the United States to guarantee the security of user data, which makes them ideal for deployment in combat areas as opposed to foreign-made drones that could be compromised.
Coldchain Deliver Systems have established itself as the go-to company for delivering medical supplies, including international shipping in cold containers, since its founding in 2006.
Many other American companies have shown their solidarity with Ukraine by withdrawing their services from Russia, including Visa and Mastercard, which suspended their services from the country, crippling its financial services industry.
Cameron Chell, Draganfly's CEO, said: "We are extremely honored to work with RSU and Coldchain Delivery Systems to support those affected by the ongoing crisis in Ukraine. Draganfly has a long and proud history of supporting EMS services and humanitarian aid operations globally. Our Medical Response and Search and Rescue Drones will help RSU deliver critical supplies, equipment, and visual oversight."
Iryna Vashchuk Discipio, RSU's President, said: "Brave Ukrainians continue to fight for freedom, democracy, and the fundamental values and principles of Western civilization. There is an urgent need for medical supplies and equipment in several dangerous and hard-to-reach areas. Draganfly's Medical Response and Search and Rescue Drones will play a crucial role in ensuring that those affected have access to the aid they require,"
Wayne Williams, Coldchain Delivery Systems Founder and Executive Director added: "The entire team at Coldchain Delivery Systems is focused on providing as much support as possible to the people of Ukraine during this incredibly difficult time. We look forward to working with Draganfly and RSU to ensure the timely delivery of temperature-sensitive medical supplies, including blood, medicine, and vaccines to those in need. We are confident that Draganfly's specialized Search and Rescue Drones combined with their Medical Response Drones will prove to be incredibly effective in this situation."
*This is not investment advice. Always do your due diligence before making investment decisions.
Draganfly stock price.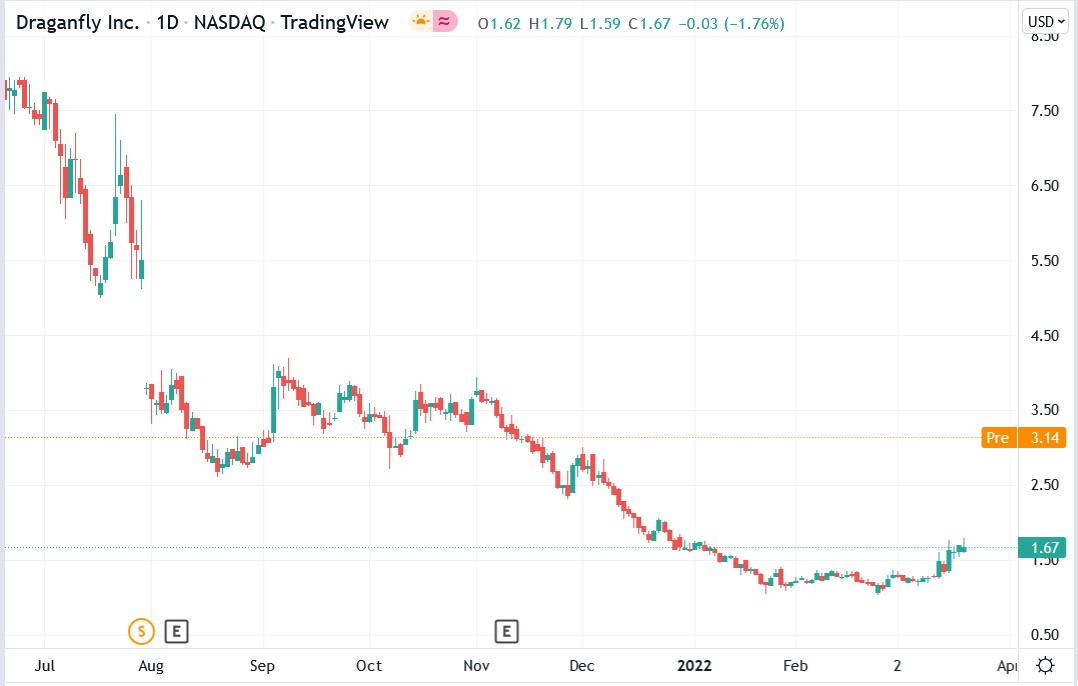 Draganfly's stock price soared 105.39% to trade at $3.43, rising from Monday's closing price of $1.67.