Key points:
KEFI gold shares edged higher on the Tulu Kapi Ethiopia update.
The company is much closer to starting production at Tulu Kapi.
So, should you buy KEFI shares? Read on to find out.
The KEFI Gold and Copper Plc (LON: KEFI) share price edged slightly higher after issuing an update regarding its Tulu Kapi mine in Ethiopia. The report's highlights included collaborating with the local government to start resettling affected families.

The company plans to complete the signing of the umbrella funding agreement for the Tulu Kapi project and to show evidence of the funding capacity of each member of the funding syndicate. The firm is looking to kick off full-fledged construction activities at Tulu Kapi in October 2022 during Ethiopia's dry season.
Kefi wants the construction works to occur during the dry season, which experiences minimal rain, given that Ethiopia does not have a winter or summer season. Instead, it has a rainy and dry season.
The mining firm is currently negotiating for security protection along its projected transport routes and the project site. There are also some remaining government tasks, such as the confirmation of various project matters and protection for the banks.
Overall, the project is progressing well, and construction work is expected to start on schedule after all the final matters are settled. Investors are looking forward to KEFI starting production activities at Tulu Kapi, given that the company's projects in Ethiopia and Saudi Arabia have a total estimated resource capacity of 4.7 million ounces of gold.
Harry Anagnostaras-Adams, KEFI's Executive Chairman, commented: "We continue to accelerate activities in preparation for signing the financing syndicate Umbrella Agreement this month, then signing individual definitive agreements over the following few months, enabling full Tulu Kapi construction to commence from the end of the wet season in October 2022. KEFI has significant momentum as we progress our three advanced projects in two countries that are now overtly pro-development."
So, should you buy KEFI shares? The short answer is yes; the shares are trading near a long-term support level and have significant upside potential. However, there are no guarantees that we will not see a further decline.
*This is not investment advice. Always do your due diligence before making investment decisions.
KEFI share price.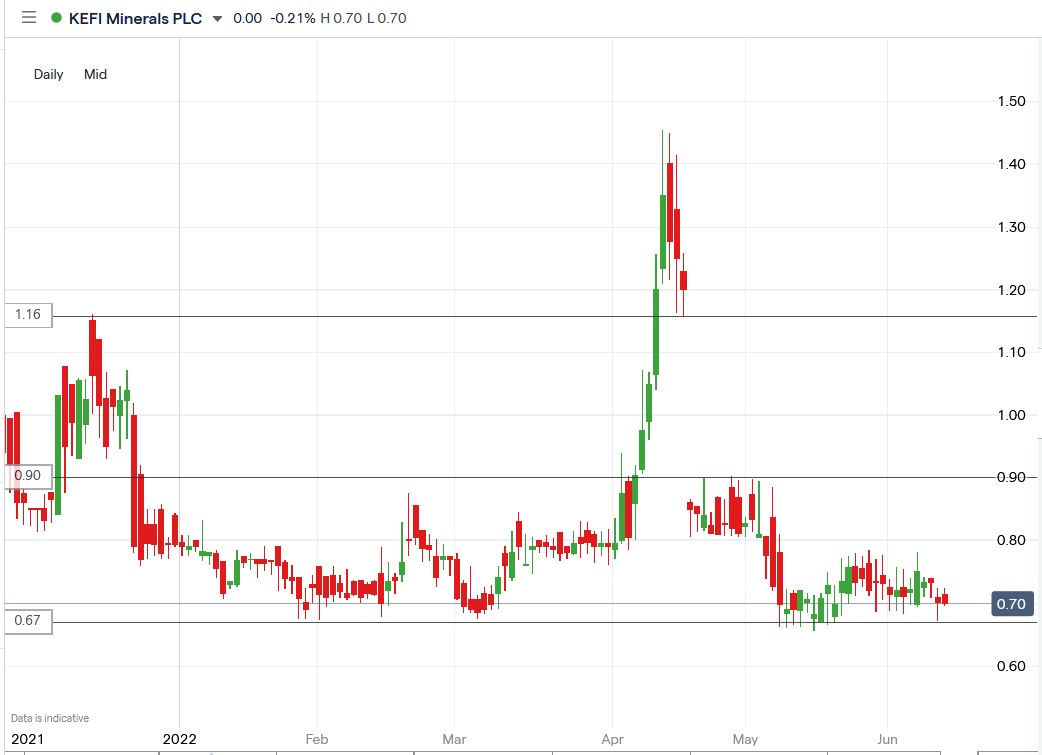 The Kefi share price edged slightly higher on the Tulu Kapi Ethiopia update.