Key points:
Infobird stock rallied 24% premarket as retail investors bid up the stock.
However, the company did not make any announcements today.
Still, investors were reacting to the firm's Friday contract agreement.
As a result, the Infobird Co Ltd (NASDAQ: IFBD) stock price rallied 24% despite the company not making any announcements today.

Investors have caught up to the company's announcement made on Friday, February 6, 2022. It partnered with Nippi (Shanghai) Trading Co., Ltd., a subsidiary of Nippi Japan, to provide it with digital marketing services.
Nippi is the only Japanese collagen research, and manufacturing company with a GMP certified manufacturing facility and is looking to expand to the Chinese market with Infobird's help.
It appears that investors missed the significance of the announcement, given that the global collagen industry is worth about US$15.36 billion, with the Chinese market being worth US$980 million.
The Chinese market is projected to reach $1.58 billion by 2027, and Infobird could play a crucial role in growing Nippi's presence in China.
However, it appears that investors have discovered the significant potential of the deal and are looking to profit from it. Also, Infobird has been trending across many retail trader forums, which explained the high volumes traded during the premarket session.
Infobird debuted on the NASDAQ exchange in April 2021 and shot to a high of $11.27 on the first day but has been trending lower since then.
The company's shares have fallen by 84.5% in the past year, and I would not rush to buy them just yet. Firstly, I am not very familiar with the Chinese markets, and the current climate does not encourage investments in the country.
The Chinese government has cracked down on Chinese companies listed in the US, forcing some of them to suspend their US listings and relist on the Shanghai and Hong Kong Stock Exchanges.
However, this is not to say that Infobird shares will not rally in future. The shares could reverse course and at any time and head higher, but it is my personal preference not to buy them.
*This is not investment advice. Always do your due diligence before making investment decisions.
Infobird stock price.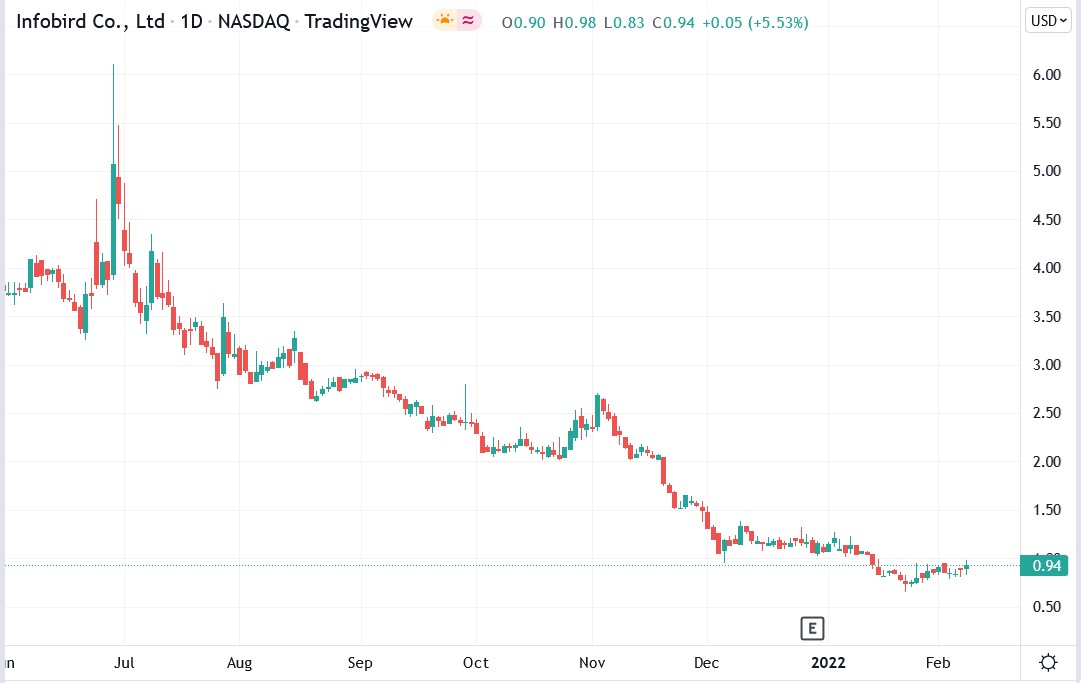 Infobird stock price rallied 24.06% to trade at $1.16, rising from Tuesday's closing price of $0.94.