Key points:
Zillow Group shares are down 38.8% in 2022
But the US housing market is beginning to cool
Is there further downside ahead?
"Tighter monetary policy from the Federal Reserve and persistently elevated construction costs have brought on a housing recession."

That's what the US National Association of Home Builders said after Builder confidence plummeted for the eighth consecutive month.
It is the worst stretch since the housing market crashed in 2007, according to data on Monday.
The US housing market surged during the pandemic, with the average sale price of a home in 2021 hitting $346,900, a 16.9% increase from 2020. But it's now cooling as the pandemic, and 'urban exodus' is seemingly over, and mortgage rates are rising. In addition, with the Fed expected to hike rates further, housing demand will surely be pressured.
Redfin analysis this week revealed home sale cancelations soared in July as buyers pulled back from deals due to soaring mortgage rates. The company said 63,000 agreements were called off in July, representing 16.1% of all the homes that went under contract during the month.
In addition, in July, Zillow (NASDAQ: ZG) said its home value forecast predicted a strong slowdown in annual home value growth from the current pace of 19.8% to 7.8% growth into June 2023.
The company revised expectations lower from its previous forecast for 9.7% growth in the year ending May 2023. It now predicts a steeper drop in appreciation before stabilizing at levels closer to pre-pandemic averages.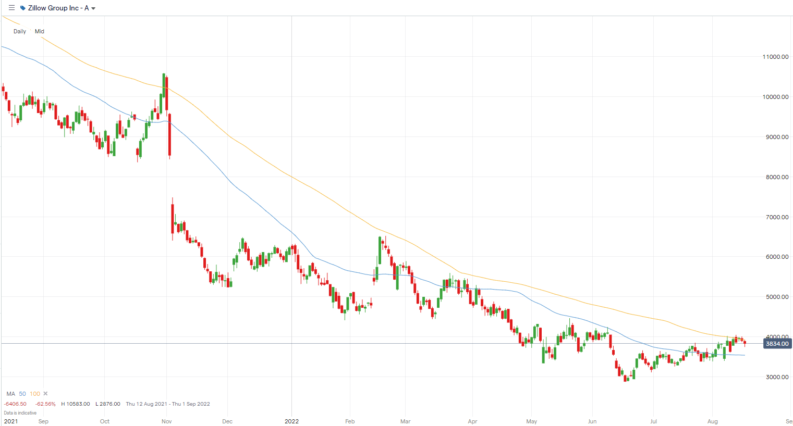 So with mounting evidence of a significant slowdown in the housing market and Zillow's shares rising 12.7% in the last month, the current outlook for the stock isn't positive. It's only natural that with soaring inflation, surging home prices, and rising mortgage rates, the housing market will almost have to experience a decline — even if it is just a slight one.
So, when looking at potential stocks impacted, Zillow Group, Redfin, and Opendoor Technologies are just some we can consider….
All three have declined significantly in the last year or more. So why is it that we see potentially more downside for Zillow at this moment in time?
Consumer demand.
Looking at the company's website traffic via data on Semrush and Similarweb, we are starting to see a dip. The recent high in traffic was around 73.9 million in October 2021, but it is now down at 62.6 million. Of course, there are seasonal trends at play. Still, with the current economic environment and housing market being unsteady and companies such as Redfin and Zillow speaking of declines, we expect a drop in visitors to Zillow's site.
If we couple that with the company stating they will experience a decelerating demand for ads if there is a significant contraction in home sales, then the case for further downside in Zillow is hard to ignore.