Key points:
THG said Q3 revenue growth was 2.1%
The company announced the signing of a new banking facility
THG shares jumped 20% Tuesday
Shares of THG PLC (LON: THG) jumped in early Tuesday trading following the company's third-quarter trading statement in which it maintained full-year revenue, adjusted EBITDA, and cash guidance.

In addition, the company confirmed the signing of a new £156 million banking facility provided by existing lenders BNP Paribas, NatWest, and HSBC.
THG shares jumped over 20% Tuesday morning, trading around the 55.82p mark. However, they have declined by over 82% in the last 12 months.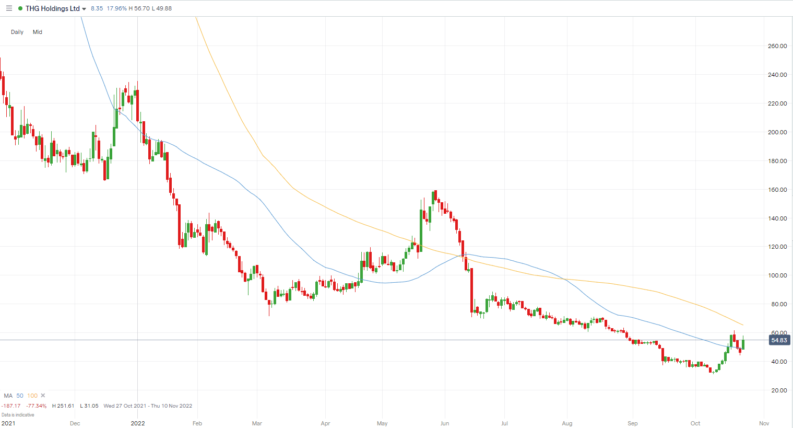 Also Read: How To Rejuvenate Your Investment Portfolio
In the third quarter, THG revenue growth came in at 2.1%, below the 12.3% reported in the first half of the year. The company's Beauty sales rose 4.9% year-over-year, Nutrition increased 2.9% and Ingenuity, its eCommerce services division, grew 1.3%. However, its OnDemand segment declined 18.5% YoY.
THG stated that consumer behaviour during the quarter remained stable and consistent, which resulted in the resilience of its beauty, health, and wellness categories, while Ingenuity will be re-positioned under CEO Vivek Ganotra to concentrate on larger, higher contract-value customers.
"Ingenuity has a strong and growing pipeline of these opportunities in addition to expanding propositions across the existing client base," the company said in its statement.
Nevertheless, THG said its start to the fourth quarter has been positive, with momentum expected to accelerate as it enters its "peak trading period."
The company expects full-year 2022 revenue growth guidance of 10% to 15%, while full-year adjusted EBITDA guidance is expected to be between £100 and £130 million before Software-as-a-Service cost reclassification. The company sees cash on hand at year-end of approximately £500m, with an additional £170m undrawn revolving credit facility available.
"As commodity prices ease further, we remain well positioned to grow margins into 2023, whilst reducing pricing to consumers. This positions the Group well in continuing to expand market share. As cost of living pressures rise, customers are continuing to prioritise beauty, health and wellness categories and, through investing in bringing them into and retaining them within the THG ecosystem, we are laying the foundations for our future growth," explained THG CEO Matthew Moulding.
"I'm delighted to confirm the signing of the recently announced £156 million of incremental capital from three long-standing lending partners on highly attractive terms. Given the current market environment, this is a strong endorsement of the Group's long-term business model, alongside the recently announced increased investment from Qatar Investment Authority."