Key points:
Thor Mininghsares rallied by 17.4% on the 2022 drilling campaign update.
The miner targets nickel, lithium, and gold deposits in its Australian sites.
Investors cheered the update, as evidenced by THR's share price rally.
The Thor Mining Plc (LON: THR) share price rallied 17.4% after issuing an update regarding its 2022 drilling program targeting lithium, gold and nickel deposits at its 100% wholly-owned Ragged Range project in the Eastern Pilbara, Western Australia.

The miner revealed that its staff were mapping and sampling several lithium targets. The team is focused on potential lithium-caesium-tantalum (LCT) pegmatites identified within the prospective 10km radius of the Split Rock Supersuite at the Ragged Range.
Thor is also planning to conduct a high-powered Fixed Loop Electromagnetics (FLEM) ground geophysics survey starting in mid-April 2022. The survey will cover the nickel gossan located in the western section of the tenure.
The survey aims to detect any conductive anomalies at depth, indicating the presence of nickel sulphide mineralisation. The company expects to complete the survey within a week, with the results ready later.
Thor Mining is planning to start the second phase of its RC drilling campaign targeting gold intercepts at the Sterling Gold Prospect, part of the 2022 drilling campaign.
Investors cheered today's update as the mining company continues its 2022 drilling campaign,w which could bring it much closer to the commercial production of gold, lithium, and nickel.
Nicole Galloway Warland, Thor Mining's Managing Director, commented: "Thor is pleased to have the team back on the ground for the 2022 field season at our 100% owned Ragged Range Project. The team will be focused on priority lithium, nickel and gold targets across the tenure.
"The current field program concentrates on mapping and sampling several lithium-caesium-tantalum pegmatite targets associated with the highly prospective Split Rock Supersuite. Whilst at our previously untested nickel gossan, which extends over 1km, the scheduled electromagnetic survey should identify the most prospective areas at depth to conduct initial drill testing.
"The testing of these new targets in conjunction with the continuation of drilling of further gold exploration targets at the Sterling Prospect has the potential for significant exploration discoveries. We look forward to updating the market as soon as results are available."
Thor Mining shares have risen 25.44% in 2022 and could rally higher if the miner reports upbeat sampling, mapping and drilling results from its 2022 drilling campaign.
*This is not investment advice. Always do your due diligence before making investment decisions.
Thor Mining share price.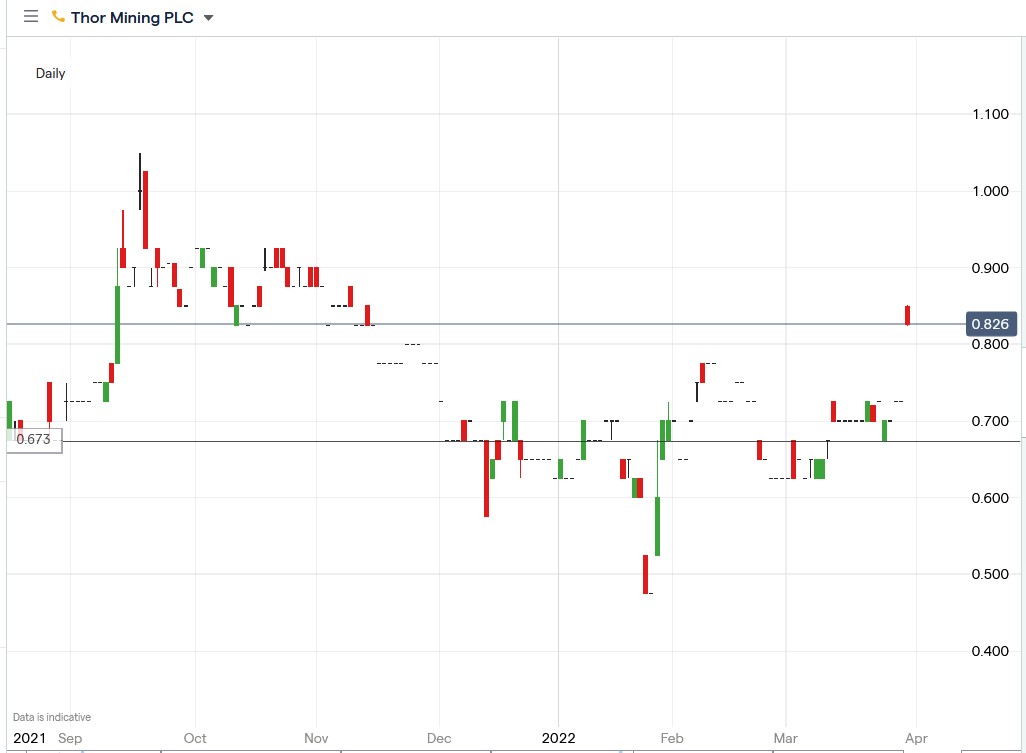 The Thor Mining share price surged 17.38% to trade at 0.851p, rising from Tuesday's closing price of 0.725p.