Key points:
Empire Metals' share price soared 42.3% after discovering high-grade gold.
The miner encountered high-grade gold deposits at its Gindalbie project.
Investors cheered the discoveries, as evidenced by the rally in EEE shares.
The Empire Metals Ltd (LON: EEE) share price soared by 42.3% after revealing that it encountered high-grade gold deposits during the reverse circulation (RC) drilling program conducted at its Gindalbie Gold Project in Western Australia.

The mining and exploration company said that it had completed 1,676m of RC drilling, where it drilled four holes at the Homeward Bound target. The company discovered high-grade gold in three of the four holes.
Some of the impressive gold intercepts were 5m @ 8.99 g/t Au from 31m downhole, including 1m at 40.90 g/t Au, 3m @ 9.88 g/t Au from 46m downhole, including 1m at 26.20 g/t Au, and 3m @ 8.96 g/t Au from 98m downhole, including 2m at 13.28 g/t Au.
Empire Metals also discovered high-grade gold deposits at the Laurel-Bulletin and Bud's Find.
Investors cheered today's results, given that the RC drilling campaign at the Gindalbie project was purely speculative since it was the first drilling program within the license area.
The miner remains optimistic that a more targeted drilling campaign will uncover more gold targets in the areas after all the initial four holes drilled were found to have significant gold deposits.
Shaun Bunn, Empire Metals Managing Director, said: "We are extremely pleased with the results from our initial drilling campaign at Gindalbie, which was a purely speculative effort aimed at identifying priority targets for further, more detailed exploration activities. To hit such high-grade shoots at Homeward Bound on the first pass is very encouraging, and to have a 100% success rate on all four holes drilled at this target bodes well for future, more targeted drilling campaigns.
"In addition, we have encountered significant gold mineralisation at depth, below the small open pit at Bud's Find, and we have intercepted a 3m wide mineralised lode at Laurel, both of which merit follow-up drilling.
"In parallel with this work at Gindalbie, we are completing a 900m strategic diamond drilling programme on our adjacent Eclipse Gold Project, which will provide further geological and structural information on the mineralised system and give further evidence on the potential scope and scale for a significant mining operation focussed on this expanded licence area."
Empire Metals shares have risen by 18.96% in 2022 and could be higher if the mining company continues uncovering more gold deposits at various projects.
*This is not investment advice. Always do your due diligence before making investment decisions.
Empire Metals share price.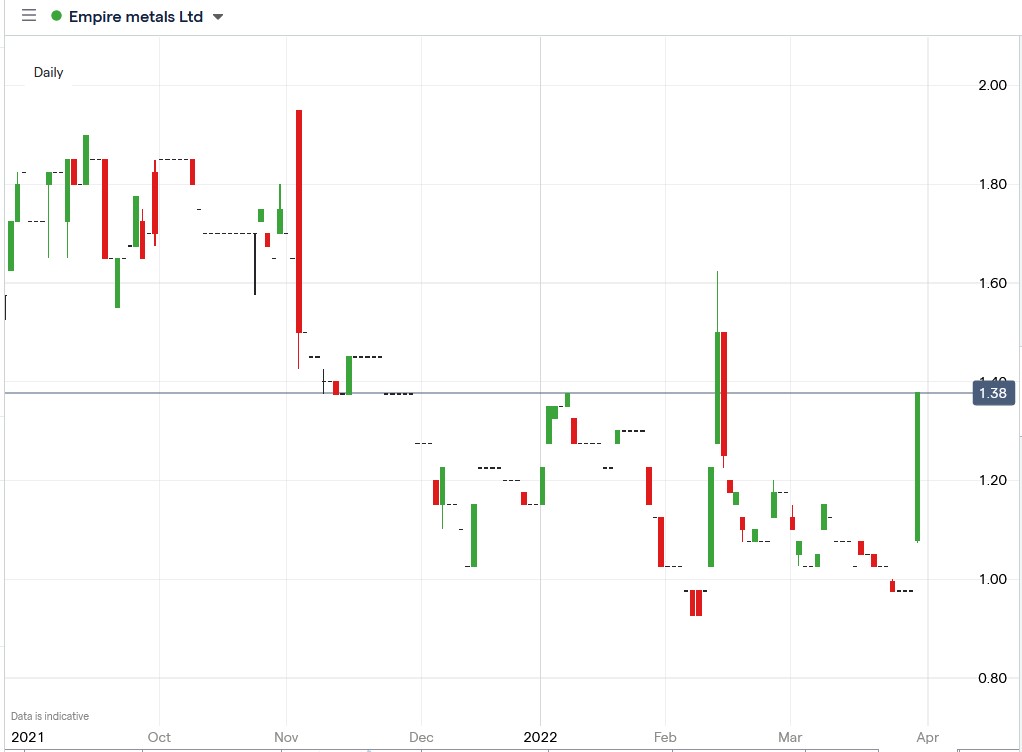 The Empire Metals share price soared 42.26% to trade at 1.38p, rising from Tuesday's closing price of 0.97p.