Key points:
John Menzie shares edged higher on the final takeover offer from Agility.
The airport services company was offered 608p per share, totalling £571m.
The combined company will be one of the largest such companies globally.
The John Menzies plc (LON: MNZS) share price edged 4.68% higher after announcing that it would accept the final offer from GIL International Holdings V Limited (Bidco), valuing the company at £571 million, with Bidco buying each Menzies share for 608p.
Investors familiar with the deal will remember that Bidco made its initial offer on 8 February 2022, when the John Menzies share price was trading at 335p. Accordingly, the offer price also represents a 107% premium to the Volume Weighted Average Price of 294p for each Menzies Share during the three months to 8 February 2022.
GIL International Holdings V Limited (Bidco) is a wholly-owned subsidiary of Agility Public Warehousing Company KSCP (Agility). Bidco confirmed to the Menzies board that the offer price was final and that they would not increase the offer price unless a third party made a firm offer for John Menzies at a higher price.
Bidco reserves the right to increase the offer price to counter any firm offer from a third party. The Menzies board unanimously recommended that shareholders approve the takeover offer, which is being executed via a scheme of arrangement to be sanctioned by the courts.
The acquisition could also be accomplished via a takeover offer, with Bidco having acquired over 17.4 million Menzies shares representing 19% of the aviation company's outstanding shares.
As an aviation logistics company, John Menzies operates in over 200 locations in over 37 countries, where it offers time-critical logistics services to multiple aviation clients.
The company has over 25,000 employees with operations on six continents where it offers ground handling and cargo services and has a solid competitive edge in all its operating divisions.
Agility intends to merge Menzies operations with its National Aviation Services (NAS) to create a combined business that capitalises on NAS' leadership in fast-growing emerging markets in the Middle East and Africa, with Menzies' solid footprint in leading global markets within North America, Europe and Oceania.
Agility said its customers would benefit from a more diversified product portfolio and Menzies' operational excellence and broader scale in more airports worldwide.
The combined company will be the largest airport services company globally by the number of countries served, the second-largest in terms of airports served, and the third-largest in terms of revenue generated.
Investors cheered the announcement, which will lead to the delisting of John Menzies shares from the London Stock Exchange.
*This is not investment advice. Always do your due diligence before making investment decisions.
John Menzies share price.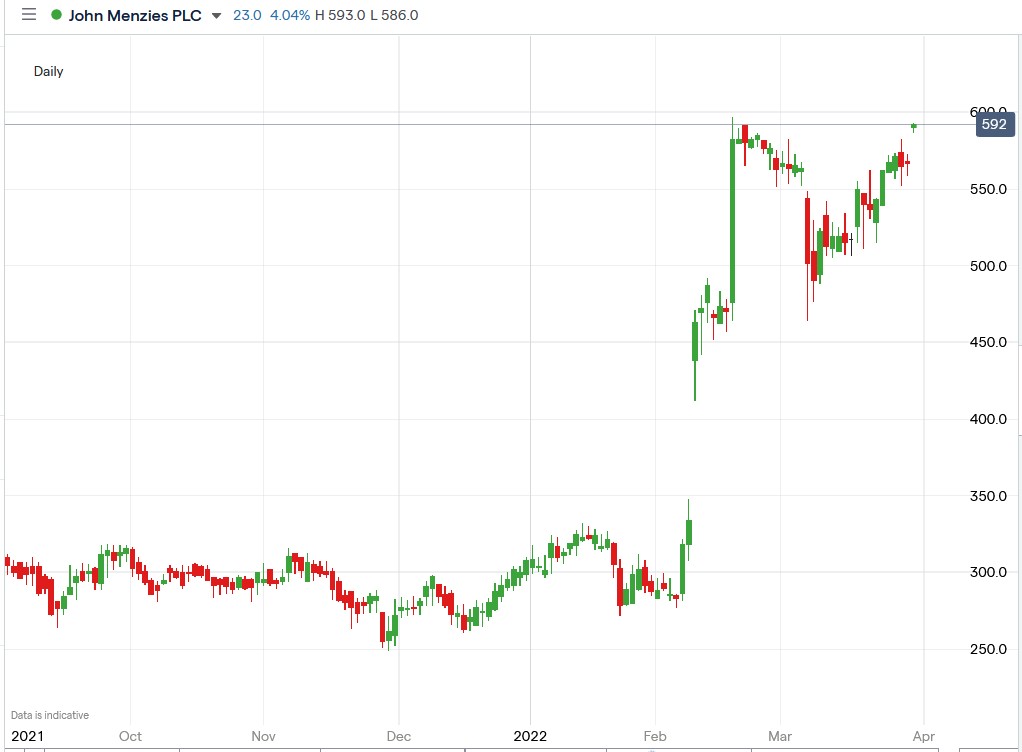 John Menzies shares edged 4.68% higher to trade at 593.0p, rising from Tuesday's closing price of 566.5p.