Key points:
Tintra shares surged 28% after raising $2 million from a private equity fund.
The PE fund bought the new shares at 500p, a significant premium.
Investors will be watching the shares to see if they can rally to 500p.
The Tintra PLC (LON: TNT) share price surged 28% after receiving a $2 million investment from a private equity family that previously invested $250k in the company.

The company revealed that the investment was made in two $1 million tranches by the private equity investor to purchase 148,511 new ordinary shares at 504p each.
Investors cheered the announcement given that the investor paid almost double the current price since Tintra shares are currently trading at 250p.
Tintra said that the recent investment showed that its business is attractive to seasoned institutional investors such as private equity funds.
The private equity fund also received warrants to subscribe for two ordinary shares priced at 50p each for up to five years if the company's market capitalisation hits $250 million and trades at that level for three consecutive days.
The PE family fund will also be entitled to exercise the two warrants if Tintra conducts another funding round valuing it at $250 million.
The company is set to receive the funds within the next thirty days, at which point it will issue an update to investors.
Tintra intends to use the funds to keep growing its business, including being regulated by the relevant financial bodies and building its tech capabilities across its business verticals.
Richard Shearer, Tintra's CEO, said: "This investment from the family of a renowned New York-based private equity professional is perhaps the strongest validation we have yet received of the substance and future of our model and execution plans."
Adding:
"We now have all teams focused on the regulation and tech build across all verticals, with the Artificial Intelligence and newly announced Web 3.0 teams at the core. Further, we have just entered another 90-day internal period, the end of which will see 5 different teams having delivered innovation and on those execution plans, some of which we quite expect to be groundbreaking."
Investors cheered the funding agreement, as evidenced by the rally in its share price. However, Tintra shares are still trading far from the subscription price of 500p, and many will be waiting to see if it can reach those highs. The next target for Tintra shares is the 300p level.
*This is not investment advice. Always do your due diligence before making investment decisions.
Tintra share price.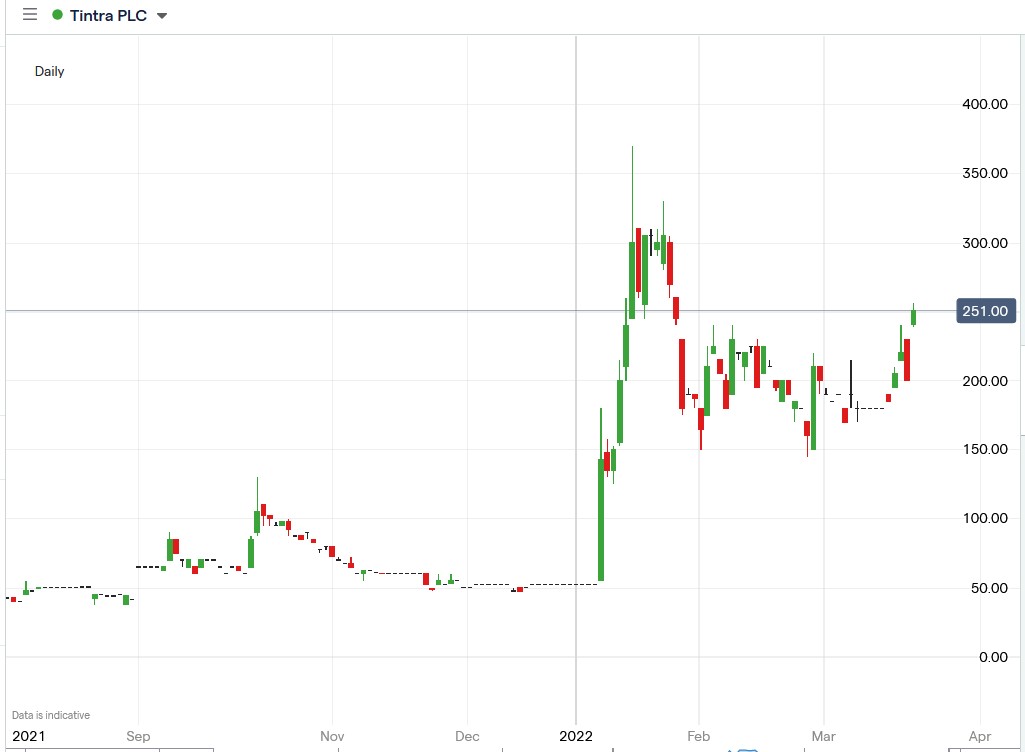 Tintra share price surged 28% to trade at 256.00p, rising from Friday's closing price of 200.00p.