Key points:
Tiziana stock rallied 52.7% after announcing positive Foralumab results.
The company is working on multiple transformative treatments for diseases.
Tiziana shares look attractive at current prices after falling 23.67% in 2022.
The Tiziana Life Sciences Ltd – ADR (NASDAQ: TLSA) stock rallied 52.7% after announcing positive results from a multiple sclerosis patient treated with its intranasally administered Foralumab for six months.

The life sciences company revealed that the patient did not exhibit any adverse reactions, nor did they have any laboratory abnormalities after the six-month treatment. The patient also chose to continue the treatment after the study period ended.
The patient in question also demonstrated biological and clinical improvements while undergoing treatment using Tiziana's novel immunotherapy technology.
The treatment penetrated the blood-brain barrier and delivered the antibodies to affect the brain's immunomodulation function.
Furthermore, the patient had experienced consistent disease progression despite undergoing multiple MS therapies, including B cell depletion, before starting Tiziana's drug trial.
Dr Kunwar Shailubhai, Tiziana's CEO, commented: "We are very excited about the positive clinical data reported today demonstrating the potential of intranasally administered immunotherapy with foralumab for treatment of SPMS and other neurodegenerative diseases. Importantly, data from this patient serve as the first validation of our breakthrough and potentially transformational approach with a convenient, intranasal 'take home' immunotherapy for SPMS and other neurological diseases. Today's news marks an important first step toward advancing our platform using alternative, novel routes of immunotherapies to provide local rather than systemic delivery of antibodies."
Howard Weiner, MD, Chairman of Tiziana's Scientific Advisory Board, commented: "The potential for intranasally administered foralumab to suppress microglial activation is a novel and well-tolerated immunologic approach to potentially treat SPMS, a form of MS that currently has no effective treatment. We are extremely pleased with the tolerability of intranasal foralumab and with the positive clinical and PET imaging responses observed after the completion of six months of dosing in the first patient. We look forward to treating additional patients to fill a major unmet need for the treatment of SPMS."
The drug is currently in an expanded testing program within its Phase I trial, and many are waiting to see if it shall proceed to phase II and III clinical trials. Forulamab is unique in that it is the only fully-human anti-CD3 mAb and could become a transformative drug for autoimmune diseases such as Chron's disease.
Tiziana shares have fallen 23.67% in 2022 but appear to be turning around after making a bottoming pattern. Today's gap up is a solid step in the right direction for the company.
*This is not investment advice. Always do your due diligence before making investment decisions.
Tiziana Life Sciences stock price.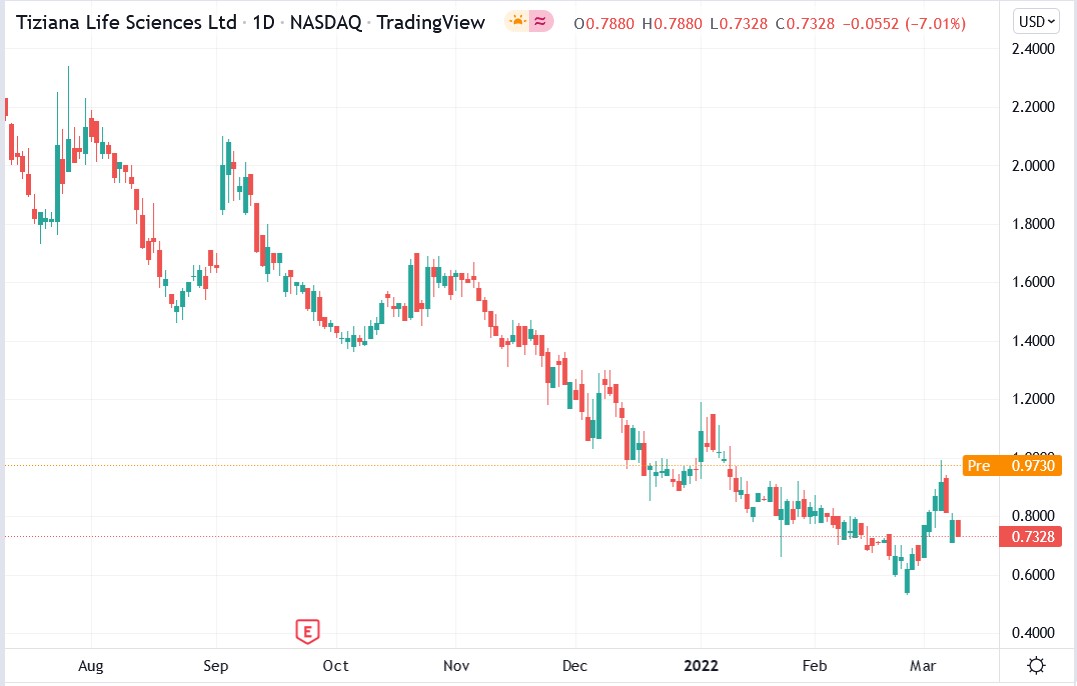 Tiziana Life Sciences stock price surged 52.7% premarket to trade at $1.1192, rising from Wednesday's closing price of $0.7328.