Shares of Tiziana Life Sciences PLC (LON: TILS), a biotechnology company, rallied 14.7% after announcing the successful completion of the first human clinical trials of its COVID-19 treatment Foralumab in Brazil.
Foralumab is a nasally administered proprietary human monoclonal antibody that can be used in isolation or in combination with orally administered dexamethasone in COVID-19 patients.
The clinical trial was conducted on COVID-19 patients in Brazil and the anecdotal feedback from patients treated with Foralumab was positive. The company expects to report topline results from the study later this month.

Tiziana decided to go with a nasally administered formulation as an innovative way to combat the COVID-19 virus, which enters the body through the nasal and respiratory passage. The company reported that there were no adverse events observed during the clinical trial.
Dr Thais Moreira, the lead scientist and coordinator of the clinical trial, stated:
"We are delighted to receive positive feedback from patients treated in the clinical trial. Among the positive results patients reported, the most common was that the treatment resulted in the rapid improvement in smell sensation, which is frequently lost in COVID-19 patients."
Dr. Kunwar Shailubhai, CEO of Tiziana Life Sciences, commented:
"While we expect to get the topline data in January 2021, we are delighted with the positive feedback received from the treated patients. This is the first-in-class and scientifically logical approach to improve the human immune system by stimulating Tregs to suppress lung inflammation and to dampen cytotoxic CD8+ T cell responses in the nasal and respiratory tract, the primary sites of the COVID-19 virus."
The last patients in the trial received their final dose on 21 December 2020.
Tiziana share price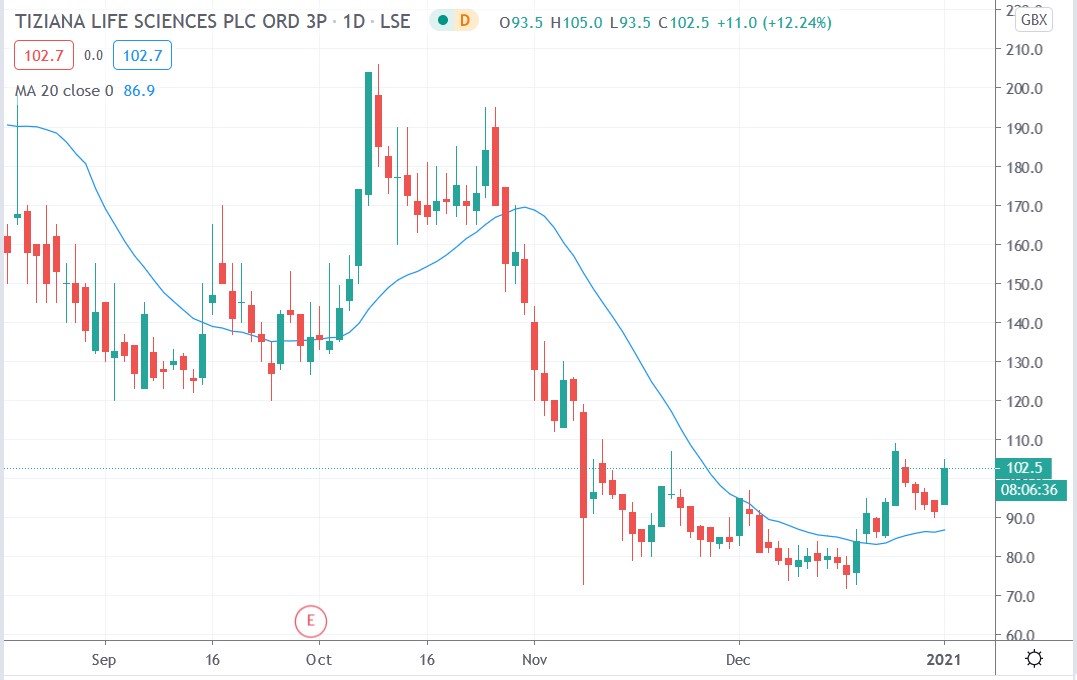 Tiziana shares surged 14.7% to trade at 105p having rallied from its closing price of 91.5p on Thursday, December 31st.