Key points:
TUI shares fell 5.67% despite releasing upbeat fiscal Q1 2022 results.
The tourism group reported a surge in passenger numbers and sales.
The group expects higher passenger numbers during the summer months.
The TUI AG (LON: TUI) share price fell 5.67% despite the European tourism group reporting a massive improvement in its revenues, which rose over 5X to €2.37bn (£2bn) in the last calendar quarter of 2021 compared to 2020's €468m (£395m) revenues.

The group's loss shrunk 60% to €274m (£232m). The group's airline division carried 2.3 million passengers from October to December 2021 and lost £100 on each customer.
The tourist airline expressed confidence that it would return to profitability during the summer months. About 3.5 million passengers booked a summer flight by the end of January 2022, representing a 100% recovery in the group's sales to 2019 levels.
TUI noted that the rapid spread of the Omicron variant was a temporary setback as more people were now starting to travel after the variant proved to be less deadly than the delta variant.
A significant percentage of the population has now accepted that COVID-19 will be part of our lives for the foreseeable future and are ready to start travelling again and enjoying their summer vacations after a two-year hiatus.
However, some analysts are warning that the airline industry faces another hurdle in rising fuel costs, which could erode the gains made in higher ticket prices for summer 2022.
The rising inflation levels across the globe mean that consumers will have less spending power, with many choosing to cut down on their vacation expenses as the cost of necessities rise, eating into their disposable income.
Fritz Joussen, TUI's chief executive officer, said: "We expect a strong summer 2022. There is pent-up demand among customers. We see this in all European source markets. The last two financial quarters have shown that the Group continues to stabilise."
Adding:
"The path out of the pandemic is becoming increasingly clear. Every step towards normality gives people confidence, and the demand for holidays increases immediately. Despite the ongoing trend towards very short-term bookings, we see the strong demand for the upcoming summer 2022."
This year, TUI shares have risen 7.56% and appear quite attractive at current prices. However, the path ahead for Europe's largest tourism group is full of challenges as countries reimpose travel restrictions due to rising COVID-19 cases.
*This is not investment advice. Always do your due diligence before making investment decisions.
TUI share price.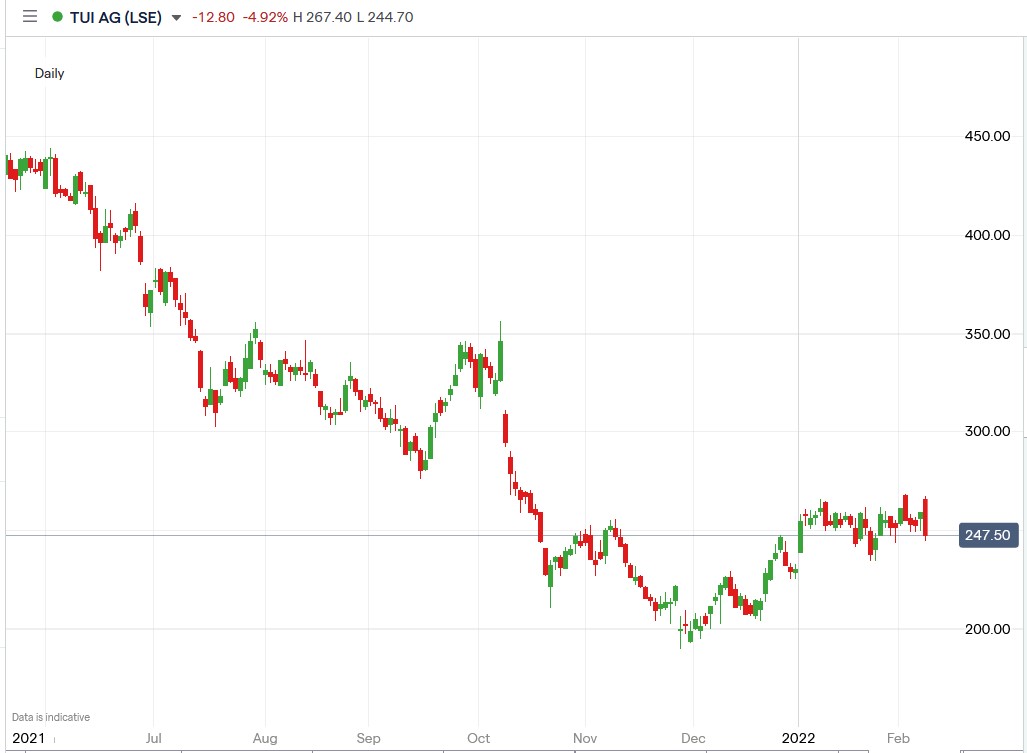 TUI shares fell 5.67% to trade at 244.45p, falling from Monday's closing price of 259.15p.