Key points:
TRQ's special committee is suggesting rejecting the Rio Tinto bid
Maybe this is a good idea, maybe it's just an attempt to shake out a better price
What matters is Rio's response
Turquoise Hill (NYSE: TRQ) stock is down 24% premarket in New York on the news that the Special Committee is recommending the rejection of Rio Tinto's (NYSE: RIO) bid for that portion of TRQ that it doesn't already own. This then sets up an interesting situation because it's not entirely obvious that Turquiose Hill shareholders have anywhere to go on this. And the one potential route they could take could lead to a considerable cash call and demand for investment capital. This is what might explain the fall in the TRQ stock price as the call is for the buyout price to be raised.

Another way of looking at this is that we're about to have a large – and possibly joyous – fight on our hands. Because as above it's not entirely obvious that there's much that Turquoise Hill shareholders can do other than either agree to Rio's price, or offer to pick up some of the mine financing costs themselves. Something that would be difficult to do on the current shareholder base.
But, the announcement has been made. The Special Committee set up to examine Rio Tinto's bid for the 49% it doesn't already own has said that the CAD $34 a share isn't enough. That's USD $26.50 and change dependent upon the day's exchange rate. That's also where TRQ stock was trading before this morning, minus a small financing margin, as we'd expect. The news now has knocked that 24% off that price.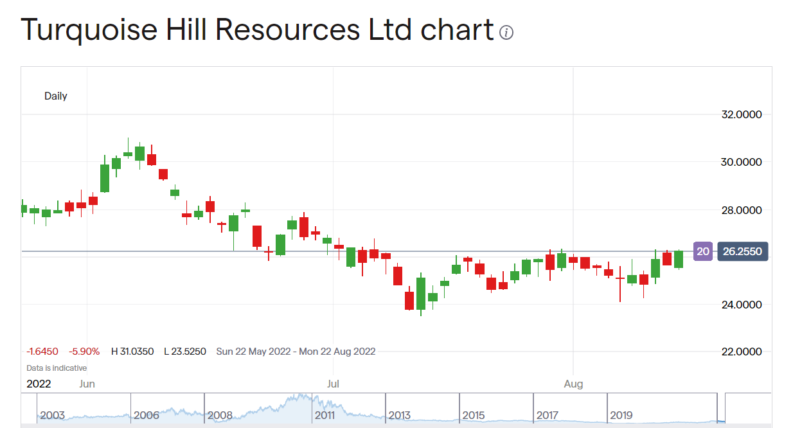 Also Read: The Best Copper and Mining to Watch in 2022
The background here is that Rio Tinto owns a piece of the Oyu Tolgoi copper and gold project in Mongolia. Turquoise Hill owns another piece, the Mongolian government the rump. Rio also owns 51% of TRQ and wants to buy the other 49% so as to have it as a wholly owned subsidiary. This is actually quite normal. Small (-er) company finds or gets the first part of development done on a large project. But truly large projects require one of the major miners, so that initial developer gets bought out.
OK, but now we've got to recall that this is a game with repeat iterations. If Rio Tinto was only going to do this the once, ever, then why not shaft TRQ stockholders? They're minority owners anyway, offer them whatever and those that refuse remain just minority shareholders which is not a good place to be. But this is a repeat game – Rio will, undoubtedly, at some future date what to buy out some other project. So, it needs to treat people well this time around.
Ah, but how well, that's the decision now. If Turquoise stockholders refuse to sell then TRQ becomes liable for some of the capital costs of development – that'll mean cash calls. But maybe this refusal can bring Rio back to the table with a better offer? Bit like a game of chicken, no one wants Rio not to buy TRQ out, it's only the price at issue.
It's terribly tempting to think that Rio will come back with a higher price. So, just buy in onto TRQ now. But recall, again, that this is a repeat game. Rio might think it worth warning all future project vendors not to play with them. So, positions need to be very carefully thought about.