Key points:
Uber stock has risen by 17.2% in one month due to a broad recovery.
However, Uber's story could be more than just a sectoral recovery.
The firm is expanding its UK services, leading to higher revenues.
The Uber Technologies Inc (NYSE: UBER) stock price has risen 17.2% in one month amid a broad-based recovery in the US tech sector. However, there is more to Uber's story than just an industry-wide recovery.

According to markets analysts, Uber is moving away from its Taxi foundations by adding other modes of transportation to its app. Yesterday, the company announced plans to add buses, trains, planes, and car rentals to its UK app later this year.
Analysts are saying that the company's ultimate goal is to create a travel "super app" that will be "a one-stop-shop for all your travel needs," according to yesterday's statement regarding the expansion of its UK services.
A critical distinction between Uber's current taxi services is that it will not be managing the other services added to its platform. Still, it will instead allow users to book the services conveniently through its app.
Uber is looking to work as an intermediary in these transactions, having integrated the services offered by third parties into its platforms allowing users to transact with the third parties seamlessly.
The company has added bikes, boat services and scooters to its UK in the past few years and the latest announcement regards the addition of trains and buses (coaches). These two last modes of transportation are widely used across the UK, which could see the travel app attract more users.
Uber recently won a 30-month extension of its operating license in London, ending a significant confrontation with the city regulators are to whether the app was "fit and proper" to keep operating in the country.
The ride-hailing app seems to have put its past far behind it after signing a deal with the GMB Union in the UK in May 2021 after the UK Supreme Court ruled favouring its drivers and other gig-economy workers.
In the ruling, the Supreme Court determined that Uber drivers are entitled to rights such as holiday pay and minimum wages, redefining how the company operates in the UK. The Supreme Court ruling also put a spotlight on other silicon valley companies involved in the gig economy.
Uber shares were trading down 2.63% at writing as investors largely ignored its UK announcement. Uber shares have recently pulled back but could resume their rally if they hold above $34 and break above the $37-$38 resistance zone.
*This is not investment advice. Always do your due diligence before making investment decisions.
Uber stock price.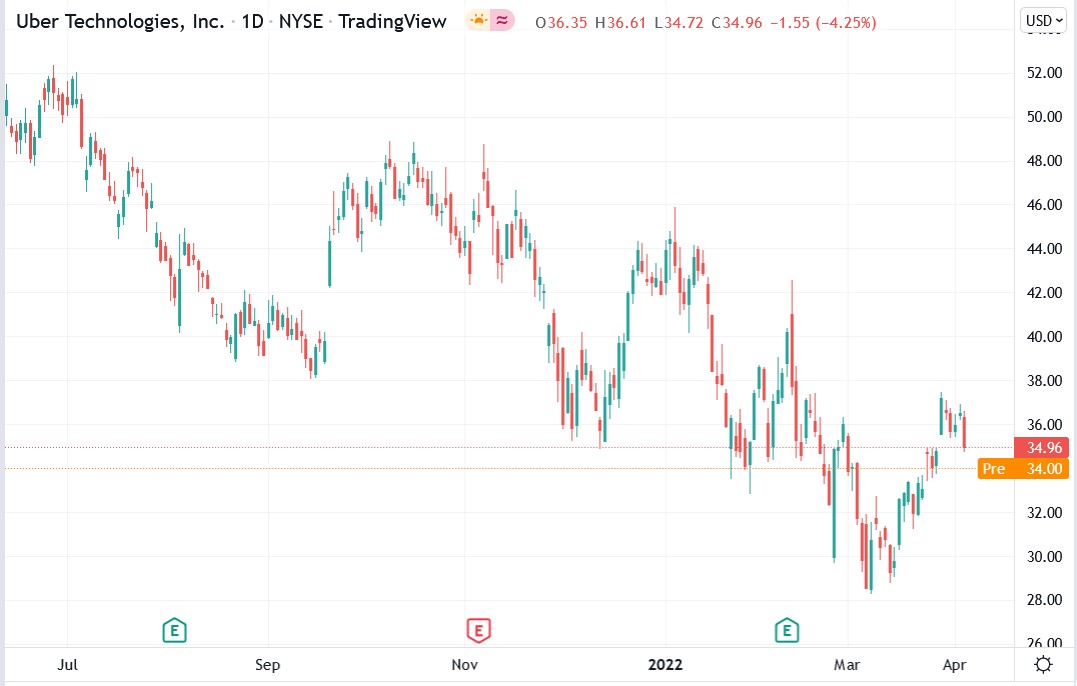 Uber stock price plunged 2.63% to trade at $34.04, falling from Tuesday's closing price of $34.96.