Key points:
The UK Oil & Gas share price edged higher on final approval from NSTA.
UKOG can now convert its Horse Hill-2z well into a water injection well.
The company still has excellent prospects, should you buy it?
The UK Oil & Gas PLC (LON: UKOG) share price edged higher today after the oil company received the final consent from the North Sea Transition Authority ("NSTA"), formerly known as The Oil and Gas Authority, to convert its Horse Hill-2z into a water reinjection well.

The company had earlier received consent from the UK's Environmental Agency on 4 May 2022 for the same process. However, it was awaiting the NSTA's approval before moving forward and re-completing (converting) the Horse Hill-2z project.
Investors cheered the news, but the rally did not last long as the bears stepped in to push UKOG shares lower, as shown on the daily chart below. The company's journey to receiving the final approvals for its Horse Hill project has been fraught with obstacles.
However, the controversy regarding the award of the planning consent for the Horse Hill project, which was opposed by Finch et al., a group of the company's former directors and shareholders since 2020, was finally resolved after the UK Appeals Court upheld the judgement issued by a judicial review panel in December 2020.
Despite the ongoing appeal that threatened the project's future, the oil and gas company implemented a massive facility upgrade in September 2020. The Court of Appeal decision in February 2022 gave the firm the authority to operate the Horse Hill site for its entire life.
UK Oil & Gas has since applied to convert the Horse Hill-2z site into a direct injection well, with today's approval from the NSTA being the final step.
As I have mentioned in the past, UKOG shares have significant potential, and today's announcement is likely to increase the company's oil output. However, UKOG shares are currently headed lower despite today's announcement.
I would look to buy at the 0.11p support level or on a break above the 0.14p resistance zone.
*This is not investment advice. Always do your due diligence before making investment decisions.
The UK Oil & Gas share price.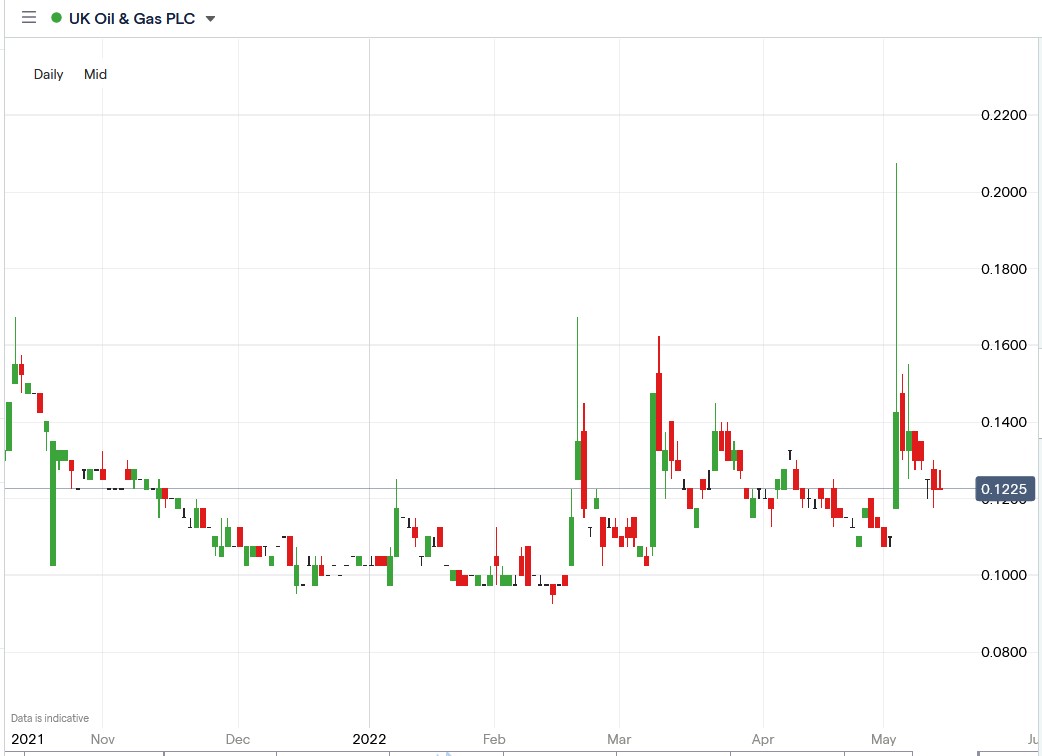 UK Oil & Gas share price initially increased before reversing course to trade 0.49% lower at writing.