Key points:
Upwork shares have fallen 17.3% this year amid a broader stock market selloff.
The company's fundamentals are pretty solid, driven by demand for freelancers.
Its shares look pretty attractive following the latest multi-month selloff.
The Upwork Inc (NASDAQ: UPWK) share price has fallen 17.3% this year amid the broad stock market selloff. Furthermore, the company has been affected by the cyclical rotation out of growth stocks with high valuations to value and dividend-paying stocks.
The company that connects freelancers with businesses and individuals seeking specific services saw its stock rally from a low of $5.38 in April 2020 to a high of $64.47 in July 2021, but the rally has not been a straight path.
Upwork shares have rallied higher, with the rally phases being followed by selloffs that gave back a significant portion of the gains, followed by other rallies and selloffs. However, the shares are currently trading at $28, having fallen from a high of $61 in late October 2021.
However, the latest downtrend has been more pronounced than before, given that the shares are currently trading at lows last seen in November 2020 and represented a much deeper pullback than those in previous months since March 2020.
The latest selloff was precipitated by the broad stock market selloff led by a massive selloff in tech stocks amid fears of tighter monetary policies from central banks led by the US Federal Reserve Bank.
Interestingly, the freelance company's shares have been falling immediately after releasing its earnings results despite its revenues and earnings per share beating analysts estimates in the past.
The demand for freelance workers continues rising as the COVID-19 pandemic forces many companies to hire people who work from home. There is nothing better than an experienced freelancer when it comes to such work arrangements.
Therefore, the company's fundamentals are pretty positive, which bodes well for the company's future financial performance despite the overall tech sector selloff.
The same case applies to Fivver, another freelancer hiring platform with an almost identical business model driven by the surging global demand for freelancers due to the COVID-19 pandemic.
I see the current selloff in both Fivver and Upwork shares as an excellent opportunity to acquire shares in companies with solid fundamentals at a significant discount. Therefore, I would hold the shares for multiple months while expecting them to hit previous highs.
*This is not investment advice. Always do your due diligence before making investment decisions.
Upwork share price.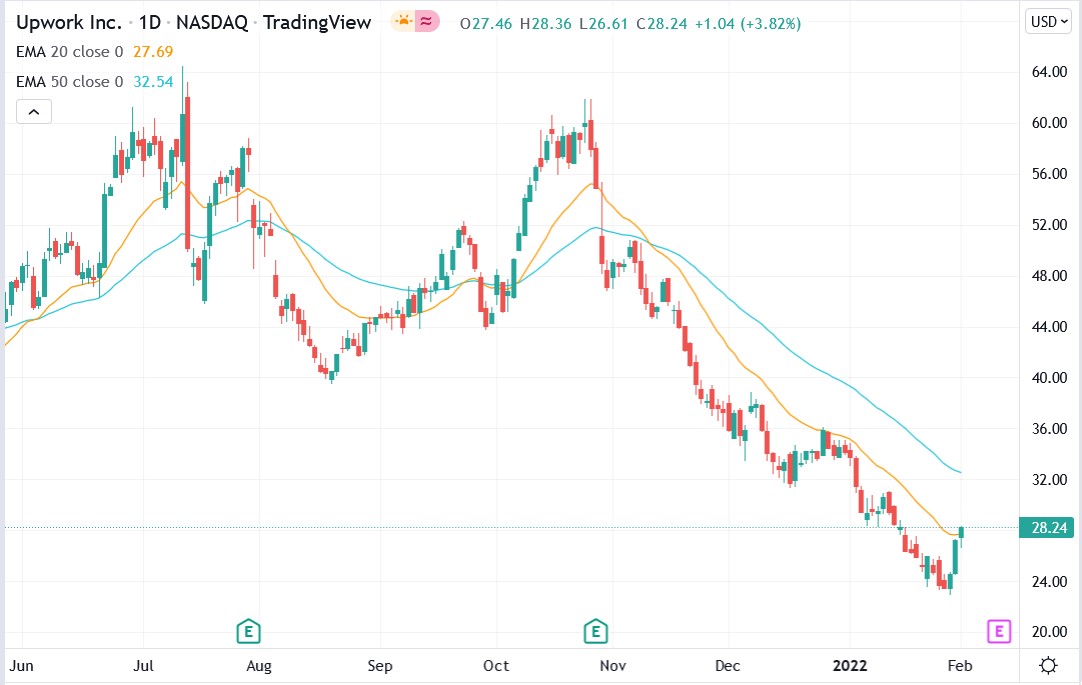 Upwork shares have fallen 42.27%, as seen on the daily chart above. So what's next for the firm?