Key points:
Vela Technologies' shares surged 16.9% on upbeat COVID-19 results.
The firm's investee, St George Street Capital, released the positive data.
The COVID-19 drug could generate significant revenues for Vela.
The Vela Technologies PLC (LON: VELA) share price surged 16.9% after its investee St George's Street Capital (SGSC) reported positive results in the ARCADIA COVID-19 clinical trial in patients with diabetes.

Vela revealed that the drug candidate is known as AZD1656 was licensed from AstraZeneca and resulted in lower deaths and earlier hospital discharges in diabetes patients with moderate to severe COVID-19 symptoms.
AZD1656 is an immunomodulatory drug with an advantage over small molecule and antibody antiviral agents due to its immodulatory effects, making it more effective against more severe forms of COVID-19.
Unlike the Omicron variant, which has less severe symptoms in patients, other disease variants may have more severe symptoms that require a drug with modulatory effects to suppress the variant effectively.
Investors cheered the announcement, leading to significant revenues for SGSC and Vela once the drug was commercialised. AZD1656 works as an anti-inflammatory agent while at the same time boosting the virus-specific immune response.
James Normand, Vela's Director, commented: "This update from SGSC indicates that the promise shown by earlier test results (which we have reported on previously) is being maintained. We are pleased that the latest analysis of the results of the study of the application of the AZD1656 treatment is sufficiently encouraging to result in active engagement with potential commercial partners, thus vindicating our decision to invest. We remain confident that the AZD1656 treatment has the potential to show a healthy return for SGSC and therefore for Vela."
Vela is an investment fund that backs companies with disruptive technologies, such as St George Street Capital (SGSC), developing the AZD1656 COVID-19 drug. Vela's other investments include Mode Global Holdings, Kanabo Group, MTI Wireless, Skillcast Group, Northcoders Plc, and WeShop.
Vela Technologies' share price has fallen 18.37% in 2022, and many hope that the share price shall reverse course and head higher soon. A slew of positive updates could do the trick allowing the shares to rally.
Meanwhile, the company seems to be trading at a bargain with a market capitalisation of 5.282 million, making it an attractive investment target for long term investors. However, short-term traders may be frustrated by the stock due to its lack of significant moves.
*This is not investment advice. Always do your due diligence before making investment decisions.
Vela share price.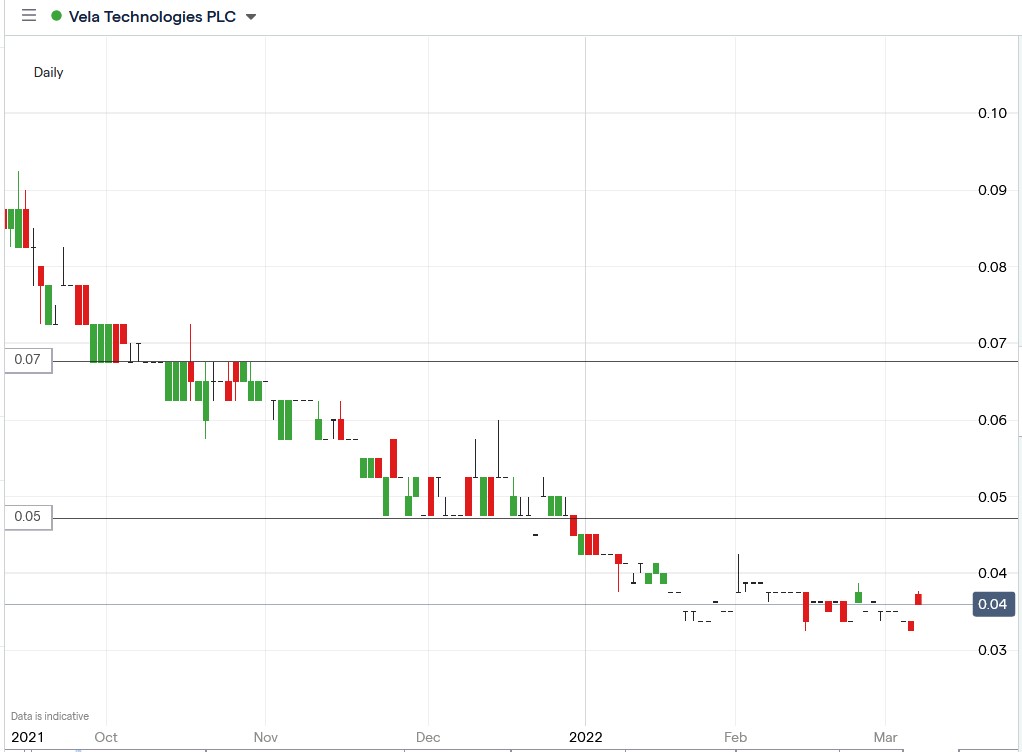 Vela Technologies' share price surged 16.92% to trade at 0.0380p, rising from Friday's closing price of 0.0325p.