Key points:
Virax (VRAX) stock soared 53% as it started supplying the RSV test kits.
The firm will distribute the RSV-Influenza-COVID Triple tests in the EU.
Retail investor interest in the firm has recently skyrocketed.
The Virax Biolabs Group Ltd (NASDAQ: VRAX) stock price soared 52.97% after announcing that it had started distributing its RSV-Influenza-COVID Triple Virus Antigen Rapid Test Kit in markets that recognize and accept the CE mark, such as the European Union.

Investors cheered the announcement, as evidenced by the rally in VRAX shares. Over 25 million VRAX shares had changed hands at the time of publishing as investor interest in the stock soared to new heights.
Also read: The Best Biotech Penny Stocks Under $5 To Buy Right Now.
The test kits can be used at home and in point-of-care settings where they can accurately identify where patients are infected with influenza, respiratory syncytial virus (RSV) or COVID-19. The kits provide the test results within 15 minutes.
Virax Biolabs sells new test kits directly, and they can be purchased from the company by contacting its sales reps. This is the second significant announcement from Virax in two weeks after announcing that it had begun its Immune COVID-19 Analytical Performance Study that would run from Q4 2022 to Q1 2023.
The study was announced on 26 October 2022 and will evaluate the technical performance of the Virax Immune COVID-19 Flow Cytometry Kit and will be based on specimens from 96 healthy volunteers.
Virax Immune is a proprietary T-Cell In-Vitro Diagnostic, or IVD, test technology developed to provide a platform for immunology profiling, which can assess an individual's immune risk profile against the lending global viral threats.
James Foster, Virax's Chairman and CEO, commented: "the major industrialized economies are facing a triple threat this year through higher levels of RSV and influenza infections on top of the ongoing COVID-19 pandemic. Giving people the ability to test for all three at home will improve the ability of healthcare systems to manage these infections on time. This is a welcome addition to our ViraxClear line of tests."
Retail investor interest in Virax Biolabs has risen significantly in the recent past due to the announcements made by the company and the low prices at which its share trade.
*This is not investment advice.
Virax Biolabs stock price.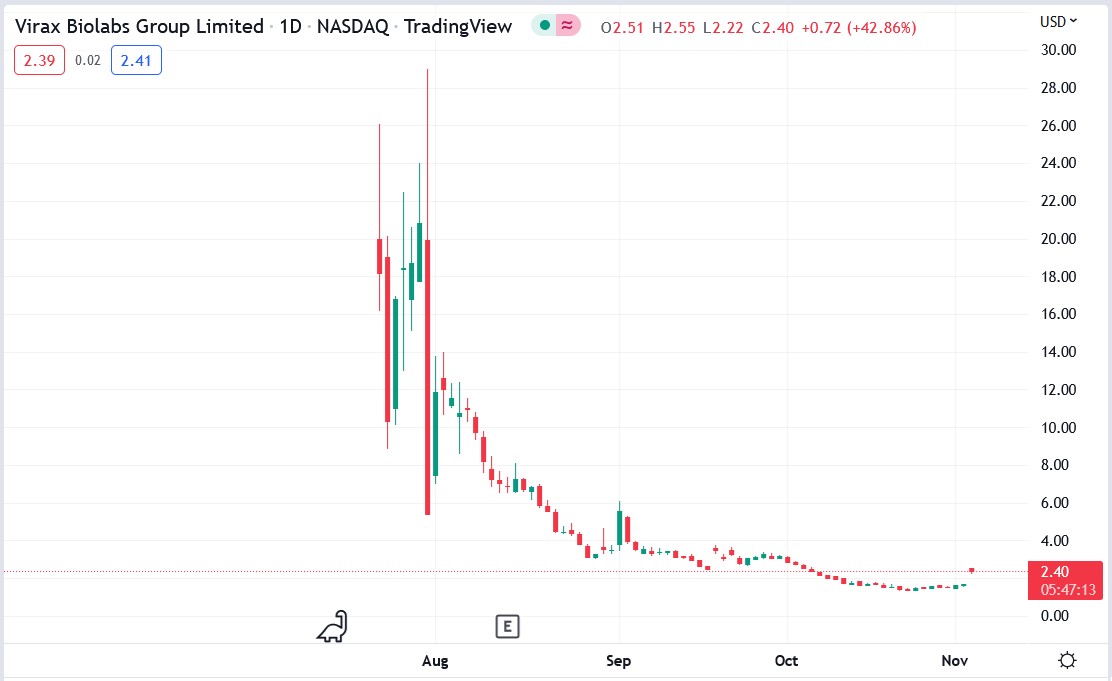 Virax Biolabs stock rallied 52.97% to $2.57, rising from Wednesday's closing price of $1.68.