Key points:
ComSovereign (COMS) stock rallied 31.9% despite a lack of news.
Retail investor interest in the stock remains relatively high as buyers flood in.
Also, calls for Elon Musk to acquire the company are mounting.
The COMSovereign Holding Corp (NASDAQ: COMS) stock price rallied 31.9% despite the lack of news releases from the company. The last time I covered the stock in mid-October, I mentioned that it was undergoing significant boardroom changes after its CEO and President both left the company on the same day.

Also read: The 5 Best Growth Stocks To Watch In 2022.
Interim CEO David Knight now leads the firm while the board looks for a substantive CEO to take over. Despite its internal struggles, ComSovereign recently received certification from Mexico's Federal Telecommunications Institute for its Fastback AnyLOSa IBR 1300, which it can now sell to tier-one wireless carriers and private network operators in the country.
Retail investor interest in the company recently surged amid calls for Elon Musk to acquire the company since its products and services could complement his Starlink project that provides internet access to remote areas using low-orbit satellites.
However, Elon Musk is yet to comment on the rumours and calls, and I can imagine he has his hands full with his recent Twitter acquisition. Still, Musk would not need a lot of capital to acquire ComSovereign, given that the entire company is worth $6.58 million.
Given its low valuation, ComSovereign could be acquired by any other company interested in its wireless products. But instead, the company is at risk of being delisted from the Nasdaq after receiving a warning for failing to submit its Quarterly Report on Form 10-Q for the three months ended June 30, 2022, on time.
The company has not progressed in regaining compliance with the Nasdaq's listing rules, which is why I wouldn't buy its shares, given the looming delisting risk. However, my position could change if the firm regains compliance with the Nasdaq by filing its quarterly results.
*This is not investment advice.
ComSovereign stock price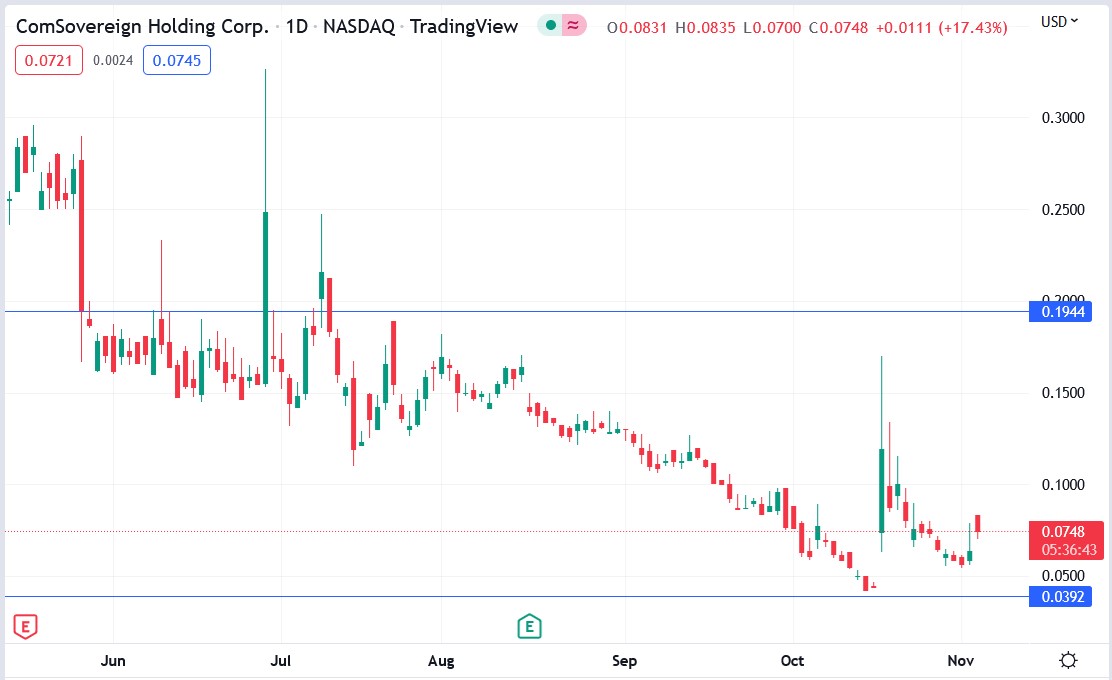 ComSovereign stock price rose 31.87% to trade at $0.0838, rising from Wednesday's closing price of $0.0637.