Shares of Vistry Group PLC (LON: VTY) are up 12.9% so far in 2021, and many are wondering whether the British homebuilder will deliver more gains as the year progresses.
The good news is that the company expects to double its profits this year as it recovers from the effects of the coronavirus pandemic that held back economic activities in 2020.
As for how far the company's shares can rise, the short answer is that they can rally up to the 1500p level, it's February 2020 highs before the coronavirus pandemic struck, driving it to its March low of 522p.

Vistry recently reported its earnings results for the 2020 financial year, which came in better than expected, fueling the company's latest rally. The company is off to a great start, with weekly private sales for each active site rising to 0.66 compared to the 0.64 figure registered in 2020.
Gerald Fitzgerald, Vistry's CEO, recently bought more shares in the company worth £496,000 at an average price of 926p, demonstrating that he is confident in Vistry's prospects.
Share purchases by company executives are usually a good sign for shareholders. Such people are intimately familiar with the company's day-to-day operations and would not invest more money in a company headed for future trouble.
Other company executives have bought shares in the company over the past year, but none has sold any shares, which is another great sign.
Vistry is well-positioned to benefit from the British economy's expected recovery this year as the government's vaccination programmes yield positive results leading to the easing of more lockdown measures.
Vistry share price.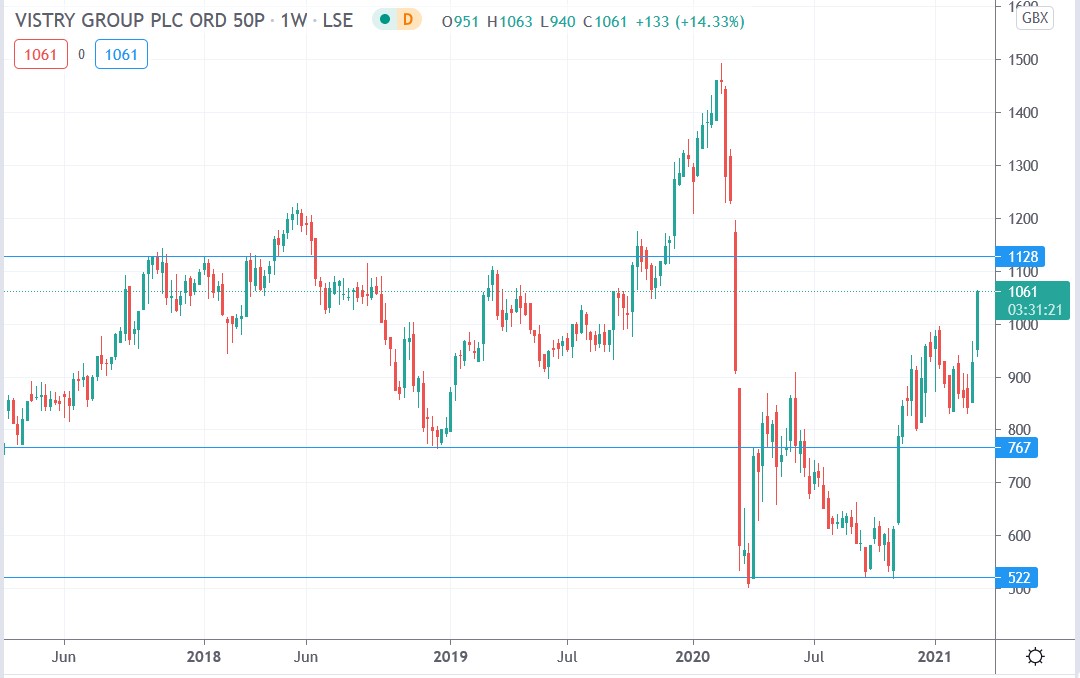 Vistry shares are up 12.9% so far this year. Can the British home building company deliver more gains?