Key points:
Helium One could benefit significantly from rising global helium demand.
First, the firm has to start producing helium to benefit from the prices.
Investors hope that HE1's drilling campaigns will be successful.
The demand for helium globally has skyrocketed in the recent past, mainly driven by the use of helium in the manufacture of electronic devices such as semiconductors.

Helium has quickly become a strategically crucial natural resource for most countries with significant manufacturing capabilities, such as the United  States, China, Japan, Taiwan, etc.
Therefore, Helium One is likely to benefit significantly from the rising demand for helium worldwide, translating to higher prices. Still, the company is a junior miner that is yet to start production activities without clear production timelines.
In Tanzania, Helium One's Rukwa project is estimated to have one of the largest natural helium reserves globally. Still, its shares took a hit when its maiden drilling programme failed to uncover commercial helium deposits.
Investors panicked and sold Helium One shares, causing them to fall from their highs at 28p to a low of 6p before trading sideways from late August 2021 to early January 2022 before rallying higher again.
The company explained to investors that the poor initial drill results were triggered by its use of a cheaper drill rig and were not a reflection of diminished helium reserves at the Rukwa license area.
Once Helium One starts producing commercial helium, the company will have a ready market for its helium as many countries rush to secure helium reserves for their manufacturers.
Other countries with significant helium reserves include Qatar, Russia, and Algeria, all of which have experienced significant output challenges as they try to ramp up production to meet the rising demand for helium.
The United States is another country with massive helium production capacity, with producers in the country ramping up production. One of the leading players in the US helium industry is Total Helium, which has operations in the vast Hugoton gas field.
Total Helium recently completed its drilling campaigns and started producing commercial helium in March, delivered to its offtake partner Linde. The two companies are working together to secure enough helium supplies for the United States.
To summarise, global demand for helium has never been higher and is continually rising as demand for electronics and semiconductor chips rises. The situation is favourable to helium producers such as Helium One. Still, the company has to start commercial helium production to benefit from rising prices.
*This is not investment advice. Always do your due diligence before making investment decisions.
Helium One share price.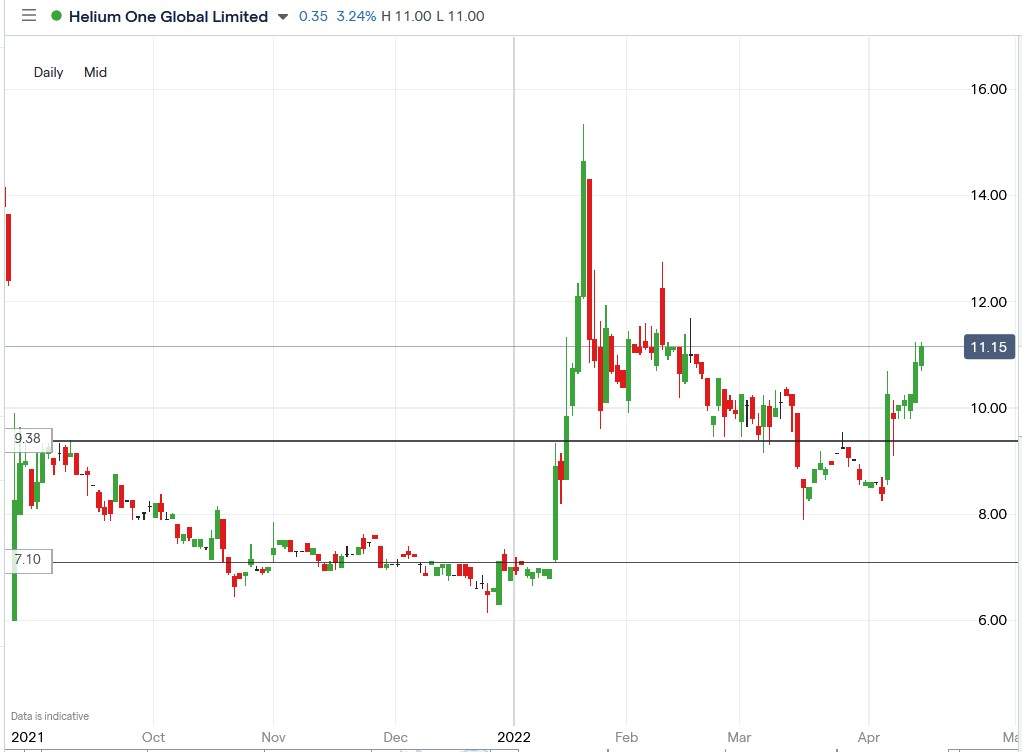 Helium One shares have risen 55% in 2022 and could be headed higher on the global helium shortage.