Key points:
Synairgen shares fell after its SNG001 COVID-19 drug failed its phase 3 trial.
However, there is hope for the company in the COVID-19 vaccine space.
Still, it would take significant effort for the company to pivot into vaccines.
The Synairgen plc (LON: SNG) share price has fallen 89% in 2022 following the disappointing results from its SNG001 phase 3 clinical trial and the halting of the recruitment for its phase 3 clinical trial in the United States.

While there seems to be no hope for SNG001 as a COVID-19 treatment, there is another promising path that could work for Synairgen if the company decides to move in that direction.
However, I am not a scientist and cannot comment on the viability of this idea, which I picked from a major publication, but here it is.
Scientists are currently working on a COVID-19 vaccine that can be administered via a nasal spray to the nose, where the vaccine can directly fight the virus. The scientists believe that a nasally administered vaccine could prevent infection from all variants of the SARS-CoV-2 virus, including the mildest of variants.
Researchers have second thoughts about additional vaccine booster shots that may not be very effective given that even vaccinated people were infected with the virus despite having booster shots.
The vaccinated people had a high concentration of viruses in their noses, making scientists consider a nasal vaccine the ultimate solution to fighting the coronavirus, passed on from nose to nose.
The change in strategy towards COVID-19 gives companies such as Synairgen a clean slate to work from if they can convert all their technical know-how and create a nasal COVID-19 vaccine.
However, there are no guarantees that Synairgen shall adopt the new approach, but this could be a lifeline for the company if it does not involve too much work.
Still, investors would understand if the company does not want to invest any more resources into a COVID-19 vaccine, given its recent setbacks in developing a vaccine treatment. Moreover, the firm would have to invest a lot of time developing a COVID-19 vaccine, given that its previous product was a treatment, not a vaccine.
Synairgen still has other applications for SNG001 as an asthma treatment, and many are hoping that the drug will progress to the commercial stages in future.
*This is not investment advice. Always do your due diligence before making investment decisions.
Synairgen share price.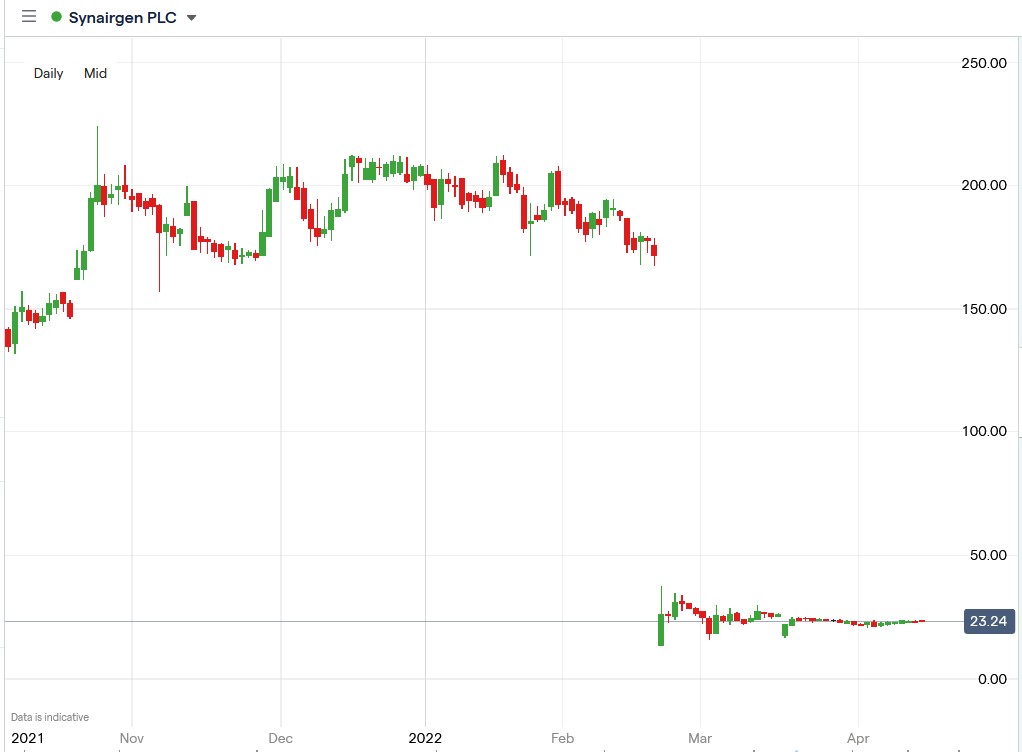 Synairigen shares have fallen 89% in 2022. Is there hope for the company in the future?