Key points:
XLE stock has surged 23.2% in 2022 and could be headed higher.
The ETF tracks oil prices headed towards the $100 mark.
Multiple factors have contributed to the rising oil prices.
The Energy Select Sector SPDR Fund (NYSEARCA: XLE) stock has risen 23.2% in 2022, and most analysts predict that the ETF, which tracks oil companies, could extend its gains.

XLE is already the best performing stock this year, and with many analysts betting on oil prices surging past the $100 mark, the ETF could have significant upside.
However, when is the best time to buy XLE if you have missed out on its past gains. The best time to buy a stock on an uptrend is when the stock pulls back to limit your risk exposure.
The West Texas Intermediate, which tracks the crude oil prices for oil produced in North America, was trading at $90 at writing and are a mere $10 away from the $100 target set by most leading investment firms such as Goldman Sachs.
Investors should remember that XLE tracks the stock prices of oil companies and not oil prices, which means that some of the stocks tracked by XLE could have a much more significant upside than crude oil prices.
To understand whether it is time to buy XLE stock, we must examine the factors that have caused global crude oil prices to rise.
The main factor behind the rising crude oil price is the constrained supply of this crucial energy source amid high demand from multiple countries as the world economy recovers from the impact of the COVID-19 pandemic.
Another significant driver behind the low crude oil supplies is the general trends towards sustainable energy that saw many leading oil producers divert their attention to investing in new energy sources.
The lack of investment in discovering and developing new crude oil sources means that many oil producers cannot raise their production level since they have been decommissioning wells and abandoning potential license areas to appease investors.
Many are faulting governments for pushing to adopt alternative energy sources, yet the world was still heavily dependent on oil as an energy source.
Many governments are now aware of the impact of their policies and have reduced the pressure on oil companies to reduce their footprint and shift to renewable energy sources.
However, some of the smaller oil companies have been ramping up their production, and it is just a matter of time before the crude oil supply can meet demand, which could lead to lower crude oil prices.
Meanwhile, you can still buy XLE stock on pullbacks since oil prices are still headed higher.
*This is not investment advice. Always do your due diligence before making investment decisions.
XLE stock price.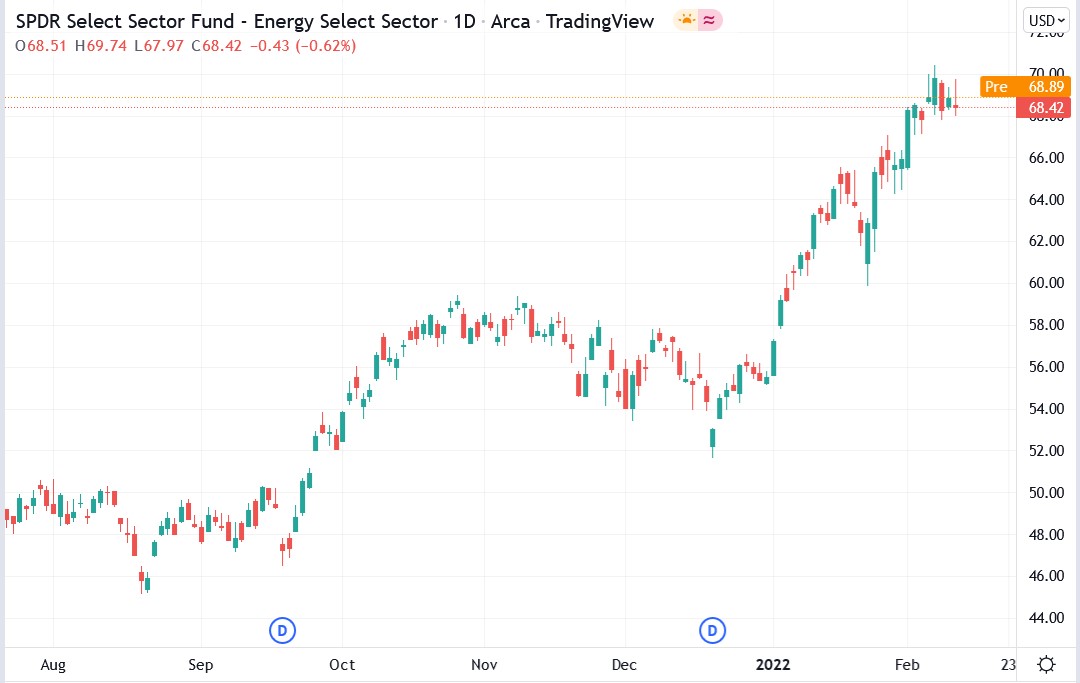 XLE stock has surged 23.28% in 2022 and seems to be headed higher. Should you buy it?