Tradeo Broker is a brokerage and social trading platform that provides access to social trading online. It aims to give traders around the world a new way to invest while standing out in a broker comparison – social trading comparison. With Tradeo social trading, users can improve their trading strategies by copying and observing top traders. Traders can use Tradeo on their computer or mobile devices and access more than 200 instruments. It's a highly unique product to both look at and use.
Highlights
Copy trading
Mobile trading available
More than 200 instruments
Open to those around the world
5.
of 8 Social Trading Broker
Tradeo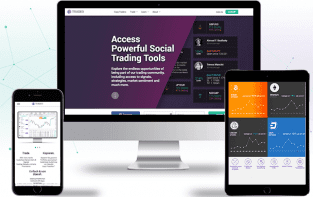 Go to Broker
Risk warning: Capital can be lost. Terms and conditions apply.
Headquarters and regulation
Cyprus (CySEC)
Trading platform
MT4, Broker-owned Software
Demo account
Yes, unlimited
Services & additional benefits
Live
Hotline
E-mail
E-Book
Videos
1. Trading Offer
1) Social Trading Offer: Copy Trading and More
One of the most exciting parts of our Tradeo social trading – review 2018 is the ability to engage in social trades, such as copying successful traders. Users can research the various top traders, view detailed statistics on them, and then choose to copy. You get a live stream of trading signals and live market notifications. With copy trading, you can take advantage of the over 200 tradable instruments on the platform or create manual trades. Via Tradeo social trading, users can automatically copy traders, with the ability to make changes so you are in complete control of your portfolio. This way, traders can diversify their portfolios by copying multiple traders or taking advantage of their trading skills. To further enhance the experience on Tradeo, you can discuss markets and strategies with other members of the community, including those related to all assets.
Tradeo Broker has an overall selection of more than 150 instruments, a figure that includes six different cryptocurrency-related pairs to take advantage of the latest tradable assets. There are also 40 forex pairs, 65 stocks, six commodities (including two metal futures, two metals vs. USD, and two oils), and 10 indices.
Ability to copy traders automatically or with modifications
40 forex pairs and 65 stocks
Offers cryptocurrencies, commodities, and indices
Go to Broker
Risk warning: Capital can be lost. Terms and conditions apply.
2. Costs
2) Social Trading Costs: Clear Fees
Out of a broker comparison – social trading comparison, Tradeo is one of the few with easy-to-find fees that strives for transparency in this respect. There are no commissions on trades, and you can get leverage of up to 1:30. There are also no fees for deposits, although your bank might charge a fee. Internal transfers between accounts with the same base currency are also free, and conversion fees only go up to 0.5 percent, a competitive rate. Tradeo follows a full STP (straight-through processing) model that means traders always get tight spreads without commissions.
Withdrawals to come with a small fee depending on the method. Wire transfers up to 10,000 units (USD/EUR/GBP) have a fee of 30 units, while those above this have a fee of 0.3 percent of the withdrawal amount. Withdrawing with a credit card costs 15 units, and alternative payment method fees are 1 percent with a minimum of 15 units. There are also inactivity fees if your account has been inactive for more than 90 days. These are set to 22 USD, 20 EUR, or 15 GBP. The only area in which Tradeo broker's fees are not clear is regarding copying other traders. It is unclear whether those who copy others must pay a fee and what type of reward copied traders receive. It is clear, however, that trading signals are free.
Leverage of up to 1:30
No commissions or deposit fees
Inactivity fee after 90 days
Go to Broker
Risk warning: Capital can be lost. Terms and conditions apply.
3. Account
3) Accounts: Single Account Type
Like many of the others found in a broker comparison – social trading comparison, Tradeo social trading only offers a single type of account, in addition to a Demo account. A great feature worth mentioning in our Tradeo social trading – review 2018 is the fact that this broker includes a personal account manager for every customer. You can opt for one-on-one coaching sessions and get support from professional account managers, features typically available only in higher-end accounts from competitors. When creating an account, Tradeo has a minimum deposit of 250 EUR, USD, or GBP to begin trading. Certain clients might be able to begin with just $100.
Since Tradeo Broker is fully registered, it requires documents for verification before you can begin trading and withdrawing money. All information remains private and is only used for reasons related to compliance. It is simple to verify your account via the My Dashboard page, specifically the "Account Activation" tab. You can fill out the information and upload documents for proof of identity and proof of address there. Account verification takes place within two days of submitting documents. It is possible to begin trading before submitting account verification documents, but only for the 15 days immediately following funding. If you do not verify the account within this time, your account is automatically closed and the initial deposit is refunded, minus any losses if you traded.
A single account type
Demo account available
Demo available for unlimited time
Go to Broker
Risk warning: Capital can be lost. Terms and conditions apply.
4. Platform
4) Social Trading Platform & Mobile Trading: Proprietary Platform or MT4
Since Tradeo Broker understands that traders like familiarity, it offers support for MetaTrader 4, MT4. This is among the most popular forex trading platforms in the world, which is why it is so commonly included in a broker comparison – social trading comparison. MT4 gives access to advanced technical analysis and is available for every operating system, both mobile and desktop.
While MT4 is popular, it was not specifically designed for social trading, which is why Tradeo social trading also offers a proprietary platform. This is the Tradeo Social Web Trader platform, and it combines professional execution, analysis tools, and a traders network. The platform lets traders adopt strategies of others and use their own strategies. It includes social feeds, free trading signals, one-click trading, technical indicators, market sentiment, and free market alerts in real-time. Those who prefer to use a mobile-optimized application while trading on the go will also find a Tradeo mobile platform for both iOS and Android with all the features of the desktop version. This allows for seamless trading on the go, so you can keep a closer eye on your account if you prefer.
Compatible with MetaTrader 4
Proprietary Tradeo Social Web Trader platform
Mobile platform for Android or iOS
Go to Broker
Risk warning: Capital can be lost. Terms and conditions apply.
5. Usability
5) Usability of the Website: Clearly Arranged
The Tradeo social trading website is well organized, with a layout that makes it easy to find everything you need to know. There is the choice of 10 languages, so most users will be able to take advantage of the website in a language they are fluent in. Our Tradeo social trading – review 2018 appreciates that the main menu remains visible even when you scroll down a page, making it easy to switch between various pages with ease. The main navigation bar features sections for Copy Traders, Trade, Learn, and About. All but the first allow you to hover over the tab in question to get additional related options, such as specific assets to trade, fees, webinars, and why to choose Tradeo.
The most important legal information is visible at the bottom of every page on the Tradeo website, including which organizations authorize and regulate Tradeo and the license numbers. This is also where you will find the risk warning for trading CFDs and forex. In terms of overall design, Tradeo Broker has a website that manages to remain fun yet professional at the same time, appealing to young professionals. Between the color scheme of white mixed with shades of blue and purple, the organization, and the legible font, Tradeo gives off a strong first impression. To help, the homepage includes the key features of the platform and testimonials.
Clear navigation
Easy-to-find legal information
10 languages for website
Go to Broker
Risk warning: Capital can be lost. Terms and conditions apply.
6. Support
6) Customer Support: Easy to Access
To ensure that clients can easily find customer support at any time, Tradeo Broker includes a box in the lower right corner of the screen to leave a message for an agent when none are available or to contact someone directly during live chat hours. We also appreciate in our Tradeo social trading – review 2018 that both the email address for support and the contact phone number are listed at the bottom of every page in the Tradeo domain.
You will find answers to the most common questions on the FAQ page of Tradeo, which also has the phone number and email address for support listed on the left side of the page. You can also start the live chat from the same section of this page. Support is available 24 hours a day, so traders do not have to try to get away from work to contact support during business hours. As a general rule, traders tend to have more good things to say about Tradeo social trading customer support than negative things, a positive sign.
Live chat icon on all pages
Easy to leave a message for support agents outside of chat hours
Support via phone and email, as well
Go to Broker
Risk warning: Capital can be lost. Terms and conditions apply.
7. Payment
7) Methods of Payment: Varies by Country
Unlike some options in a broker comparison – social trading comparison that expect traders to figure everything out themselves, Tradeo has clear instructions on making a deposit of funds to your account in their FAQ section, including a video tutorial. To fund your account, just go to My Dashboard, then click "Fund." If you have not yet activated your real account, you will first have to click "Active Real Account" and submit personal information. Tradeo accepts the most common deposit methods, including all major debit and credit cards, bank transfers, Skrill, and Neteller. Certain countries might also offer additional methods.
As mentioned earlier, Tradeo Broker requires a minimum deposit of 250 EUR, USD, or GBP for most traders, although some may have a minimum of $100. There are no fees for depositing into your Tradeo account. Keep in mind that like most other brokers, you cannot deposit into your Tradeo account with someone else's payment method because or regulations against money laundering. Withdrawal methods are the same as deposit methods, and like other brokers, Tradeo social trading prefers to return money via the method you used to deposit it.
No fees for deposits
Deposit via credit/debit card, bank transfer, Skrill, or Neteller
Some countries offer additional deposit methods
Go to Broker
Risk warning: Capital can be lost. Terms and conditions apply.
8. Offers
8) Additional Offers: Demo Account, Educational Tools, and More
It should go without saying in our Tradeo social trading – review 2018 that Tradeo offers trading signals since that is a key part of social trading. In fact, the trading signals from Tradeo are completely free, letting clients make the most of them without having to pay a fee. As mentioned, there is a Demo account available, as well as an FAQ section with answers to the most common questions. There is also a page of the website dedicated to describing forex terms for newcomers.
Beginners to trading as well as the platform will also appreciate the Training Academy in the Learning Center. Here you will find a range of videos divided by skill levels. They are divided into "Getting Started with Tradeo," "From Beginner to Winner," and "Pro Trader Academy." This is also where you can find the Tradeo e-book, which is ideal for learning all the basics of trading. Another extremely useful tool for those interested in Tradeo social trading is the webinars, which always include a weekly brief at the minimum.
To help users make educated trades, Tradeo Broker displays the latest market news along with a technical analysis in the Learning Center, both of which include daily briefs. Finally, Tradeo offers market tools, such as an economic calendar, financial news, and market quotes.
Videos for all skill levels
Available e-book for beginners
Economic calendars, daily briefs, etc.
Go to Broker
Risk warning: Capital can be lost. Terms and conditions apply.
9. Regulation
9) Regulation & Deposit Protection: Regulated in Multiple Jurisdictions
Since Tradeo operates on a large scale, a broker comparison – social trading comparison will find that it is regulated in multiple jurisdictions. Tradeo ST PTE. Ltd. Includes both UR TRADE FIX Ltd. And Delwyn trading Ltd. The first of these is a CIF (Cyprus Investment Firm) under the regulation and supervision of CySEC (Cyprus Securities and Exchange Commission). It has CIF License number 282/15, plus company registration number HE336677. This first entity is responsible for Tradeo.com.
CySEC
Regulatory Authority
Delwyn trading Ltd. Is a Belize investment firm responsible for operating Tradeo.com/ww. It is regulated and supervised by the IFSC (International Financial Service Commissions) and has license number IFSC/60/284/TS/17 and company registration number 126444. To help minimize the risk to your funds, Tradeo social trading includes evaluations of the Risk Level for each trader, along with the Win Ratio and their gain. This lets users select traders with the risk that they prefer and look at past performance to improve their chances of success. You can also take advantage of features like Stop Loss and Take Profit to minimize losses.
Regulated by CySEC and IFSC
Entities of Tradeo located in Cyprus and Belize
Features to let you choose traders to copy
Go to Broker
Risk warning: Capital can be lost. Terms and conditions apply.
10. Awards
10) Awards: Positive Reputation but No Awards
Our Tradeo social trading – review 2018 does not have any Tradeo awards to point out, as the website does not list any. To me that is quite unbelievable as this company is definitely deserving of awards. However, it does have numerous testimonials, both on the website and on third-party pages, that show off some of the reasons users keep trading with the Tradeo Broker. Testimonials praise the web platform for such features as real-time signals and market alerts that make it possible to make the most of trading opportunities. Others praise the Learning Center for its expansive resources designed to help out beginners, so they can learn about trading instead of just blindly copying.
Yet other testimonials praise Tradeo for the ability to set your own requirements yet automatically copy other traders, making it possible to invest with the platform and still work a full-time job or maintain a busy life with other obligations. Overall, Tradeo social trading is considered one of the top choices for social trading, although it is not quite as popular as certain competitors.
No awards
Strong testimonials from satisfied clients
Receives praise for automatic trading convenience, platform features and notifications, and Learning Center
Go to Broker
Risk warning: Capital can be lost. Terms and conditions apply.
Conclusion: Tradeo Social Trading – Review 2018
Those looking into a broker comparison – social trading comparison will find the Tradeo Broker to be worthy of consideration. It offers the ability to copy and follow other traders, along with the opportunity to interact with others and discuss, something not all other social trading platforms offer. The range of languages available helps Tradeo appeal to a wide audience, as does the long list of deposit methods. The website is well organized, and there are more than enough tradable instruments to appeal to the average trader. We encourage those considering Tradeo social trading to open up a Demo account with the broker. In the meantime, you can also check out some of the resources in the Learning Center, as most do not require an account to access. Once you get a feel for the platform via the Demo account, you can make an informed decision as to how to proceed.
Multiple base currencies for accounts
Active community with disccusion
Demo account without expiration
Multilingual
No awards
Fewer traders than some competitors
MT4 does not have built-in support for social trading
Test result
Broker
Go to Broker
Risk warning: Capital can be lost. Terms and conditions apply.