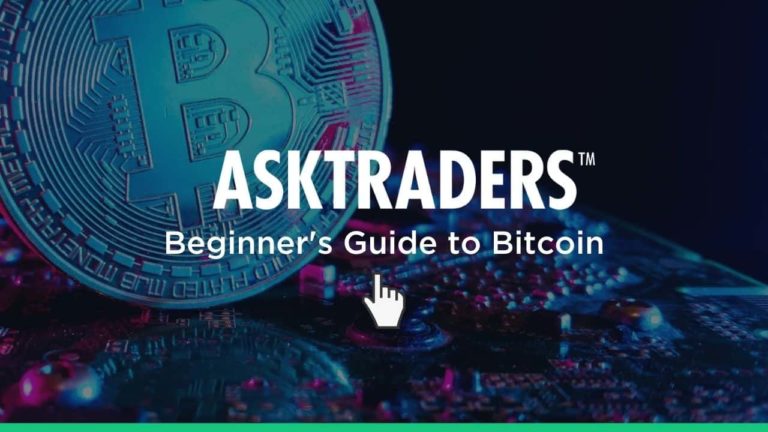 As a beginner, online trading can at first seem a little overwhelming. One of the easiest ways of getting up to speed is to buy a small position in a cryptocurrency such as bitcoin using a demo or live account. It's important to limit the size of the trade, but some brokers allow trades as small as $40 to be put on.
With this in mind, this article details the following steps to assist you in your journey when learning how to trade bitcoin for the first time.
Step 1 — Onboarding
Step 2 — What is bitcoin? Analysis and risk management
Step 3 — Buying bitcoin
Step 4 — Managing your portfolio
Step 5 — Closing out the trade
Step 1 — Onboarding
The quality end of the online broker market includes an array of regulated brokers offering the latest tech security features to their clients. A modern trading account typically has the feel of an online bank account, although is far easier to set up.
The below screenshots show the demo account registration pages for some of the better brokers in the market.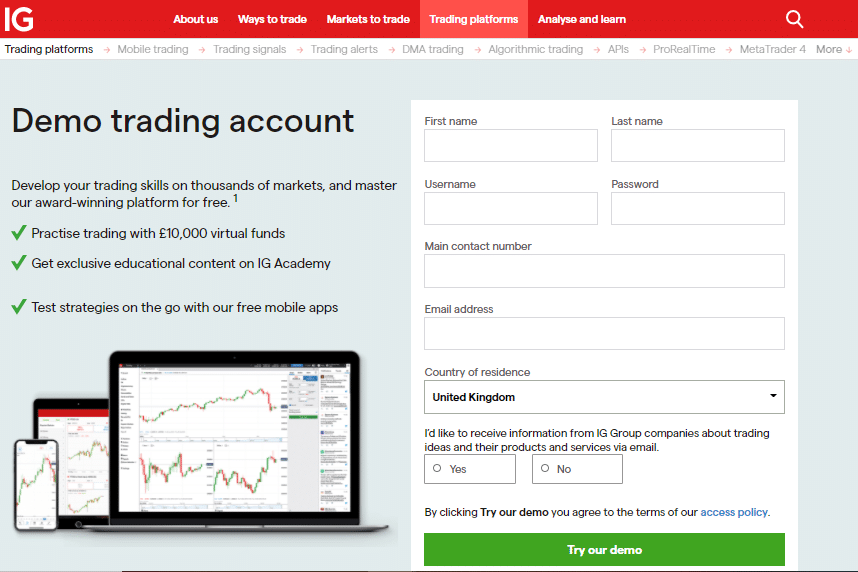 Source: IG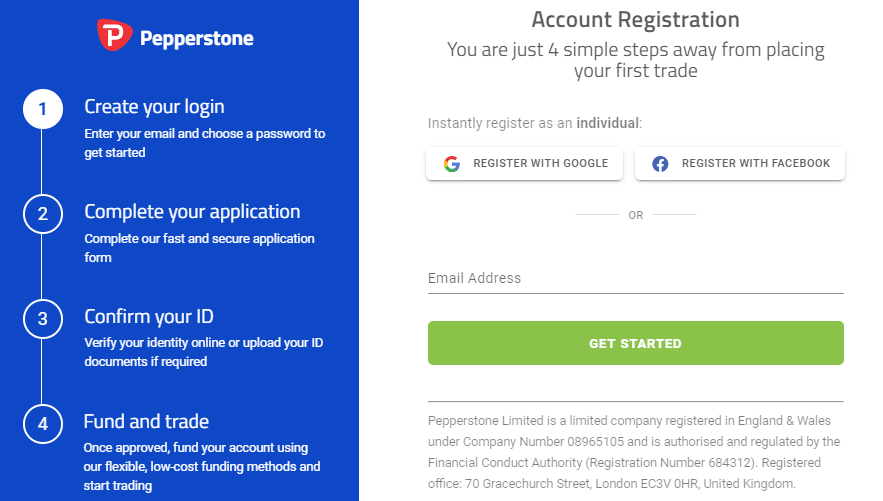 Source: Pepperstone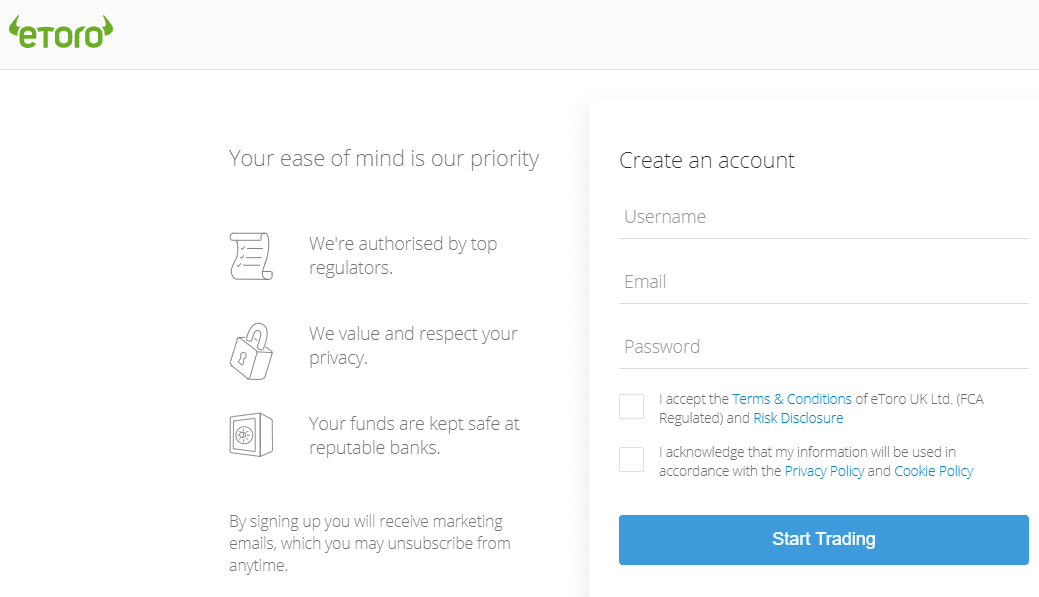 *68% of retail CFD accounts lose money
Initial registration can involve as little as the submission of your email address and creating your own user ID and password. This puts logging in and account management in your hands.
Once this step is complete, you'll be taken through to the actual trading platform. Live prices will feed into your monitors, and although the cash you trade with is virtual, the data you trade off will be very real indeed.
One sign that you are with a regulated broker is that the process of upgrading to a live account involves some form-filling.
You will also want to do some due diligence by checking the broker you are using uses a Tier-1 regulator such as those detailed below:
These regulators require brokers to compile some 'Know Your Client' information. This involves answering a range of questions about your experience and intentions and is designed to protect you. It also prompts some self-reflection and consideration of what your trading aims really are.
The final part of administrative preparation is paying funds into your account. While different brokers offer a multitude of payment options wiring funds via a bank account or card takes moments and has more of a feel of online shopping.
With your profile complete and funds in your account, you're ready to trade. At this stage, it's worth considering how to do that best. The aim, after all, is to make money, not learn how to onboard to a broker.
Step 2 — What is bitcoin? Analysis and risk management
Bitcoin is a particularly volatile asset. Its back-story dates back to its establishment in 2008, under mysterious circumstances. The currency utilises blockchain technology, which could ultimately lead it to become an alternative to traditional fiat currencies.
With outcomes being so binary, the price swings around a lot. This provides those who buy bitcoin with the chance to sit back and wait for price to do its own thing. For example, between 13th March 2020 and 17th August 2020, the price rocketed from $3,908 to $12,470.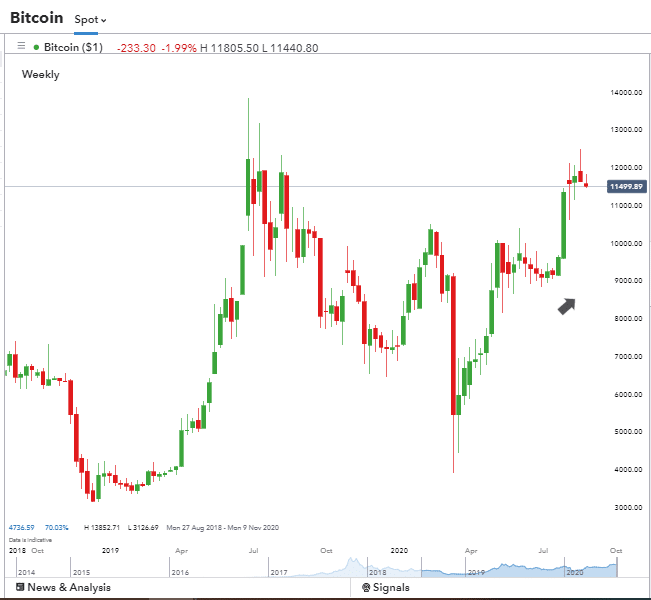 Source: IG
Industry research site TradingView is a good place to start if you are looking to engage in some in-depth analysis.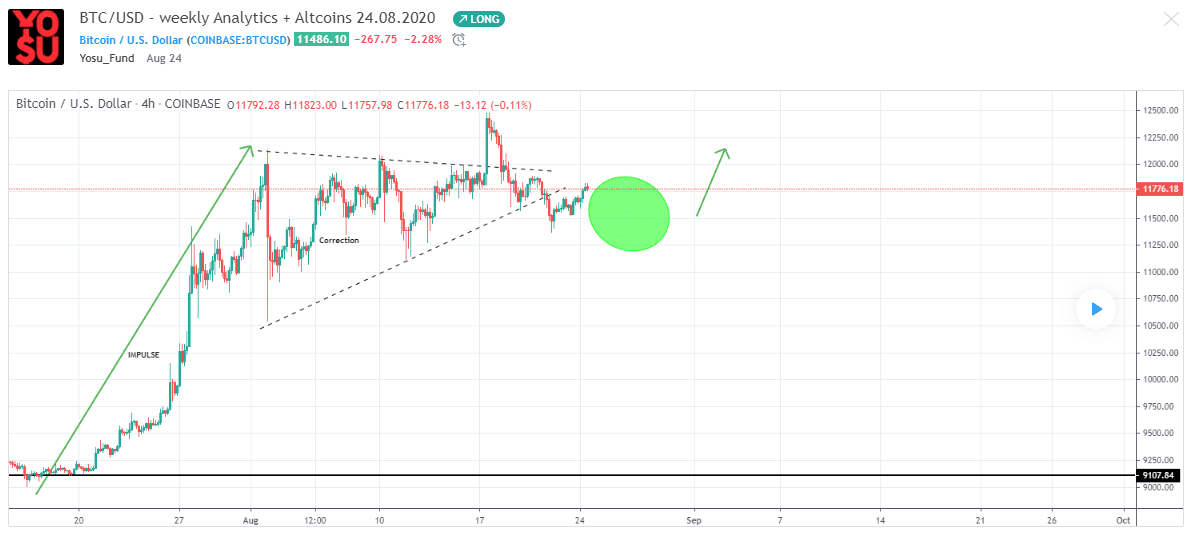 Source: TradingView
The ideas of different analysts are openly shared on the site, with different opinions receiving an equal airing.
Possibly more than any other asset, bitcoin attracts traders looking to buy and hold. That can also be easily done and checking on the mechanics of the trading process can ensure it is done in a safe and cost-effective way.
Step 3 — Buying bitcoin
Modern online broker platforms come packed full of tools designed to help you trade what you want, when you want. To support you in the aim of making a profit, it's possible to access state-of-the-art platforms using desktop and mobile-based trading software.
Basic trade instructions at online brokers require you to populate a few data fields to declare your trading intention:
Buy/sell
Instrument — what you are trading
Amount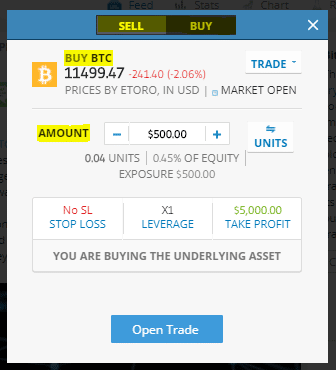 *68% of retail CFD accounts lose money
It really can be as easy as entering that information into the trading monitor and clicking 'Open Trade'.
More sophisticated trade orders might include:
Stop-loss — there are several types to consider such as 'trailing'.
Take-profit — an automated instruction to sell if / when your trade makes a certain amount of profit.
Leverage — the process of scaling up your risk-return profile.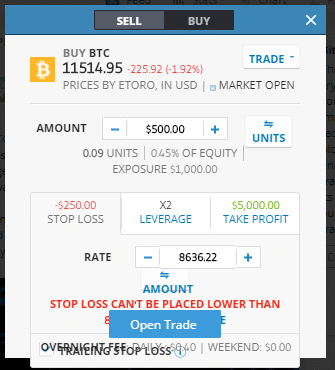 Source: eToro
These are all tools designed to help you set your trade up in the way that best suits your own trading strategy.
Step 4 — Managing your portfolio
As soon as you've booked your trade, your position in bitcoin will be valued according to the live price in the actual market. As the global price of bitcoin rises and falls, so will the value of your relatively small piece of it.
Brokers, of course, have taken into account that their clients want to keep up-to-date with events.
In the below screenshot, a position of $10,000 bitcoin is showing an unrealised profit/loss of -$135.62.

Source: eToro
If you're taking a long-term view, then as long as you manage your stop-loss — so that it doesn't trigger — then any slump in price that is followed by a rally to above your entry-level will generate a profit.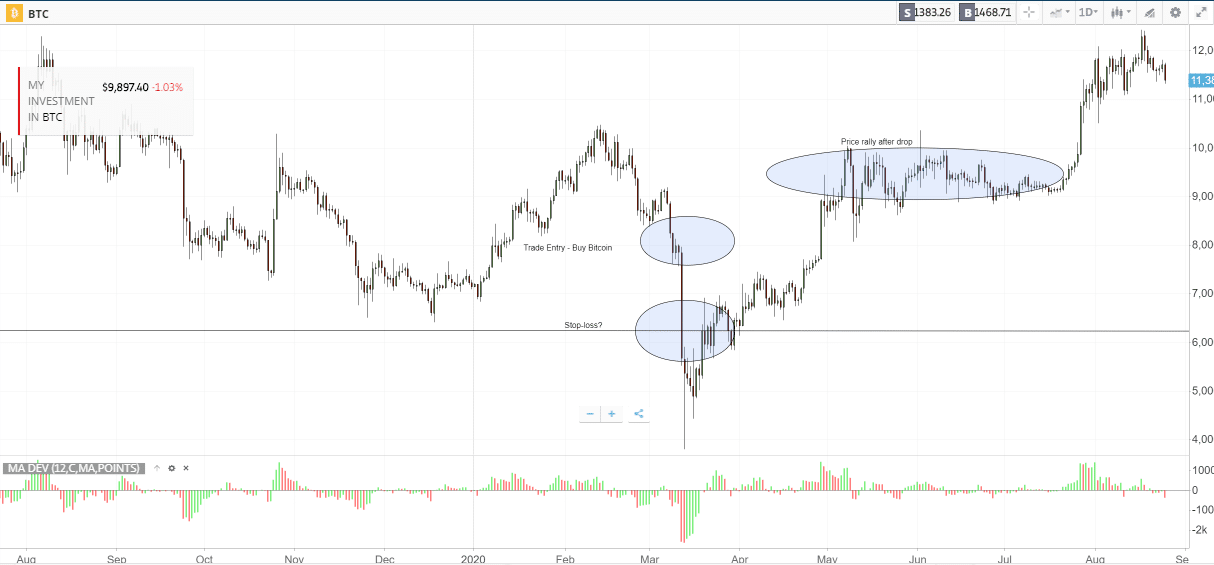 *68% of retail CFD accounts lose money
If you're following a more active strategy, you might want to keep an eye on the price charts and technical indicators such as Bollinger Bands to ensure you catch a profitable exit point on the trade.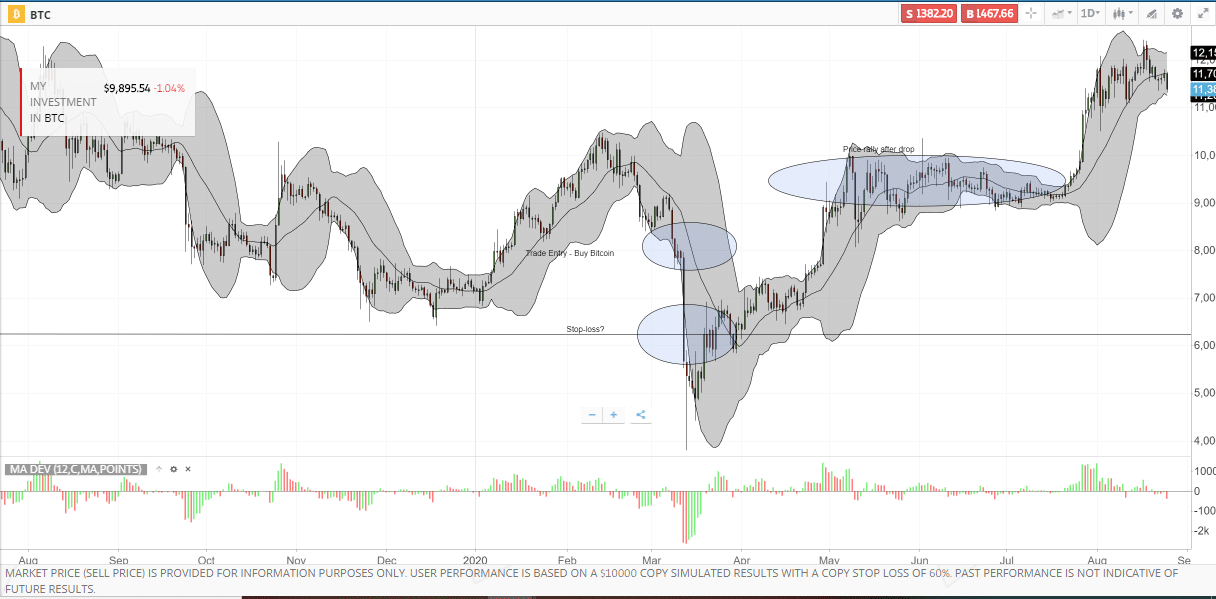 *68% of retail CFD accounts lose money
Until the moment you sell your position, your bitcoin will show an 'unrealised' profit or loss. As long as you don't sell it, the value of the position will keep on changing in line with the underlying market price.
Step 4 — Closing out the trade
A trade doesn't necessarily need to be in profit for you to decide to close it out. Cutting your losses on bad trades is as important as running your winners.
When the time is right, regardless of whether the position is showing a profit or a loss, the mechanics of closing out the trade are the same.
The exact buttons you press will differ from broker to broker. At eToro, it's a case of clicking on your open position, clicking 'Close', confirming 'Close All' and the position of $10,000 BTC is sold and converted back to cash.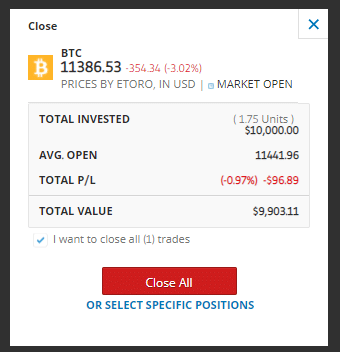 Source: eToro
As soon as you click to close your position, your account will sell your bitcoin at the market price and crystallise your profit of loss.
As mentioned previously, online broker accounts are nowadays very similar to online bank accounts.
After the asset position is closed out, our account has 'gone to cash' and the original balance of $100,000 virtual dollars has through our trading success moved to $110,315.49

Source: eToro
Final thoughts
The process of putting on a trade, monitoring it, and then closing it out is remarkably simple. Brokers have invested heavily in making the trading experience as positive as they can.
Intuitive functionality and helpful customer support staff are client-facing. Behind the scenes, powerful software tools and regulatory compliance processes ensure your trades are booked in a secure and compliant way.
The harder part is fine-tuning your trading decisions so that they make a profit.
PEOPLE WHO READ THIS ALSO VIEWED: