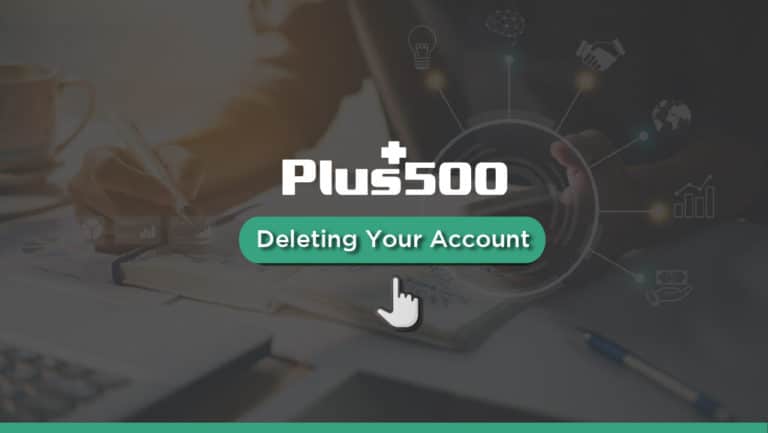 As every investor knows, trading is not easy. It can be especially difficult for beginners who don't yet have the experience of managing their risk and controlling losses.  Traders can also experience other issues with their brokers such as problems with deposits or withdrawals, or issues with executing their trades. If you do decide that trading is not for you, or if you have decided to switch brokers, then keep reading.
In this guide, we will show you how to delete your Plus500 account, go over some of the reasons why you might want to, and show you who you can trade with instead.
Before we get started, take a look at some strong alternatives to Plus500
Ready? Let's get started.

Why Would You Want to Delete Your Plus500 Account?
The simplest and most common reason is that you just don't want to trade anymore.  Maybe you suffered some losses and want to take a break, or maybe you don't have the time to dedicate to mastering the markets.  It does take time to become a consistently profitable trader and there is no way around that.
Another common reason to close your Plus500 account is that they don't offer the financial instrument you want to trade. Maybe there's an exotic currency pair where you see an opportunity or a particular company's stock you'd like to invest in. While Plus500 do offer a vast array of instruments to trade across many categories, they don't offer everything.
Other reasons we hear about are problems executing trades and issues with deposits and withdrawals.  Every broker should ensure your deposits and withdrawals are processed promptly and your trades are executed at the price you expect.  We would always suggest speaking to Plus500 first, as problems do occur. If they keep happening regularly though then you absolutely should look at switching brokers.
How Do I Close My Plus500 Account?
Here's how to close your Plus500 account:
Visit: https://www.plus500.com/Help/ContactUs
Enter your name
Provide the email address that is linked to the account you want to delete
Select 'Other Issues' in the 'Type of Query' field
Write 'Account Closure Request' in 'Subject'
Provide why you want to terminate your account
Click 'Send' to confirm the account deletion process
If you want to delete your account, you must contact customer service, who are likely to do their utmost to talk you into staying. To be sure the company takes you seriously, write an email clearly stating that you wish to terminate your account.
Before you do that you will need to close your trades. Plus500 won't be able to close your account if you have any open positions. To find these simply click 'Open Positions' on the left side of the screen.

The next step is to request to close your account. You can send an email as we mentioned but you can also use the contact form.  You may also have funds to withdraw, but it's best to request an account closure first as there may be fees that need to be paid. To find the contact form and other ways to speak to Plus500 click on 'Contact Us' in the help section of the main menu.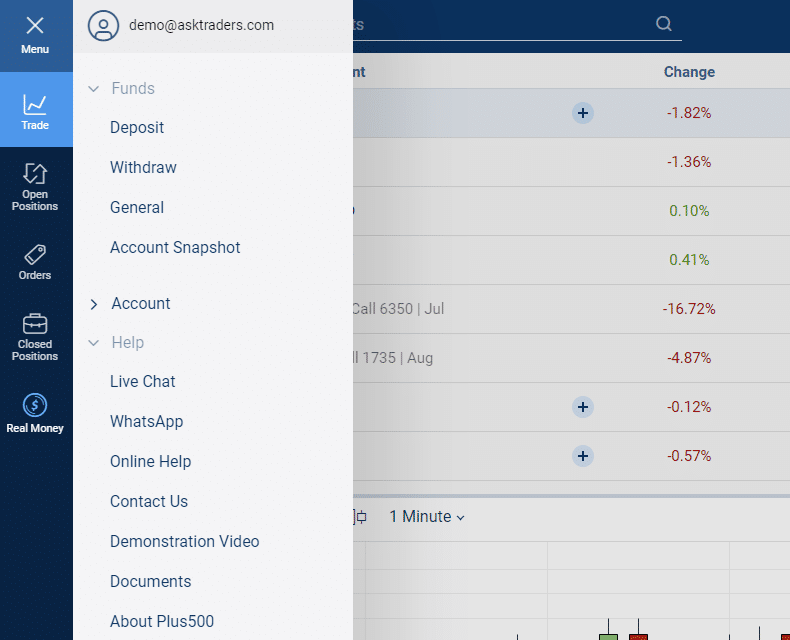 Who Can I Trade With Instead?
Who to trade with instead will depend largely on why you want to close your Plus500 account. If you have suffered some losses and want to take a break then trading in a demo account is a great way to rebuild your confidence and gain experience without risking your own hard-earned funds. Our favourite broker for trading forex is Pepperstone who offer a free 30-day demo account. This is a great option to regain confidence after a setback and keep building your trading experience without risking your own funds.
If you just don't have the time to dedicate to trading then copy trading is for you.  Sometimes called social trading, this is where you automatically copy all the trades a particular trader makes. It's great for beginners and those of us who don't have hours to spend analysing the markets every day.  The kings of this kind of trading are eToro and you can get started with a free demo account.
If you are looking to trade a particular currency pair, or any other financial instrument that Plus500 doesn't offer then it's important to weigh up your options.  At AskTraders we've ranked the best brokers across many categories, including forex, stocks and cryptocurrencies, to help you choose.
Further Reading