Gold's timeless appeal to investors is due to it being a safe-haven asset. It might underperform other asset groups when markets are buoyant; however, when market sentiment is negative, gold can hold its value while tech stocks, forex, and commodities experience a sell-off.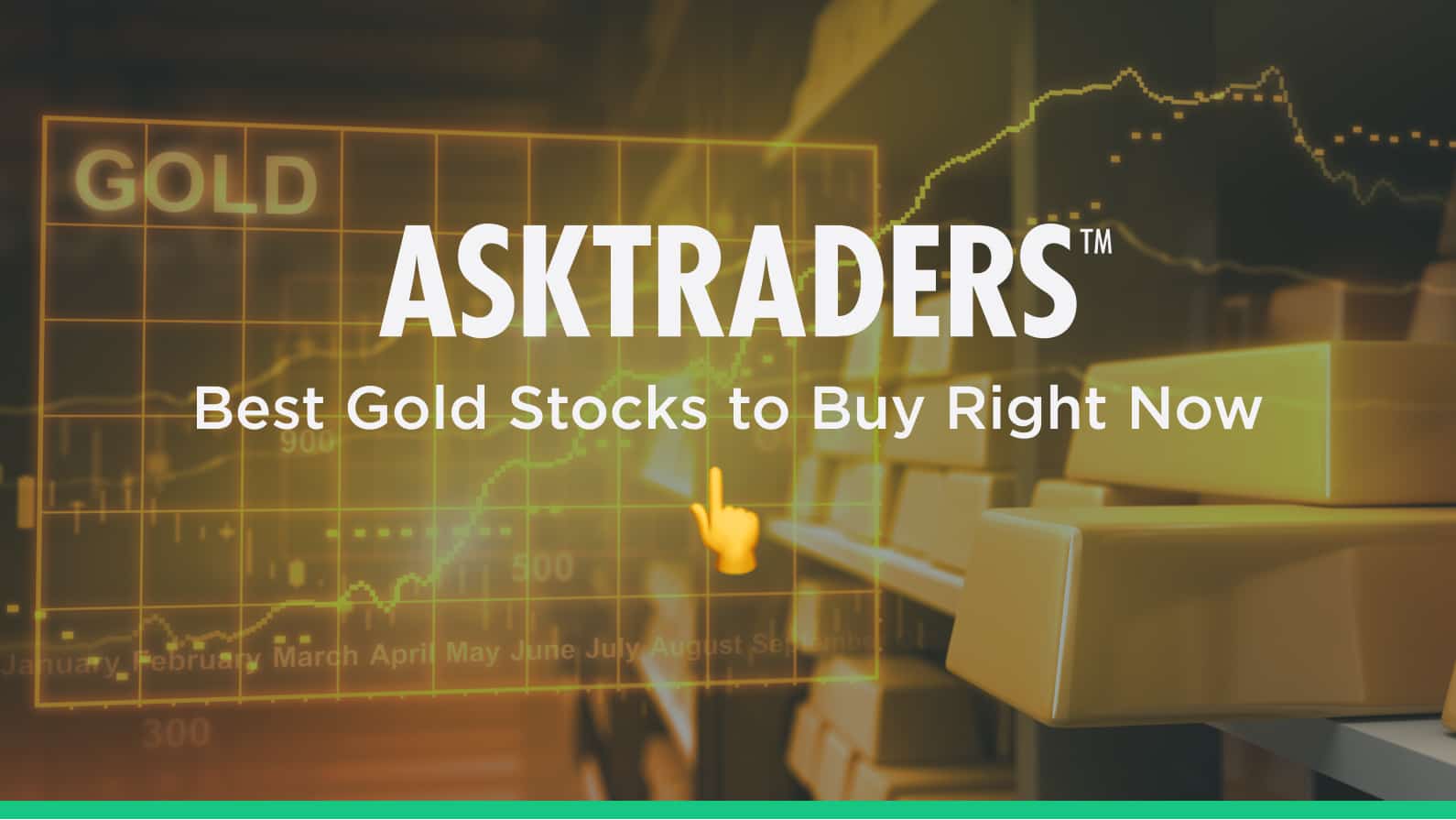 Since Covid burst onto the scene in 2020, there has been an increase in attention paid to the gold market. The heightened sensitivity to geopolitical risk kick-started by Covid has continued into 2022, and many investors are considering ways of holding gold stocks. Buying into equities of firms that operate in the gold sector offers a convenient and cost-effective way to gain exposure to the metal. Holding gold stocks can provide a degree of insurance against the global political climate turning sour. There is also the chance of the price of the shares going up, even if the political climate stabilises.
We'll look at five of the best gold and gold mining stocks to buy now and how to do so in a cost effective and safe manner with a trusted broker. Drawing on technical analysis and fundamental analysis, it will be possible to spot the stocks to buy and when the optimal time to do so might arise.
Price of Gold 2015 – 2022
Source: IG
Source 123RTF
First on the list of the best gold stocks to buy is Greatland Gold. This firm's stock is listed on the London Stock Exchange, but its operations are based in Australia. It's an out-and-out 'Bonanza' style gold firm that focuses on exploring new fields and developing its operations in the world-class Havieron gold deposit in the Paterson region of Western Australia. Striking lucky is never guaranteed, but if the upcoming test results prove positive, investors can take comfort from the firm operating in a low-risk jurisdiction.
Greatland Gold plc – Share Price Chart 2017 – 2022
Source: IG
The astonishing 1,354% surge in the value of the stock between January and December in 2020 gives an idea of the risk-return associated with GGP. Few would suggest going 'all in' on the stock, but the recent pull-back from the highs of 2020 has left the price sitting just above the key 76.4% Fibonacci retracement price level of 11.29. If the Greatland Gold share price is going to rebound and go on another dramatic bull run, now is the time for it to find that momentum.
Greatland Gold plc – Share Price Chart 2017 – 2022 – with Fib Retracement Levels
Source: IG
Greatland Gold has a relatively small market capitalisation of £520m which means its share price could be subject to considerable volatility as buyers step into and out of the market. The firm's small size also explains why only two broker analysts follow the stock, but they regard it as a 'Strong Buy'.
Greatland Gold – Broker Ratings 2022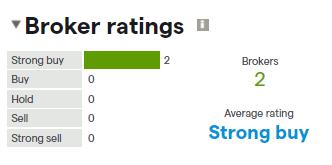 Source: IG
Source 123RTF
A larger firm that might offer investors a smoother ride is AngloGold Ashanti Ltd. This gold miner is the third-largest producer of gold and has a market capitalisation in the region of $9.8bn. It offers exposure to the key South African mining sector. Its primary listing is on the Johannesburg stock exchange, but international investors can invest in the USD denominated ADR form of the stock.
A decision to buy AngloGold shares represents buying into the prospects of a well-established gold miner which is fine-tuning its operations rather than engaging in 'hit and hope' strategies. It self-funds its pipeline of new projects thanks to the $2.8bn of liquidity sitting on its balance sheet and currently offers investors a dividend yield of 2.3%.
AngloGold Ashanti Ltd – Share Price Chart 2016 – 2022 – with trendline break
Source: IG
In November of 2021, the ANG share price broke out of a multi-year downward channel. Broker analysts are divided on whether this move will continue to build momentum, with the average rating on the stock being a 'Hold'. But any uptick in the price of gold would be good for the AngloGold share price, and with the current political climate being what it is, such a move can't be ruled out.
AngloGold Ashanti Ltd – Broker Ratings 2022

Source: IG
Source 123RTF
New Gold Inc has operations based entirely in Canada; 100% of the gold it mines comes from mines in the country. This gives it a competitive edge in terms of being seen as a super-safe firm to invest in, and the impressive ESG procedures also tick a box in terms of ethical investment. With significant funds paying more attention to the social and environmental impact of the firms they invest in, the policy adopted by New Gold represents a green light for big funds to buy in and drive up the share price.
New Gold Inc – Share Price Chart 2015 – 2022
Source: IG
From a technical analysis perspective, two bullish trends point to further gains for the NGD share price. Since the start of 2020, the price action has shown the textbook pattern of a bullish stock by posting higher highs and higher lows. This is backed up by the Simple Moving Averages (SMAs) on a Weekly price chart seeing the 20 SMA intersect the 50 and 100 SMAs to the upside.
New Gold Inc – Broker Ratings 2022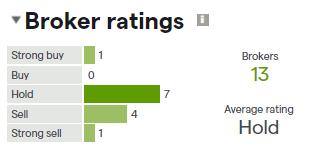 Source: IG
With the New Gold Inc share price currently trading below $2 per share, there's plenty of upside headroom before price closes in on the all-time highs of $12.82 per share. The consensus among analysts is that the stock is a 'Hold', but an increase in the price of gold could be expected to lead to some of those forecasts being upgraded.
Source 123RTF
The largest mining firm in the world based on market cap ($163bn) is Australia based BHP Group Ltd. The firm has a global network of mining operations in sectors including copper, silver, zinc, molybdenum, uranium, iron ore, and gold. Those looking to diversify their exposure could consider BHP to get exposure to gold and other metals. That spread of interests will appeal to some, particularly as a commodity super-cycle could potentially be just around the corner.
BHP Group Ltd – Share Price Chart 2015 – 2022
Source: IG
The monthly price chart dating back to 2015 shows that apart from a Covid created dip in March 2020, the share price of BHP has been trading consistently upwards. The firm also currently has a super-impressive dividend yield of 14.20%. Any dips in price which reach the region of the supporting trend line (currently at $54.36 on the ADR instrument) and 13 of the 14 broker analysts that follow the stock indicate it as a 'Buy', 'Strong Buy' or 'Hold'.
BHP Group Ltd – Broker Ratings 2022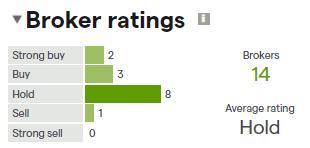 Source: IG
Gold ETFs (Exchange Traded Funds)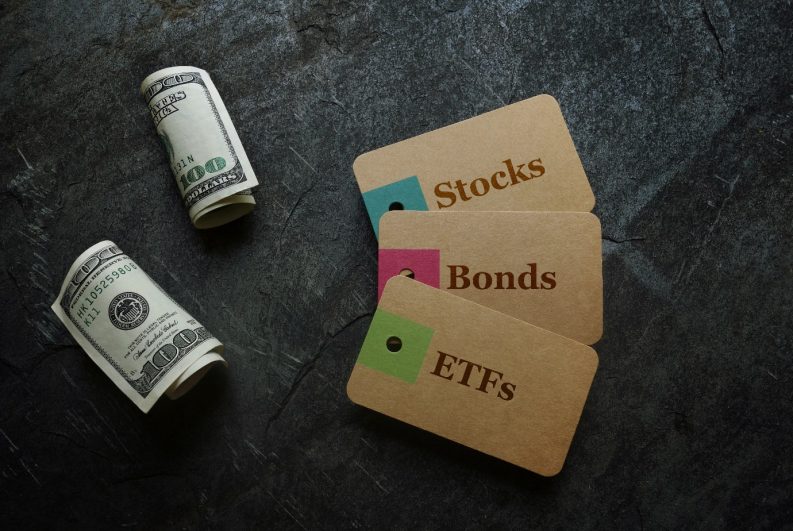 Source 123RTF
Investing in commodity markets is generally considered at the riskier end of the investment spectrum. Small firms like Greatland Gold might strike it lucky, but they also might not. Those looking to smooth out returns can take advantage of Exchange Traded Funds (ETFs), which allow investors to buy a basket of different stocks with the click of just one button. The ETF manager then buys many small positions in firms in the gold sector, mitigating single stock risk.
The iShares MSCI Global Gold Miners ETF offers broad exposure to the gold mining sector. Between March 2020 and March 2022, this fund posted an impressive 83.21% increase in value.
iShares MSCI Global Gold Miners ETF Price Chart 2018 – 2022
Source: IG
The Alps ETF Trust – Sprott Junior Gold Miners ETF takes a more aggressive approach and focuses on small firms, which might (or might not) be the next big thing. It's a bumpier ride, but this fund was up 126.20% between March of 2020 and March 2022.
Alps ETF Trust – Sprott Junior Gold Miners ETF – Price Chart 2016 – 2022
Source: IG
What You Need to Know About Gold Stocks
A lot of professional investors buy gold stocks rather than gold itself
Buying shares in gold mining firms can be a more convenient way of getting exposure to the sector than buying the metal itself in physical form or as metal futures. Some of the pros and cons of the different ways to get into the market are considered here, but it's worth noting that big funds such as pension funds have an established track record of using that approach. As institutional funds have strict investment mandates and might not be able to hold certain assets such as commodities, they often instead buy stocks to gain exposure to the underlying market. That approach can work for retail investors too.
Gold stocks can outperform the price of gold itself
Another quirk of the metals market is that an increase in the underlying asset price, such as gold, can result in a more considerable percentage increase in the value of share prices. This comes down to neat accounting to do with a mining firm's cost base.
A large percentage of mining costs are fixed rather than variable. Finding gold and setting up the infrastructure to mine it can take ten years and requires significant capital investment. Once a new mine is up and running, the ongoing variable costs are relatively small and not likely to be influenced by a spike in the price of the metal being mined.
If a miner needs gold to be priced at $1,500 to break even and the gold price is $1,600, then the firm is operating on a profit margin of 6.6% [(1600 – 1500)/1500]. If the price of gold increases by 20% to $1,920, then the profit margin will increase by more than 20%. In this example the new profit margin will be 28% [(1920-1500) / 1500].
As equity valuation models are primarily based on future income streams, a slight rise in the price of gold can result in an exponentially greater rise in the price of gold mining stocks and vice versa.
How to Buy Gold Mining Stocks
Gold's place in the financial markets means most brokers offer markets in metal and gold mining stocks but following some simple guidelines can help mitigate operational risk.
1. Choose a Broker
It is vital to choose a trusted broker to ensure you aren't caught by a scam. This list of trusted brokers includes firms that are regulated by Tier-1 regulators such as the Financial Conduct Authority (FCA), the Australian Securities and Investments Commission (ASIC), and the Cyprus Securities and Exchange Commission (CySEC).
2. Practice Trading Using a Demo Account
Opening a Demo account such as this one requires you to provide little more than an email address, and they typically take less than 10 seconds to set up. From there, you can test strategies in a free-to-use and risk-free environment.
Best Brokers to Trade Gold Stocks
eToro:
68% of retail CFD accounts lose money
Take a look
Finding the right broker for you is perhaps the most important part of the process. While you can buy Gold stocks with most brokers on the market today, not all brokers are created equal. Finding one can be an arduous and daunting task, which is why we've hand-picked favourites that tick all of these boxes to help you get started.
3. Open and Fund an Account
Online brokers have revolutionised the finance industry and offer cost-effective and user-friendly platforms to their clients. Setting up an account is done entirely online, using a desktop or handheld device, and wiring funds to your new account follows a similar route to any other online payment process.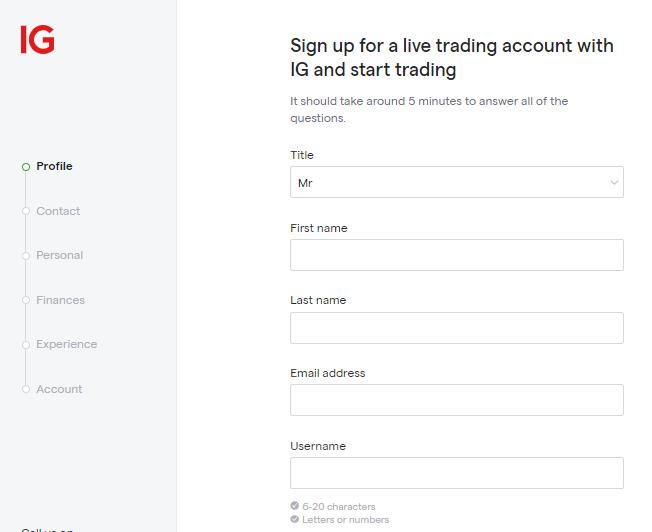 Source: IG
4. Begin Trading
The functionality of the sites means it's easy to navigate to the stock you want to purchase, and taking a position is as simple as entering the quantity you wish to buy into the data field and clicking or tapping 'Buy'.
At that point, cash in your account will be converted into a stock position which will fluctuate in value in line with market price and selling out of the position is simply a case of reversing the process used to buy.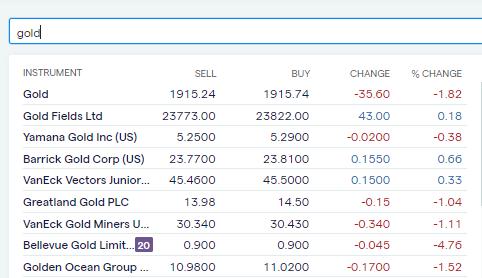 Source: IG
5. Manage Your Position and Risk
Stop Loss instructions and Take Profit orders are risk-management tools built into the trading system. They instruct a broker to automatically close out some, or all, of a position if price reaches a certain level.
Brokers offer a range of additional features to help traders manage risk. These include stop Loss instructions and take profit orders, and the basic principles of risk management include a variety of tricks aimed to take the emotion out of trading.
Final Thoughts
Whether you're new to trading or an experienced investor, the change in geopolitical risk levels makes considering buying gold shares a proposition worth considering. Navigate to the AskTraders list of trusted brokers to find trading platforms that have been reviewed and checked for their trustworthiness and offer a convenient way to get exposure to the metal that never seems to go out of fashion.
People Who Read This Also Read: