The resulting price volatility means there is something for everyone. Short-term traders can find joy using technical analysis to buy or sell Greatland Gold shares. Those with a longer-term view can use fundamental analysis to answer the question, 'is Greatland Gold a good stock to buy and hold?'. This article will look at the prospects for both types of investors and come up with a Greatland Gold stock forecast for 2025 and beyond.

Who is Greatland Gold?
If your investment process due diligence involves a site visit of your potential target, then you've got your work cut out with Greatland Gold. The firm operates in some inhospitable and remote areas across the Australian mainland and Tasmania.
Equally, if you're looking to get a clear idea of the Greatland Gold stock forecast, then you're also in an amount of difficulty. Opinions vary dramatically, as the recent stock price performance demonstrates. Trading at 1.96p in January 2020, the Greatland Gold share price soared by 2,053% to print at 38.25p 12 months later. Since January, the stock has traded as low as 16.80p, leaving many to wonder if now is the time to buy into the pullback?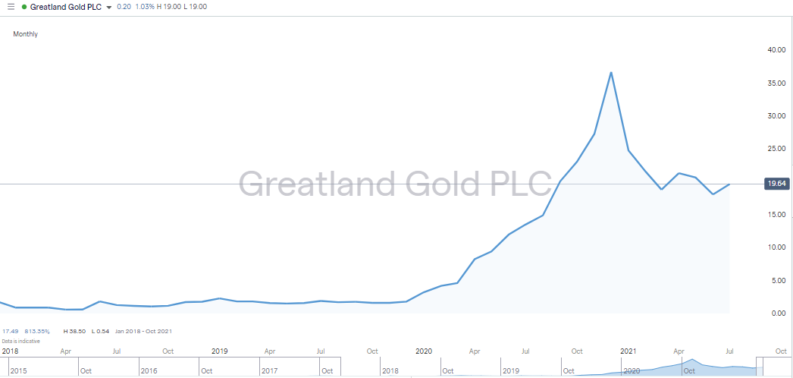 If you want to buy or sell Greatland Gold, then the ticker to locate is 'GG'. It's found on the London Stock Exchange where GG stock, because of the firm's small market capitalisation of £746m, trades on the AIM market.
Where Will Greatland Gold's Stock Price Be in 3 Months?
At first glance, the trading activity over the last 18 months looks like a classic surge-pullback pattern. The euphoria associated with the phenomenal price rise left GG stock overbought in terms of RSI on a daily, weekly, and monthly basis. When the monthly RSI touched 98, it was a sign that something had to give, and price fell away before breaking through the 40p resistance level, to then consolidate in the region of 20p.
Renewed buying pressure could be on the cards. The 50% Fibonacci retracement of the 2020–21 bull run sits at 15.81p and the monthly 20 SMA at 16.17p. If these significant support levels hold, then an upward move could be possible.
However, there is one technical analysis fly in the ointment. The downside break of the 50% Fib, which sat at 20.14p in March 2021, has been followed by several attempts to break back up above that level – none of which were sustained. Having a big technical indicator in the way, and one that recently acted as a significant support level, means the bulls are going to need to have some conviction to get momentum rolling again.
There are some corporate announcements in the calendar, which could trigger a price move of some sort. On 20th July, the firm will give a presentation to investors at 9.30am.
Those looking to keep up to date with other news would do well to visit the firm's Twitter feed. It tracks the movements of the CEO, Shaun Day and details all the upcoming key dates – another of which to keep in mind falls on 4th August when Day will take part in the firm's Diggers & Dealers event.
Where Will Greatland Gold's Stock Price Be in 1 Year?
The 12-month Greatland Gold stock forecast has to factor in the recent change in CEO. On 16th December 2020, the firm announced that incumbent Gervaise Heddle would be leaving the firm to be replaced by Shaun Day. There was an orderly transition on 8th January, with Heddle staying on in a non-executive capacity to ensure a smooth handover.
Heddle also took advantage of an opportunity to buy GG shares at a price of 22.40p. This insider dealing is quite telling. There's no one in the firm who has as much knowledge about future prospects, and taking his position to be 1.9% of the entire firm is a resounding vote of confidence for potential investors to consider. Price has since fallen to sit close to Heddle's own entry point and if he thinks buying at 22.40p is a good idea, there is good reason to question those not considering it at 19.00p.
From a technical analysis perspective, the all-time and year-to-date high of 38.25p is a key resistance level. There are also plenty more before that one is tested. The daily moving averages are in bearish mode, the 20 SMA intersected the 50 SMA on 25th May, and since then, the 20, 50 and 100 SMAs have been pointing downwards.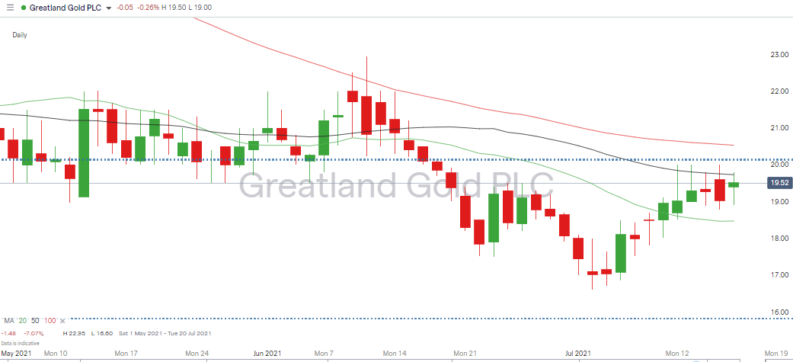 For any sustained bull run to take place, price needs to break the psychologically important round number resistance offered at 20p and also the 50 SMA at 19.73p, and 100 daily SMA at 20.53p. After that price level, there will likely be significant resistance at 24.06p, which marks the top of the sideways trading channel since February.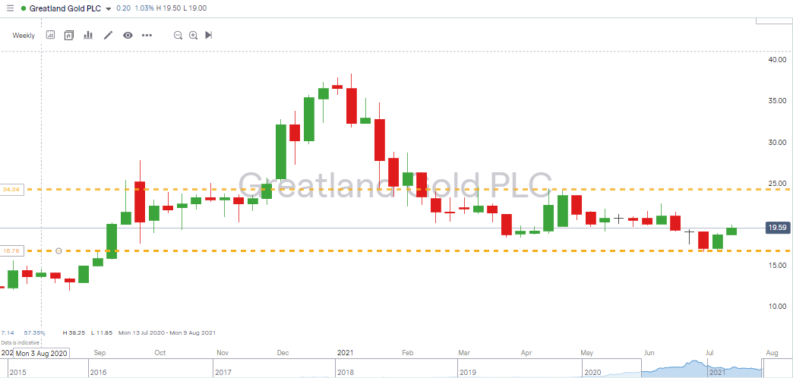 Downside risk really comes into play if the year-to-date low of 16.65p is breached. At that point, the 15.81p marker for the 50% Fib really comes into play. There's no guarantee that the next move will be upwards, so monitoring these levels will be crucial in terms of managing risk.
The previously mentioned price channel is an interesting development, particularly given it's holding a relatively tight range following a stratospheric price rise. While bulls and bears are yet to gain the upper hand, there are reasons to be patient.
Those looking to buy Greatland Gold shares at this level do need a catalyst to bring about a rally strong enough to break the side-ways trading pattern. The good news is that there are plenty of these on the horizon.
Where Will Greatland Gold's Stock Price Be in 5 Years?
Optimism relating to the Greatland Gold stock forecast up to 2025 is based on three factors. Revenues, a commodities super-cycle and the possibility that the firm may get bought out by a rival.
Revenues
Looking at the GG fundamentals, there are many reasons to believe the firm is heading in the right direction. Striking lucky in terms of gold deposits can't be guaranteed, but the firm is putting itself in the best position possible to deliver results.
The maiden mineral resource report released in December of 2020 estimates that the Havieron field holds a potential of 4.2m ounces of extractable gold and an initial inferred resource estimated at 3.4m ounces. This bonanza grade find is the reason for much of the excitement about Greatland but is, six months later, already priced in. Future growth depends on the firm being able to leverage some of its other assets.
The Scallywag drilling campaign has thrown up positive test samples. The good news about this field is that it's 100% owned by Greatland and its likely future news from this field will be a major determinant of long-term price direction.
The Rudall and Canning fields are not so much in focus but could generate interest over the medium term. Like Scallywag, these are fields to which Greatland has 100% of licensing rights.
Earnings are due to grow by 72.43% each year.
Commodities super-cycle
Greatland does also extract and sell base metals, but these are very much a by-product of the firm's main aim, which is mining gold. This means the Greatland share price is closely linked to the global gold market, and with the world moving into an inflationary environment, the price of gold is subject to some debate. When the likelihood of rises in global interest rates are factored in, it's clear to see that the GG stock price is to a large extent subject to a range of features that are out of the control of the firm.
M&A
Departing CEO Heddle was a mining man who helped Greatland develop a proven track record for exploration. Those hands-on skills have resulted in stellar returns for shareholders and there's no reason to think the strong skill set across the firm will be diminished by Heddle's departure. He did after all, up his holding in the firm as he left.
The new CEO has a different skill set, which is raising eyebrows. The company's statement on Shaun Day's arrival noted he "is a seasoned industry executive with over 20 years of experience in leadership positions across established mining and infrastructure, investment banking and international accounting firms. He has extensive experience in capital markets with a track record of leading successful transactions including M&A of publicly listed companies, farm-in agreements and raising capital" (source: Morningstar).
Day's background in accounting, investment banking and M&A point to the firm potentially readying for a buy-out. The hard work of finding gold in the ground has gone well and now is the time to maximise the returns to shareholders. Hiring a savvy new boss with experience in growing new businesses and ticking boxes with the investment community is a logical next step.
Is Greatland Gold a Good Buy?
There's something appealing about buying into the chance of striking gold. Putting the romance of gold-panning to one side, there are still some very solid reasons to buy Greatland Gold shares. The firm is a well-run exploration operation that makes the best of its human and technological resources. You don't get lucky as often as Greatland does unless you know what you're doing.
Price has pulled back to a level that will tempt many to step in, but anyone taking up the opportunity should respect the risk profile of the firm. Things look good now but could go terribly wrong. It's the nature of the business and any investment should only be in a size that can afford to be lost entirely.
The Best Brokers to Trade Greatland Gold Stocks:
eToro:
68% of retail CFD accounts lose money
Take a look
If you are ready to add some Greatland Gold stocks to your portfolio you'll need a broker that is regulated, has low fees and a user-friendly platform. Finding one can be a daunting task, which is why we've selected some of our favourites that tick all of these boxes to help you get started.