Successful stock trading has always been about sourcing the right information and up-to-date news. What does change over time is which information source is the best to use. Investors need to keep up with developments, and one of the most notable recent changes in how they access these developments is how they gain access to this. Today, it isn't unusual to find that some of the best stock investing advice is as likely to be provided by a TikTok influencer as a suited financial analyst but who are the best stock traders to follow on TikTok.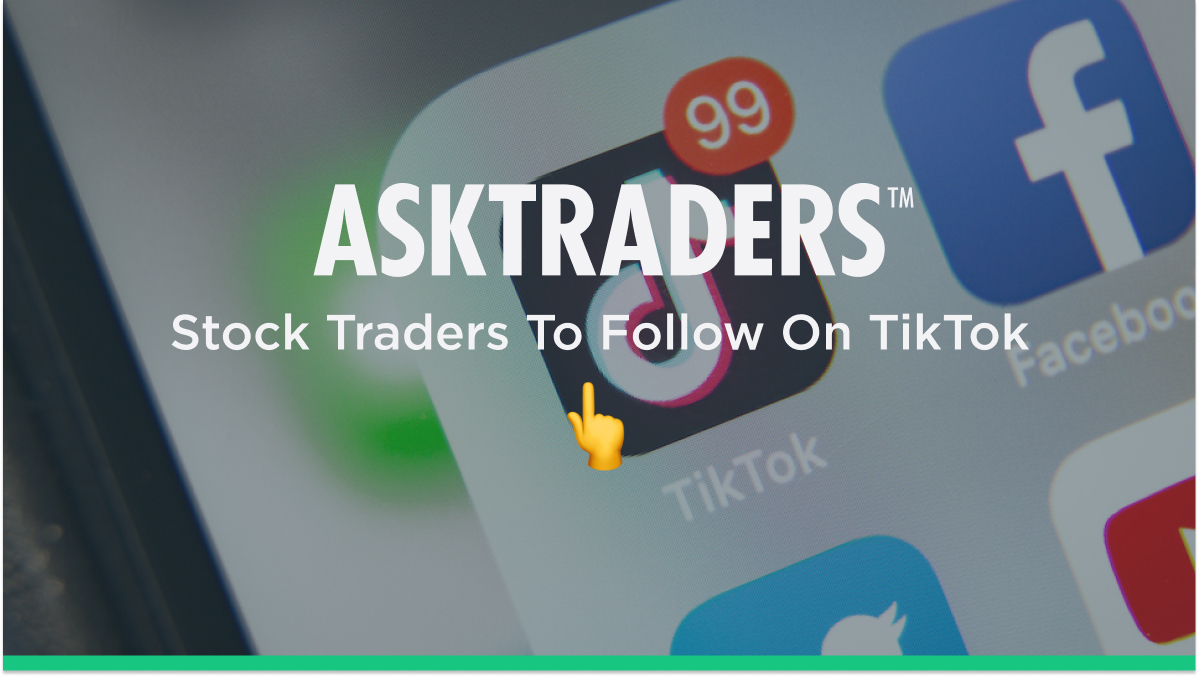 Our top 10 stock traders to follow on TikTok list contains listings of profiles that share their trading ideas with thousands, if not millions, of followers. Establishing which are the best to follow is a logical step towards making your stock trading successful.
Why Follow Investors On Social Media?
The incredible influence of social media means that investment tips made on platforms such as TikTok can become self-fulfilling prophecies. Stock markets are highly susceptible to the herd mentality – trading in the same direction as the trend is one of the fundamental rules of making a positive return.
TikTok's continuously expanding reach is also worth noting. The hashtag #stocks has been linked to snappy informative videos that have been viewed more than 7.1 billion times. There are few signs to suggest growth in TikTok user numbers is about to fade. According to a report by Sensor Tower, TikTok was the most downloaded App of 2021 and still held that pole position in Q1 of 2022.
The AskTraders list of the top 10 stock investors to follow on TikTok has been compiled to reflect the diverse nature of the most popular accounts. All corners of the financial markets are covered by TikTok posters, with more than 2 billion posts having referenced the hashtag #fintok and videos with the tag #investingforbeginners having 517 million views.
The below profiles listed have been selected for their ability to appeal to a wide audience. Some will appeal to a youthful crowd looking to pick up some stocks and some to out-and-out stock analysts. It's a fast-moving environment, so read on as we investigate which profiles are truly worthy of your social media feeds.
Top Broker Recommendation
Followers: 1.1 million
The average age of TikTok users may be gradually creeping up, but our list of the best stock investors on TikTok starts with an account that is aimed at the app's traditional target demographic – 18–25-year-olds. Around 24% of all TikTok accounts are owned by females in that age range, which helps explain how Taylor Price has already accrued more than 1 million followers.
Price, who is 22 years old, doesn't consider herself a financial 'influencer' and prefers to use the term 'Gen-Z financial activist'. The stated aim of her account is to develop an environment where young people feel comfortable and confident in their stock investment decisions.
Her videos have been liked more than 20.6 million times and cover topics ranging from 'how to remain calm during a market sell off', 'can you buy Starbucks every day and still be rich', and how to invest in a tax efficient manner.

Taylor Price's TikTok account covers a wide range of different asset groups. By not focusing on stocks, she demonstrates the benefits of diversification and the light-hearted tone means all her videos are an easy watch as well as informative.
---
Followers: 381,000
The flexibility of the TikTok format means that analysts with a more traditional approach can also carve out a niche. Financial analyst Robert Ross uses TikTok to share his ideas on how to navigate a successful course through the world of stock investing.
Ross's videos cover a range of topics, including direct tips relating to what stocks to buy in different market conditions to how events such as hurricanes affect the stock market.
One of the attractive features of the tik.stocks account is the way it looks forward to the next investment opportunity. For example, it discusses ways to identify when a falling stock or market has bottomed out. Other videos consider the elements of fundamental analysis that an investor might want to apply when stock picking. The thoughtful discussion of such techniques makes this account an ideal one for buy-and-hold style investors looking to generate long-term returns.

Some of the analysis on Robert Ross's TikTok account can be categorised as intermediate to advanced level, which partly explains why he has thousands rather than millions of followers. Some of the more granular reports on subjects such as the correlation between earnings growth and share price performance do a good job of explaining complex ideas in a straightforward way. He might not be leading the way in terms of followers, but he is in terms of the content he creates and shares.
---
Followers: 733,000
Sara Finance is another female TikTok content creator taking a place in the platform's top rankings. Here, the business owner and investor's page is full of videos relating to stock trading ideas.
It's obvious that some degree of planning goes into the content provided. There is, for example, analysis on specific stock picks if a certain event, such as general election, goes one way or another. In other areas of her account, she provides up-to-date reports on her net worth and how she has diversified her investments across different asset groups.

Spending even a few minutes on the Sara Finance account provides an upbeat and empowering experience. The creator is obviously determined and dynamic but also well-informed, with a lot of the stock trading tips being ideal for both novice and experienced investors.
Sara Finance's profile also links to her website, which incorporates a Discord group chat, access to her affiliate marketing course and mentorship opportunities. Tutorials on YouTube and a link to her Instagram profile can also be found here.
---
Followers: 885,000
Nick Talks Money is a TikTok account that utilises the best features of TikTok functionality but also keeps in mind traditional stock investing principles. Nick Meyer's USP is his ability to use his relative youth to steer the content towards financial issues that affect the TikTok generation but also draw on his experience as a financial expert.
One of the standout features of Nick Meyer's account is that he is a CFP (Certified Financial Planner) who has received a formal designation from the Certified Financial Planner Board of Standards, Inc. That's a big differential for Meyer, considering how many other TikTok accounts don't have accreditation such as that.
The content of the @nicktalksmoney's account is weighted more towards personal finance and money based life-hacks. The stock tips that are included are presented in a user-friendly manner and the whole package is a well-thought-out plan with the general aim of helping investors make better decisions. For example, he highlights reasons why growth stock investors may do better to buy sector-tracking funds rather than individual stocks.

Nick Meyer's approach reflects that he has industry experience and knows the responsibilities associated with managing other people's money. To gain his professional qualification, he will have studied and passed exams on subjects relating to issues such as client care and risk management.
Successful investing doesn't have to be about hitting home runs, instead, @nicktalksmoney is the ideal TikTok account for anyone looking to get a better understanding of making long-term gains.
---
Followers: 7,200
The TikTok platform is still in a strong growth phase, which means a range of new influencers are setting up accounts and starting out with a small number of followers. The I'm Kamal account, for example, has only 23.2k likes but the topics it covers are ideal for share traders looking to upgrade their strategies.
Kamal's Beginner Strategy Part 1 video takes newbies on a fast-tracked trading case study, which encompasses trading strategies, Heiken-Ashi candles, EMAs (Exponential Moving Averages) and stop-losses. It's a whirlwind tour, and each subject merits being studied in depth, but a high-level three minute video that includes an example of a trade being booked isn't a bad place to start.
In an effort to make the educational videos more digestible, Kamal does include videos on other topics, but the main attraction of the account are the concise guided tours of how to apply different trading strategies.

A visit to the @tradewithkamal profile page reveals there's no merchandise being pushed in an online shop and the Q&A page illustrates that questions raised by followers receive personal replies. The feeling here is that the page is intended to be an ideal place where those who want to learn about different aspects of stock trading can engage with others in a similar position.
---
Followers: 14,000
At first glance, the pen-and-paper approach of Brian Richards appears to be incongruous with a social media platform associated with teens and dance moves. The measured delivery in his videos is a world apart from the routines and pranks the platform is better known for.
The @theshareman's profile does highlight how the principles of successful investing are more important than the wrapper in which they are presented. Put another way, the @theshareman's account has a knack of buying low and selling high.
The trades are recorded, and, to some extent, 'timestamped' by the timeline link to each video. AskTraders hasn't carried out a full audit on the trading activity here, but a number of those in our random selection appeared to be good calls. If you're looking to trade a particular market, then there would need to be some time devoted to carrying out your own due diligence.

The focus of the @theshareman account is UK listed stocks and the FTSE 100 index. It doesn't look like there'll be any expansion into other markets – Brian Richards is happy to concentrate on a market he knows inside out. If you want to share his thoughts on future UK share price moves, then the @theshareman account is one to head to.
---
Followers: 2.2 million
The I'm Kamal and @theshareman accounts offer clues to how niche areas of the stock investing world can be catered for. The Tori Dunlap account, with 2.2 million followers, demonstrates how the mainstream, high-volume TikTok experience is equally ground-breaking in nature.
The @first100k account Tori Dunlap operates is a bold, outspoken platform, which aims to help women become better investors. The account channels "financial feminism" and invites followers to "fight the patriarchy by getting rich" (Sources: @herfirst100k).
A wide range of topics are covered. From how to set up tax-efficient share portfolios, which would be ideal for a long-term investor, to what area of wealth management to focus on if you're in a 9–5 job.
@herfirst100k Talking about money can be hard and uncomfortable. It's also one of the leading causes of divorce so it's important you can have honest discussions with your partner about money. What works for someone else, might not work for you and if it doesnt make sense to combine accounts, here are some ways you can start that important conversation. #couplesfinances #moneytalk ♬ Shania Twain Real Hypha Remix – Real Hypha

Tori Dunlap isn't necessarily a 'TikTok'er' to follow if you want to pick up ideas on trade entry and exit points. The @first100k account offers a broader approach than that and is one to head to if you're looking for a morale-boosting pep talk on how to plan and get the most from your portfolio, which should contain some stocks.
---
Followers: 41,000
Purist equity investors will be drawn to the focus Mike Joyce gives to stock analysis and trading ideas. Whereas a lot of other TikTok accounts incorporate stock investments into a broader discussion around wealth management plans, the @flextrading account is all about stocks and shares, strategies and trades.
That focus on the sector means Joyce is able to cover a lot of stock-related bases. There are useful regular updates on upcoming news events – and how markets might react to the data in important reports such as the Non-Farm Payroll jobs numbers.
Other areas of his analysis extend to the importance of liquidity, potential catalysts for a stock market rally and how forex market moves can determine stock price direction.

Joyce posts one or two videos a day and as they are limited to three minutes in length, accessing his account is unlikely to overburden anyone. The information found on the @flextrading offers a guide on important upcoming issues – not just what they are, but also how to trade them.
---
Followers: 61,500
If you want to explain something complicated terminology, then choosing the right medium makes sense. The short video format of TikTok is an ideal format for Conner, who uses it to share interesting ideas suitable for both short-term traders and long-term investors.
Don't be put off by the reference to 'options' in the account name. While some of the content does cover derivatives, a large number of posts relate to stock market news or macro events. His ability to sometimes go into discussions relating to options markets just demonstrates that Conner has a sound grounding in all areas of the financial markets.
Connor duets with other content creators to a larger extent than some other of the top 10 investors on TikTok. His willingness to promote the material of others can be seen as a positive and makes his account a one-stop-shop for those looking to keep up to date with events in the market.

Conner's account is a great resource for all manner of stock traders. It is certainly the ideal choice for those looking to understand how an upcoming Consumer Price Index inflation report might influence the market or how to keep up to date with new ETF products that mirror the trading activity of top politicians.
---
Followers: 1,308
The final place in our top 10 TikTok investors goes to stockmarket. The @stocks_investc account is a relatively late entrant into the space and currently has a small following, but it also perfectly captures the zeitgeist of the TikTok revolution.
Resources include notes on how to use technical analysis techniques when trading stocks, but a wide variety of topics are introduced as well. There is, for example, a breakdown of meme stocks and a beginner's guide to NFTs.
It is worth noting how the profile description here notes how it is "not a financial expert only for entertainment" (source: @stocks_investc). However, this doesn't deter from the sheer scope of the content on offer here, interspersed with posts that lean towards 'entertainment'. This serves to make the profile all the more accessible to followers.

While you may be happy to steer clear of markets such as Non-Fungible Tokens, which are featured on this profile, there is still a need to keep up to date with events in other markets. Even if you're not actively trading in these markets and intend to do so someday, @stocks_investc is sure to help you do that.
Final Thoughts
Some of the highest-profile investment gurus in the social media space have held off from moving onto the TikTok platform. A lot of retail investors will, therefore, still head to other platforms, such as those seen in our list of the top 10 crypto investors on Twitter, to find ideas for their next trade. However, they could be missing out.
The absence of big established profiles is actually allowing new innovative influencers to carve out a position and rise to the top of the pile. The influencers with the largest followings are those targeting a more youthful and female following, and that means they are linking up with the next generation of movers and shakers – the people whose thoughts will determine where the stock market heads into the future.
Online platforms are unregulated. There's no comeback if you follow someone's advice regardless of whether you bump into them in the street or come across them online, so some caution needs to be applied. One of the ground rules is to never send funds to a third party and be wary of any influencer promising something which looks too good to be true. Also, if you do decide to invest in stocks, then make sure your account is set up with a regulated broker – as listed on AskTraders.
TikTok is already a great place to get a view on your next trades or existing positions. With the growth in membership set to continue, that will make it more likely to be the space where experts provide live news, market analysis, and more to help your next decision be the best one it can be.
---
AskTraders is not responsible for the content hosted on the third-party websites, social media accounts, social media channels and their posts. We do not endorse any financial advice by the featured accounts and channels. The third-party content featured is not to be considered investment advice, a recommendation, solicitation or an offer to buy or sell any financial instruments.
Traders are advised to remain aware that profits are not guaranteed – losses must be factored in to any trading strategy.
People who read this also viewed: