Launched in the midst of the COVID-19 pandemic in 2020, French social media app BeReal spent its first couple of years in relative obscurity, before witnessing a meteoric rise in popularity over the past year. The app's claim to fame is its emphasis on authenticity. It asks users to take selfies in their immediate surroundings, during a randomly selected two-minute window each day.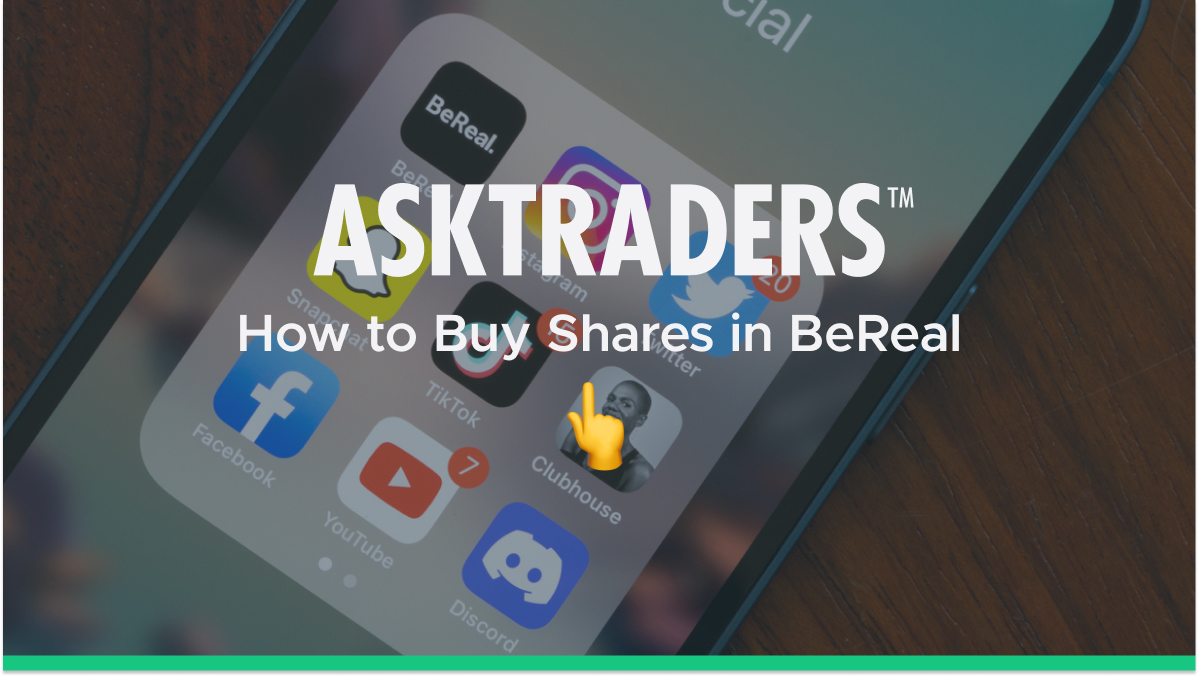 In an era of airbrushing, filters and extensive staging of social media photos, BeReal offers a refreshingly unique take. By mid-2022, the app was already averaging 10 million active users per day, and has since raised $115m from venture capitals (VCs), at a valuation of $600m. So, is this the birth of a fiery new social media unicorn, and if so, how do retail investors get a piece of it?
BeReal is a privately held startup that has only sold equity to a few leading VCs.
It is unlikely to have a public offering anytime soon.
Pre-IPO shares might become available for purchase on secondary markets.
Publicly listed stocks with exposure to these VC firms could be a good bet.
BeReal: How Is It Winning Over Gen Z?
The BeReal app was founded by Alexis Barreyat and Kévin Perreau with the aim of eliminating the shallowness, unattainable beauty standards and crass materialism that had become the norm on platforms such as Instagram and TikTok. BeReal achieves this with a random two-minute window each day to take photographs, leaving no time for staging or preparations.
A vast majority of its massive audience is comprised of Gen Z college students, between the ages of 16 and 25. This was made possible by the app's paid ambassador programme, which involved popular students at colleges hosting parties and marketing events inside their campuses, which ultimately kick-started a viral chain reaction that saw millions of downloads.
Today, even as BeReal has hit critical mass with millions of users globally, it still remains free from advertising or any other type of monetisation. It also has little-to-no moderation, meaning that there is nothing stopping users from posting inappropriate, NSFW content. However, such liberties may not last long, as the company will want to start generating revenue as soon as possible.
As a result, the company is still pre-revenue, and currently remains focused on growth. However, the founders have said that they are exploring various avenues to monetise their massive traffic and user base. This includes a paid subscription model where users pay extra for additional features, targeted advertising, and selling data to third-party marketers and advertisers.
The company has a lot going for it, and its popularity has since prompted Instagram and TikTok to launch their own versions of this concept, named 'IG Candid Challenges' and 'TikTok Now'. With this, BeReal has quickly turned into one of the hottest new startups, with retail and institutional investors clamouring for its stock.
How Do I Buy Shares in BeReal?
As of now, the stock is privately held, and until it has a public offering, there are few options for retail investors to buy shares in BeReal. Startups take anywhere from 12 months to 10 years before they offer shares to the public, often depending on internal factors, market conditions, and more. For example, Google went public within six years, Facebook took eight, and Groupon three.
Investing in VC funds of firms such as Andreessen Horowitz, Accel and DC Partners would be a great way to gain exposure to the stock, but they are mostly restricted to accredited investors. These are a class of investors who either have an annual income greater than $200,000, or a net worth in excess of $1m, excluding the value of their primary residence.
So, for retail investors, the best bet is to wait until BeReal has a public offering and gets listed on a public exchange. This could take at least a few years, but it could also never happen, especially if it gets acquired by another company. In this case, the next best bet would be to buy stock in the acquirer, provided that the latter is a listed company.
There are, however, a slew of new and innovative offerings for small investors to get in on the ground floor of disruptive startups. This includes secondary markets for pre-IPO equity, where early investors and insiders sell their equity to outsiders. Along with this, there is a new breed of exchange-traded funds (ETFs), such as the ARK Venture Fund, that invest directly into high-growth companies.
Who Are the Direct Competitors of BeReal?
Investors who seek exposure to the broader tech, social networking or media sectors have a number of options at their disposal. In this list, we've included a few competitors of BeReal, which can be prime investment candidates, along with a thematic social media ETF.
Meta Platforms (META)
An absolute giant in this segment that dwarfs BeReal in size and scale, Facebook parent Meta Platforms is by far the app's biggest competitor. Apart from the core Facebook platform, the company also owns Instagram, WhatsApp and a range of other products and services that altogether cater to nearly 3.8 billion monthly active users.
The stock has had a rough couple of quarters and remains down by over 48% since its peak in 2021. This can mostly be attributed to the broad-based pullback experienced by most tech stocks over the past year. Meta stock, however, makes a great alternative to BeReal, because there is substantial overlap between the users and business models of both the companies.
Snapchat (SNAP)
An instant messaging app with 375 million daily active users, Snapchat rose to fame over the past decade with certain features that were fairly similar to BeReal. This mainly includes its encrypted peer-to-peer photo-sharing option, with the photo lasting for just 24 hours. While this is not the same, it is along the same lines as that of the fledgling upstart.
The app is monetised with ads, and in 2022 it generated $4.6bn in revenues, despite it being a tough year for global advertising. However, the stock has had a dismal performance over the past year and a half, and remains down by over 87% since its peak in September 2021. This makes it a great value pick at present levels, with nowhere left to go but up.
Global X Social Media ETF (SOCL)
A leading ETF with a focus on social media stocks, the Global X Social Media ETF holds a basket of 42 different securities. This includes the likes of Meta Platforms, Tencent Holdings, Spotify and Snapchat, among others, providing investors with a broad exposure to the sector and its major constituents.
The fund closely tracks the ups and downs of social media, networking and advertising, and as a result, remains down by 47% over the past year. However, it now trades at a discount to net asset value and is backed by a seasoned management team from Mirae Asset, all the while having a low expense ratio of just 0.65%, making it a great prospect for small retail investors.
Should You Invest in BeReal or Its Other Alternatives?
As is the case with most early-stage and mid-stage startups, BeReal does represent potential for substantial value creation in the years ahead. The same, however, cannot be said of its mature publicly traded competitors listed above, most of which have already peaked when it comes to new user acquisition, and any potential upside no longer justifying the risks involved.
Companies in this segment face substantial platform risks, something that was seen recently with Meta Platforms. When Apple decided to alter its privacy features for iOS, it impacted Facebook's ad targeting ability, leading to a $12bn hit to the company's revenues. The same risks also apply for Snapchat and BeReal, leaving them at the mercy of large platform owners such as Apple and Alphabet.
Beyond this, BeReal is faced with an uphill battle against its large, well-established and well-capitalised competitors. While the app offers something unique, it didn't take long for Instagram and TikTok to piggyback on its idea. It takes consistent effort, in terms of both marketing and differentiation, along with limitless capital, to gain traction in this segment.
Even if BeReal makes its way to the big leagues, the next big challenge is monetisation, because apart from users, companies in this segment also have to compete for advertisers. This has since turned into an increasingly risky bet, as all social media stocks were hit by the slowdown in advertising in recent months, due to the broader slowdown in global business.
Final Verdict
When Facebook first arrived on the scene in 2004, it wasn't the first social media platform, and it certainly won't be the last. BeReal could very well be the next pioneering startup that changes the way that we network and communicate, and in the process ends up creating substantial value for its early investors and founders. However, investors should also understand the monumental risks.
Avenues to buy shares in BeReal are rather slim as of now, and this could be a good thing as the company still continues to find itself. Over time, savvy investors can seek out other publicly listed stocks of the company's partners, vendors and affiliates to gain exposure to the stock, using products such as CFDs to invest across countries, borders and regulations.
People Who Read This Also Viewed: