In this stock broker comparison, we have researched AJ Bell Private Limited, one of UK's largest providers of stock broker and online investment services, and listed our findings here for your convenience. Formed in 1995, it is best known for providing low-cost funds.
With an estimated 700 employees, it manages assets worth £42bn for 172,000 clients. AJ Bell's passive funds are low cost, with an annual cap charge of 0.5% ­– half the fee cost of similar funds in the market.
AskTraders Broker of the Month
FXTM (trading under ForexTime Limited) is a multi-award-winning, leading Forex and CFD broker. Regulated by several financial authorities, including the top-tier Financial Conduct Authority (FCA) in the UK, FXTM not only provides a safe and secure place to trade but an industry-leading experience for traders of all levels. You can get started with just £100 or practice for free in a demo account
But how impressive are AJ Bell's fees? And are AJ Bell passive funds the best choice for you? In this article, we are going to look at AJ Bell passive funds and why you should investing in them.
What Are the AJ Bell Funds?
Which fund to choose?
Six Popular AJ Bell Passive Funds
Factors Influencing Passive Funds
Why AJ Bell Passive Fund?
What Are the AJ Bell Passive Funds?
AJ Bell has two categories of funds. The first type of funds target growth, focusing on asset investments like shares, bonds, commercial property and cash. There are six funds that fall under this category, and each of them has different proportions of the asset types, depending on its risk-level.
The second type of fund targets income, and is usually invested in a broad range of income-generating assets, including bonds and dividend-paying shares. There are two funds that fall under this category.
Growth Funds
As an investor, If you're looking to increase the value of your investment over time, the best option is to go with growth funds, There are six funds under the growth category, and it differs according to its risk-level.
Cautious Fund
Moderately Cautious Fund
Balanced Fund
Moderately Adventurous
Adventurous
Global Growth
Income Fund
If you want your investment to pay you a monthly income, or are looking to invest in dividend-paying companies, pick funds that focus on income.
Which AJ Bell Fund to Choose?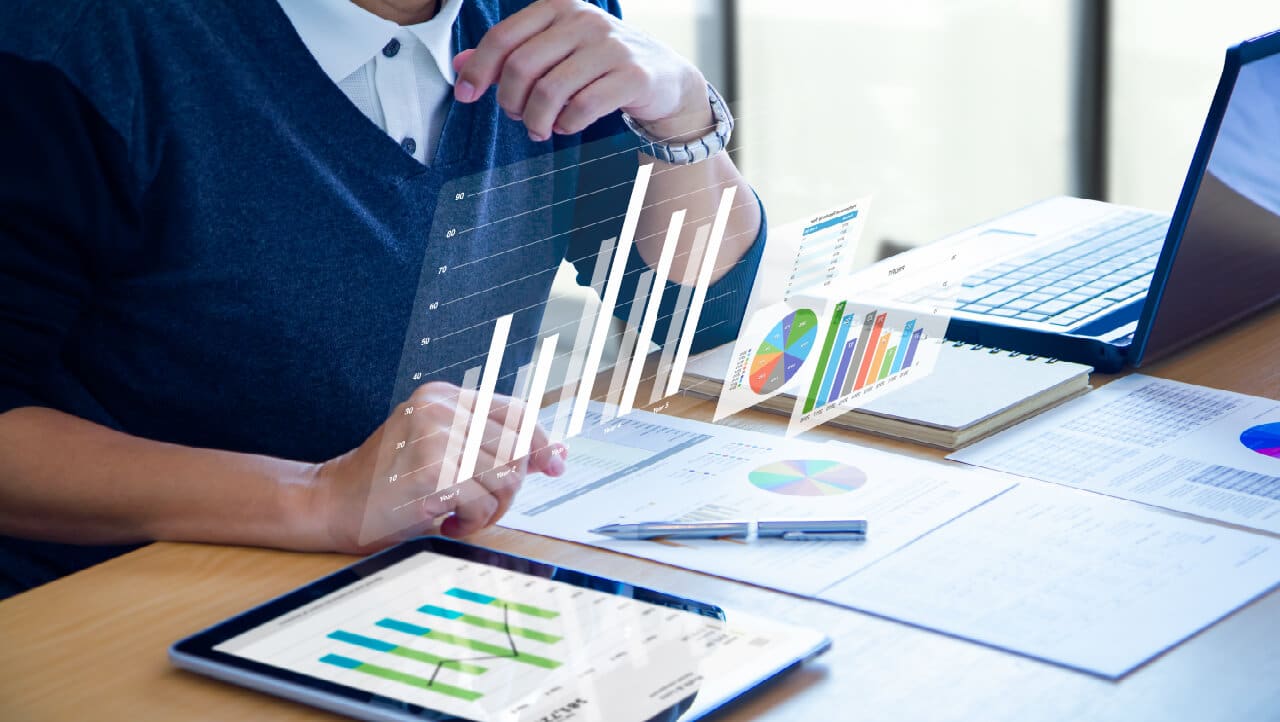 When looking for the best stock broker for you, it's good to see if you get a variety of funds to choose from and invest in. AJ Bell passive funds provide flexibility to investors to select the type of fund based on their risk appetite and investment portfolio.
AJ Bell also provides a fact sheet, KIID, and Quarterly report to investors. This improves transparency and helps investors make a knowledgeable decision. AJ Bell passive funds update its asset allocation on a quarterly basis.
These funds are a mix of equities, corporate bonds, gilts, cash and property. Funds offered range from cautious to adventurous, and equity investments start at 20% of the portfolio for the cautious investor, 30% for moderately cautious, 40% for balanced, 50% for moderately adventurous and 60% equity for the adventurous fund.
All bonds in the funds also comprise a mix of corporate and high yield bonds.
Below is a basic overview of six popular AJ passive funds.
Six Popular AJ Bell Passive Funds

1. AJ Bell Cautious Fund
The Cautious fund is right for you if you want to give your money a chance to grow faster, but your main priority is avoiding loss.
To achieve consistent growth over the long term, the Cautious fund invests mostly in steady assets such as bonds, and only sparingly in aggressive assets such as shares.
2. AJ Bell Moderately Cautious Fund
The Moderately Cautious fund is right for you if you can accept a little uncertainty to achieve a potentially larger return, with safety remains as your priority.
To achieve consistent growth over the long term, the Moderately Cautious fund tilts towards steady assets such as bonds, and away from aggressive assets such as shares.
3. AJ Bell Balanced Fund
The Balanced fund is right for you if you're keen to see your money grow, but equally keen to keep unpredictability at bay.
To achieve consistent growth over the long term, the Balanced fund mixes steady assets such as bonds with aggressive assets such as shares.
4. AJ Bell Moderately Adventurous Fund
The Moderately Adventurous fund is right for you if you want a high return and can live with most of the market's peaks and troughs.
To achieve high growth over the long term, the Moderately Adventurous fund tilts towards aggressive assets such as shares, and away from steady assets such as bonds.
5. AJ Bell Adventurous Fund
The Adventurous fund is right for you if a high return is your priority, and you don't mind the uncertainty that goes with it.
To achieve high growth over the long term, the Adventurous fund invests mostly in aggressive assets such as shares, and only sparingly in steady assets such as bonds.
6. AJ Bell Global Growth Fund
The Global Growth fund is right for you if you want your money invested in the parts of the economy with the highest potential to grow. You're happy to accept a high degree of uncertainty to achieve a high return over the long term.
To achieve this, the Global Growth fund invests mostly in aggressive assets such as shares – including those in emerging markets and global technology – and only sparingly in steady assets such as bonds.
AJ Bell Fund Performance Summary (All Models)
| | | |
| --- | --- | --- |
| Fund | 12-Month Yield % | Net Asset (mil) |
| AJ Bell Cautious | 2.04 | 30.22 GBP |
| AJ Bell Moderately Cautious | 2.07 | 44.95 GBP |
| AJ Bell Balanced | 2.06 | 158.60 GBP |
| AJ Bell Moderately Adventurous | 2.01 | 97.91 GBP |
| AJ Bell Adventurous | 1.71 | 76.96 GBP |
| AJ Bell Global Growth | 1.42 | 40.66 GBP |
Factors Influencing Passive Funds Selection
There is no denying the fact that passive funds generate long-term returns and are a cost-effective strategy but there are few factors which need to be considered by an investor before making a decision, and this AJ Bell passive funds review has collated these in one useful list.
1. Switch In/Out of Schemes
Few funds like cautious funds have no exposure to equities and the investor money may not witness an upswing as expected. The investor may not be able to exploit the stock market's upward trend. Thus, it is very important for investors to keep track of investments and switch if there is a change in risk appetite.
2. Stock Concentration
To provide long-term gains, a passive fund is concentrated in large companies or particular sectors and thus an investor may lose out on other small cap stocks which are going through an upward trend.
3. Passive Funds Try to Match Index
Unlike active fund managers, passive funds cannot protect against steep declines as they follow the market or sector as a whole. Concentration needs to match the index and not outperform, so returns are reduced also due to operating cost.
4. Lack of Flexibility
Passive fund managers are prohibited from leveraging defensive measures like moving out of shares when the price is expected to decline thus providing negative returns when the market is down.
Why AJ Bell Passive Fund?
AJ Bell is known to offer the cheapest opportunity to invest with a broad fund type based on risk-level you would like to practice as an investor.
Additionally, the award-winning broker, AJ Bell offers global diversification and a dedicated support team to guide investors with an exceptional service.
In summary, below are the reasons why you should consider investing with AJ Bell.
Low Fund Charges
Diversification & Long Term Horizon
Dedicated App & Chat Support
1. Low Fund Charges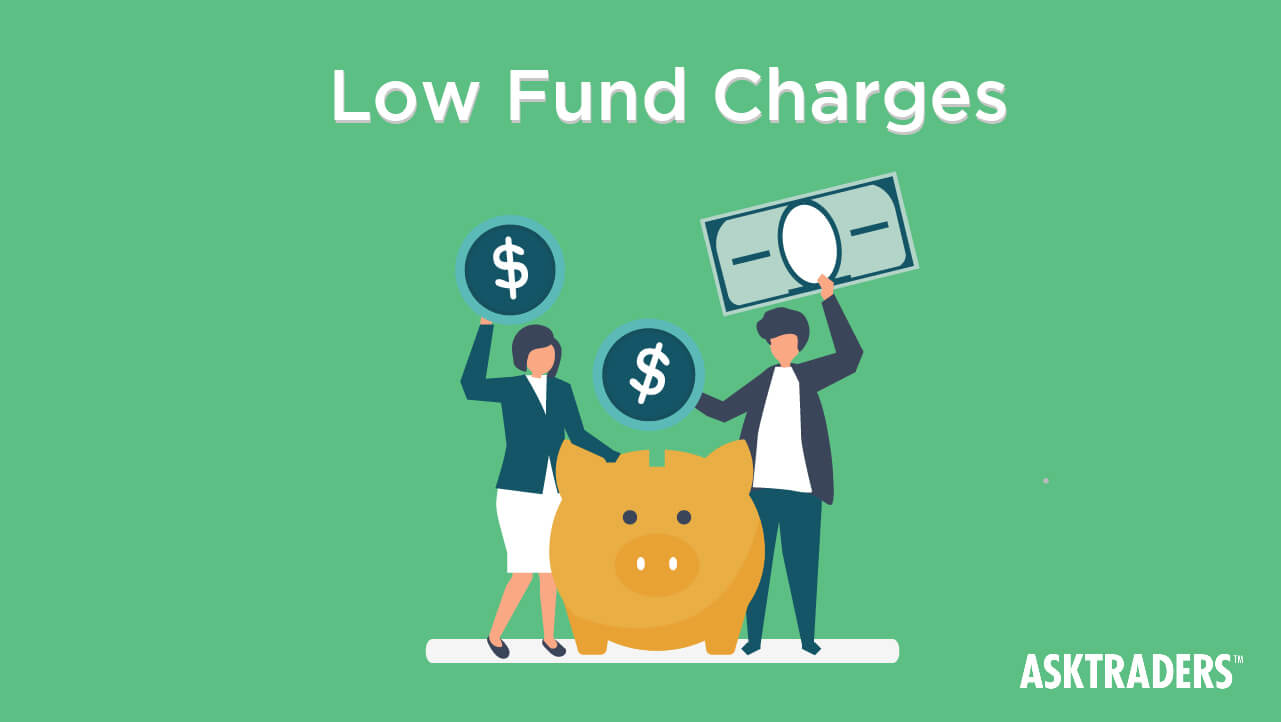 When undertaking a broker comparison, you should always look out for the charges entailed by a product. The company's website claims to provide investment options at the lowest possible price, and our AJ Bell review found this to be quite true.
There is an annual ongoing charge for managing the fund, which is capped at 0.35% for the six growth funds and 1.00% for the two income funds.
However, there are other fund houses like Vanguard which has kept OCF to 0.22% and to sustain such competition AJ Bell passive funds are charging dealing fees, as below.
| | |
| --- | --- |
| Value | Annual Charge |
| First £0 – £250,000 | 0.25% |
| Next £250,000 – £1m | 0.10% |
| Next £1m – £2m | 0.05% |
| Value over £2m | No charge |
The big question now is how OCF is calculated? OCF is the percentage fee charged by your fund. For example, if a fund is worth £10000 and OCF is 1% then the value of your holding will reduce by £100 (AJ Bell fees).
The company does charge AJ Bell fees for fund switches (£1.50 per fund transaction) compared to other platforms, but this AJ Bell passive funds review found that the company charges and rates are cheaper compared to its peers like Hargreaves Lansdown.
Therefore, it is not a surprise that AJ Bell Youinvest won the best ISA Provider award in 2017. AJ Bell is primarily an investor platform company in the UK and also provides services such as stock broking and SIPP and is a member of the London Stock Exchange.
2. Global Diversification and Long-term Horizon
One of the key strategies incorporated by AJ Bell funds is diversification through a global multi-asset approach as it reduces the risk of losing the capital portion of the investment in a highly volatile market.
In addition to diverse investment types like cash, fixed income, the fund also invests across geographies in order to provide global exposure. This is supplemented by a long-term approach as it is critical for investing and reduces the transactional costs, risks associated with volatility and brings focus to absolute long-term investment returns.
For the long term, a unique strategy is required for asset allocation and AJ Bell passive funds has partnered with Moody's Analytics to provide such strategies and long-term asset allocation.
This AJ Bell passive funds review found that diversification and long-term planning cannot be possible without the support of a robust experienced team of the company's fund house, which entails the trust and confidence of investors.
This fund house also has a sophisticated governance structure headed by an investment committee which makes sure that there is compliance of processes and fair execution of regulations.
Thus, Global diversification and long-term horizon are key pillars of AJ Bell passive funds.
Diversify assets through multiple investment opportunities
AJ Bell passive funds working in partnership with Moody's Analytics for customer's benefit
Investment committee ensures compliance and fair execution in line with regulations
3. Dedicated App and Chat Support
AJ Bell passive funds are part of AJ Bell Youinvest which provides low cost direct to customer investment platforms and is the first UK company to engage with Amazon's Alexa in order to supply updates on investments/portfolio via Amazon's personal assistant.
Though it has a downside, as anyone having access to the device can retrieve information about the portfolio but it is nice to have innovative features for investors.
AJ Bell Youinvest account can be accessed through the mobile app via IOS and Android. Through the App, investors can access their returns on the fly and even make decisions to redeem or switch funds through their Android/Apple phones.
Another striking feature provided by AJ Bell is a high standard secure authentication process which includes MFA and encryption policies. AJ Bell Youinvest also provides UK based help desk and chat support to service their clients.
Since passive fund investment decisions require a lot of brainstorming and clarification of doubts, such services are helpful for investors to select funds.
To support clients with data, AJ passive fund company offers various research articles and tools such as latest market news, investment articles, videos, shares magazines etc. The basic purpose of the App is to allow access to funds anytime from anywhere seamlessly without any lag and security issues.
How Much Money Can I Make?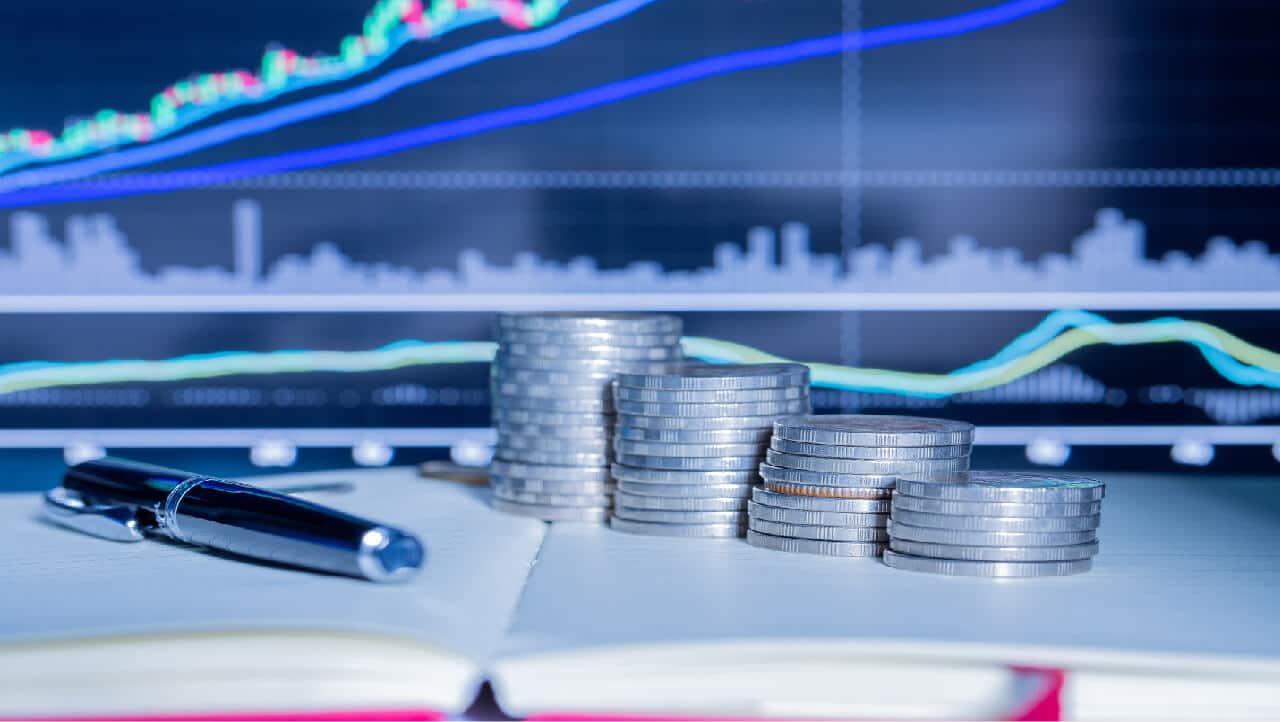 Investors today face multiple challenges related to diversification and returns as bank deposit rates are low and it is difficult to select the right strategy due to unlimited options in the market.
AJ Bell passive funds have been designed to tackle such problems by providing risk-free, transparent, low-cost approach to investment.
To provide investments based on the client's attitude towards risk, AJ Bell funds have been mapped to the Dynamic planner and Finametrica risk scores. These tools perform risk profiling by mapping a client's risk tolerance score to a fund and thus enables a client to take informed decisions related to risk and investment.
AJ Bell has demonstrated financial models on its web site to demonstrate the trends and possible yearly returns on the investment value. It has also considered the 0.5% of charges in their financial models.
For example, according to their site, an investment of £10000 in the cautious fund could provide a long-term gain of £15433 -28,584 in the period of 10 to 15 years.
To calculate the returns on investment, AJ passive funds provide various tools on their site which give insights regarding trends and market positions.
Investors can select strategies based on investment and risk appetite but the important point to note is that the sum will be locked for long term typically for 10 to 15 years. It will require patience to watch the investment amount grow and may also touch rock bottom in case market crashes.
AJ Bell Passive Fund Review
Always reassuring, this AJ Bell passive funds review found that the company isn't lacking in innovation and productivity. As per the fact sheet published on the AJ Bell web site, it has made changes to long term asset allocation in the last quarter.
In order to provide long term diversification, the company has added technology, UK mid-cap, emerging market debt and international debt to its portfolio and removed the index-linked gilts and global property.
The company also made a tactical decision to move gilt funds to short-term gilt funds (one to five years) as the price sensitivity to interest rate is much lower in the short term.
Since passive funds are less than one year old, it is too early to comment on the trends but they are performing as per the overall market performance.
Below are the few awards won by AJ Bell Youinvest, the platform for AJ Bell passive funds:
Which? Recommended Provider – Investment Platforms May 2020
ADVFN International Financial Awards 2020 – Best Execution Only Broker
ADVFN International Financial Awards 2020 – Self Select ISA Provider of the Year
City of London Wealth Management Awards 2020 – Best SIPP Provider
Boring Money Awards – Boring Money Awards – Best Buy 2020 – ISA
Moneywise Pension Awards 2019 – Best SIPP for Income Drawdown
MoneyAge Awards 2019 – ISA Provider of the Year
Your Money Awards 2019 – Best Online Investment Platform
Feefo Trusted Service Awards 2019 – Excellence in Customer Service
Start Trading With AJ Bell NOW
Sign up with AJ Bell and discover its popular passive funds and start benefiting from the award-winning platform now.
Verdict
AJ Bell started online investment services in 2000 and was the first online SIPP provider in the UK. Since then there is an increase in the number of DIY investors who are looking for ready-made portfolios managed by experienced managers which provide investors with hassle-free investments.
Through a robust platform, 24/7 support and competitive pricing these passive funds have managed to provide quality services to investors and clients. AJ Bell passive funds are a popular option for investors especially those who are less active and are able to hold their investments for a long period of time.
There are other competitors like Hargreaves Lansdown which is marginally more expensive but ranks high on customer satisfaction, services and research tools.
Another option is Charles Stanley Direct which focuses on investing for children. On the broader front, AJ Bell passive funds stand out due to competitive pricing and ability to provide different investment options based on the risk appetite of clients.
Therefore, it is not a surprise that AJ Bell Youinvest has won so many awards and is one of the most trusted and reliable fund houses in the industry.