Founded in 2008, Markets.com prides itself on its transparency and openness around fees and commission. Offering CFDs across a vast range of assets (over 2,200), it also promises unparalleled control over the way you trade and support whenever you need it.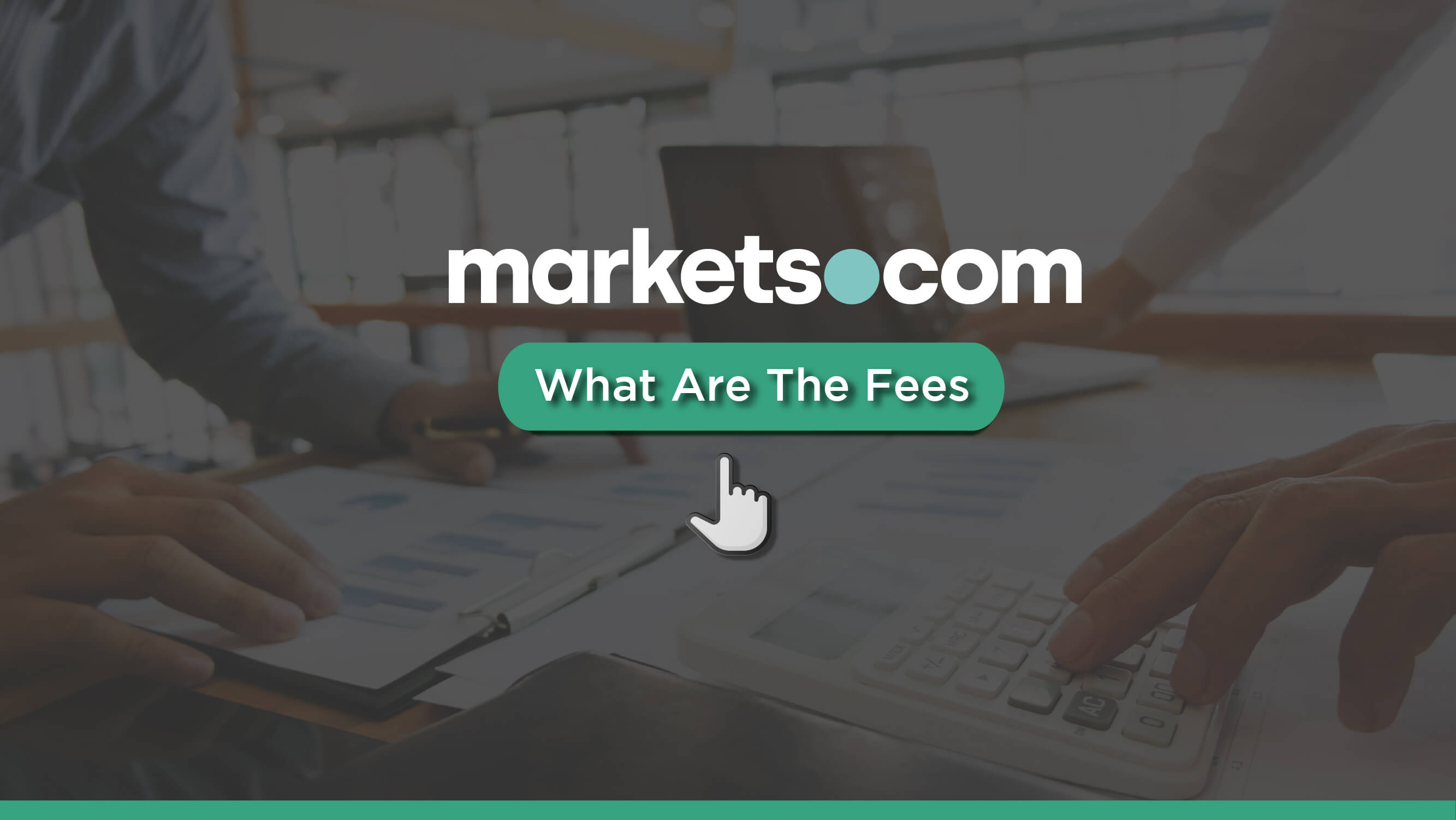 In a summary, Markets.com does not have any deposit, withdrawal nor commission fees. However. The broker does have spread costs, conversion fee, overnight funding and inactivity fees.
| | |
| --- | --- |
| Type of Fees | Charges |
| Deposit Fee | No |
| Withdrawal Fee | No |
| Commission | No |
| Inactivity Fee | Yes |
| Spread Cost | Yes |
| Conversion Fee | Yes |
| Overnight | Yes |
This guide will look at a detailed approach on Markets.com fees, what to expect and how to avoid any unexpected charges.
If you're ready, let's get started; otherwise, head over to our expert Markets.com review for a comprehensive look at this broker.

Trading Fees
To begin with, let's take a look at the all-important fees involved with trading, including:
Deposit fees
Transaction & commission fees
Spread costs
Currency conversion fees
Overnight funding
Deposit Fees
Markets.com does not charge any deposit fees (0). However, minimum deposit levels do apply. The minimum deposit is 250 in the following currencies:
GBP/USD/EUR/NOK/DKK/PLN/SEK/CZK/AED
Your payment provider may charge a transaction fee, so it's worth checking in advance. If you deposit over $2,500, Markets.com will reimburse you for any transaction external transaction fees.
You can deposit funds into your account using a host of popular payment methods:
Credit card
Wire transfer
Neteller
Skrill
PayPal
Fast Bank Transfers
Sofort
iDeal
Transaction & Commission Fees
Markets.com does not charge a commission fee ($0), although it should be noted that this is commonplace among brokers these days. Rather than looking at commission fees, you should pay attention to the spread (more on that next) and any hidden costs.
Spread Cost
Like most brokers, Markets.com makes its money off the spread. The 'spread' is simply the difference between the Bid (selling price) and the Ask (buying price).
Markets.com's spreads are variable, which means they will fluctuate within a range depending on market volatility. While this won't bother you too much if you're a long-term trader, it could prove problematic for short-term traders.
It's always a good idea to shop around and compare brokers. Some brokers will have 'tighter' spreads than others, which will affect your bottom line and profit levels.
Currency Conversion Fee
Markets.com will charge a currency conversion fee of 0.3% of your account's currency is different from the quoted currency of the underlying asset. For Share-Dealing, the conversion fee is 0.5%.
Overnight Funding
Also known as an Overnight Rollover or Swap, an Overnight Fee will be charged at 22:00 GMT on any positions you hold overnight. This fee (2.5%) is charged to maintain your Buy or Sell positions on CFDs.
Detailed information on overnight fees is available in the 'Key Statistics' section of each asset: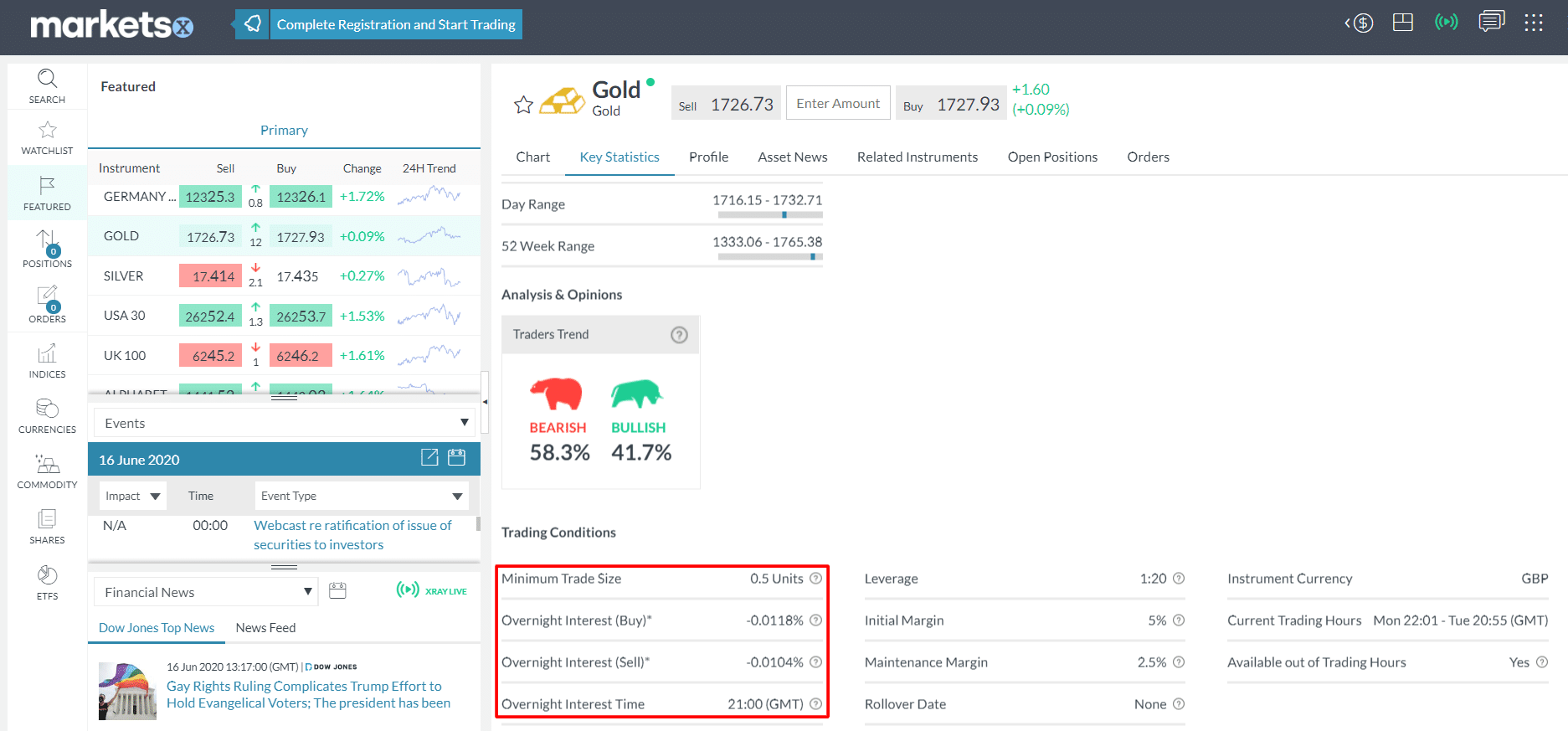 Non-Trading Fees
Finally, let's take a quick look at some of the non-trading related fees to be aware of:
Withdrawal fees
Inactivity fees
Withdrawal Fees
Markets.com does not charge a withdrawal fee. However, it's worth noting that some banks may charge a transaction fee that is not covered by Markets.com.
The time it takes to receive your funds varies by payment method:
Credit/Debit Cards (2-7 business days)
Wire/Bank Transfers (2-5 business days)
e-Wallets (up to 24 hours)
This does not include processing time, which is an additional 24 hours for credit/debit cards and 1-2 business days for wire/bank transfers.
Inactivity Fee
An inactive fee of $10/month is charged if you don't log into your account for 90 days.
Recommended Markets.com Alternatives
If you are looking for a reliable broker with low fees and fair conditions then this is who we recommend. All have been reviewed by our team and have been found to offer a low cost way to trade.
The Bottom Line
Our review of the Market.com fees shows that the broker's primary revenue stream is from the spread. The broker does not charge a transaction or commission fee regardless of whether you sign-up for CFD trading or an investment account.
Besides, there are no deposit fees required, except for the initial deposit amount of £250. On the other hand, Market.com incur charges on a currency conversion, overnight funding, and inactivity fees.