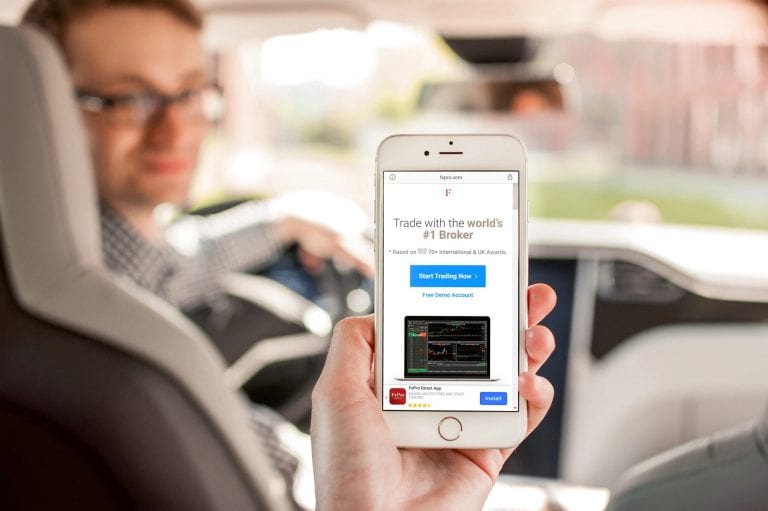 The Trading Platforms of FxPro
Clients have a total of four FxPro trading platforms to choose from, which include:
FxPro MT4 (MetaTrader 4) platform
FxPro MT5 (MetaTrader 5) platform
FxPro Markets
FxPro cTrader
The MetaTrader 4 platform is considered the standard forex trading platform in the industry. Most brokers have adopted this platform, due to the comprehensive range of tools and features integrated into the platform. The MetaTrader 4 platform supports multiple languages, giving users the freedom to customize the platform interface with the preferred language. The ability to support multiple order types is another significant feature of the MT4 platform. The key feature and the most important of all is the automated trading feature. You can efficiently program the MT4 platform to automatically execute trades, based on the trading parameters you have set, and with the help of Expert Advisors (EAs).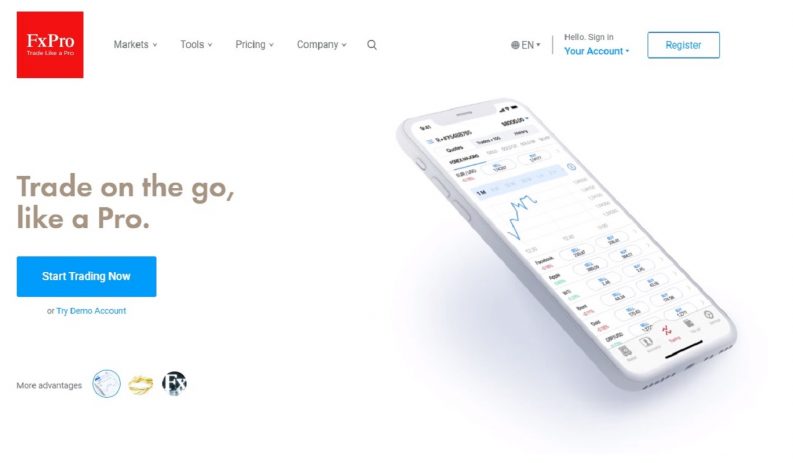 The FxPro MT4 platform is regarded as the most important for the broker, since it is able to provide clients with in-depth information about the trading markets. MT5 is just an updated version of MT4 with some upgraded features. The cTrader platform has been provided for clients who want to trade with raw spreads. The cTrader platform design enables traders to access spot markets using interbank rates, and enables efficient ECN trading. The FxPro Markets platform is meant for traders who trade directly from the desktop or tablets without making any downloads, and it allows multitasking within the platform.
Accounts Classification at FxPro
FxPro has three main types of account: the FxPro demo account, an FxPro premium account and the FxPro standard account. The FxPro demo account is provided for free, to be used by potential traders who want to first learn and experience the FxPro platforms before using real cash to trade. With the FxPro demo account, you can access any FxPro trading platform, such as cTrader, MT4 and MT5. After you sign up for the account at Fxpro.com demo account, you automatically receive a virtual cash balance amounting to $500,000 for use on the FxPro demo. For you to qualify for a premium account, the FxPro minimum deposit is $50,000 for trading investment.
Premium account holders definitely receive more benefits than the standard account holders. The main attraction is, however, the lower spreads that a premium account holder will enjoy when trading with large volumes of money. Standard accounts, as discussed earlier, are divided into four types. The FxPro MT4 and MT5 have an FxPro minimum deposit of $500, a leverage of 1:500 and consist of several financial instruments such as Forex, Indices, Metals, Energies and Futures. The cTrader has a minimum deposit of $1,000, with a leverage of 1:500. The minimum deposit for FxPro Markets is $500 and leverage of 1:500. In terms of broker comparison, FxPro offers the best when it comes to the range of multi-assets to trade from.
Cash Transactions and Charges at FxPro
Just as most brokers do, FxPro charges a fee from the spread, which is the difference between the sell and buy price of a particular instrument of trade. Traders incur trading costs in the form of a mix of commission charges and spreads. cTrader users usually pay a commission of $45 for every $1million traded, in addition to the spreads they are quoted. FxPro's commission charges and spreads are very competitive when you look at the industry's forex broker comparison. When it comes to depositing and withdrawing cash, there are six different methods used. These include:
Bank wire transfer – Deposits and withdrawals take three to five days to reflect on your FxPro account or bank account
Union Pay – It takes 10 minutes for a deposit, and withdrawals take one working day
Credit cards – it takes one hour to process deposits and two working days for withdrawal processing
PayPal – Deposits are charged 2.7% of the amount and take an hour to complete, while withdrawals take one day
Neteller – It takes 10 minutes for a deposit to be processed and one day to complete a withdrawal
Skrill – It also takes 10 minutes to complete a deposit transaction and one working day for a withdrawal
Also important to note is that no charge is levied for withdrawals, and they usually take one business day to process. The entire withdrawal process can take up to five working days to complete.
FxPro Education
The FxPro trading academy is typically designed to provide a comprehensive learning environment for the basics in forex trading. Beginners are well prepared for the trading challenges that you are likely to come across on the international currency markets. The FxPro library contains short, insightful and informative videos, which provide the basics of trading. The videos will give you comprehensive information on the FxPro trading platform, and general trading tips and strategies. The economic calendar allows traders to plan their investment strategies wisely. It is easy to access the current economic reports, consensus forecasts and the volatility likely to be experienced.
The learning tools available at FxPro teach you how to create an easy trading plan, and to learn the strategies of risk management to protect your capital. After learning, it will become easier for you to identify available investment opportunities and work on them when necessary. To make educative tools more available to potential traders, FxPro do publish videos on YouTube, which is a big plus for the broker. There are also other educational articles that are downloadable in the PDF format, which enables the trader to learn even more. The FxPro demo account is also part of education, since it enables you to practice the trading theory, having gone through the videos and PDF literature. The FxPro demo allows you to trade with virtual cash to enhance a feeling of reality in trading education.
FxPro Account Opening
Due to regulations of the FCA (Financial Conduct Authority) and CySEC, a few basic compliance checks have to be passed by the client. This is done to ensure that you have a full understanding of the risks involved in trading, and acts as a ticket that allows you to start trading. Make sure you have the following at hand:
A scanned copy of your government registered national I.D., driving license or passport
A bank statement or utility bill for the last three months, showing your address
There are also basic compliance questions to confirm how much experience you have in trading. After the 10-minute account opening process is over, you will be able to explore the FxPro trading platform. You will, however, not be able to conduct any trades until you have passed the compliance test, which could take several days. The following are some of the merits of trading with FxPro:
There is a variety of trading accounts to choose from
The localized support available is efficient and gives comprehensive information
There are multiple trading platforms available
FxPro is a reliable and trusted broker, as it is regulated under several jurisdictions, such as CySEC, FCA, FSB, Dubai Financial Services Authority and the SCB
FxPro has a wide range of financial instruments to trade from
When opening up an account it is key to note that the minimum deposit for FxPro is $100.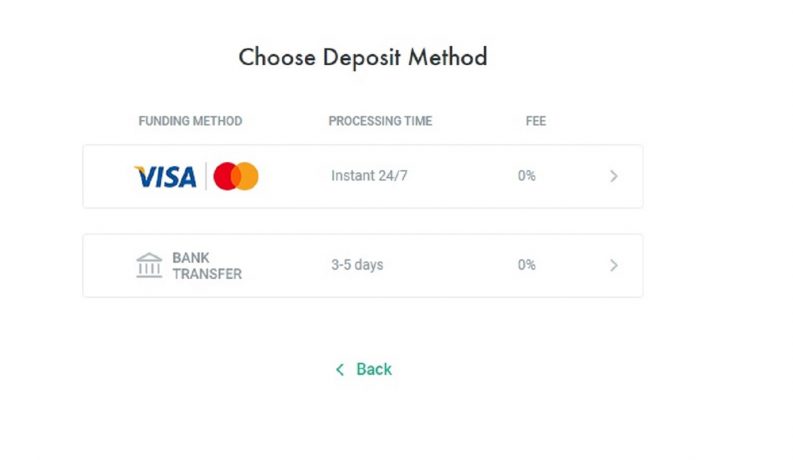 FxPro Mobile Trading
Just like the web-based and desktop platforms, the FxPro mobile trading platform is third-party developed, and includes features from Spotware Systems and MetaQuotes Software Corporation. Some of these platforms come with native features, but some areas of the platform are not native. These include the reporting features, execution and pricing models, and other features that cannot be customised or disabled by the broker. Additionally, our FxPro review revealed consistency for mobile application trading markets in the layout and interface on the white-labelled version of the cTrader platform. Just as with the web-based platform, navigation was intuitive and easy. This mobile application ranks highly among many other mobile apps used for trading.
The MT4 and MT5 mobile version platforms contain native features and are standard from the developer. However, features such as news feeds, pricing, execution model and reporting related to back-office can be customised by FxPro. The mobile versions of FxPro MT4 and MT5 are consistent with the FxPro desktop configuration settings. The FxPro mobile app contains all functionalities needed to research and analyse trading opportunities. You can also use advanced order types to track your account, just as it's done on the desktop. The mobile application also allows you to create and manage watch lists, to enhance a normal experience even on the small screen. One of the negative side of the mobile app is that it lacks a fingerprint security feature, and the design and text are dense, making navigation on small screens difficult.
FxPro Customer Support Service
Customer support services of FxPro are available in 23 countries. When the markets are open, the customer support service of FxPro is always available through phone, email and online chat. The support team will always respond to your queries in a quick and efficient way, without long waits for phone calls to be answered or a response to a chat request. The chat-based support feature is available via a persistent link displayed on web pages of FxPro.
Self-support is also available on FxPro's support web page, which has a searchable archive and knowledge base. This should provide solutions to most questions about FxPro order types and trading platforms. The FxPro 'Contact Us' page is one of the best, as it contains the phone numbers and emails of each department separately. This gives the assurance that any questions you raise will route to the correct department, and will be answered efficiently and professionally. Additionally, the customer support platform is available in around 20 languages and can be customized to fit any client appropriately. Just like many other brokers, FxPro offers customer support for five days a week, 24 hours a day, from 11.00 pm Sunday night to Friday midnight in most time zones. Efficiency is therefore assured.
Why you Should Sign up for FxPro Trading Immediately
In addition to the usual FxPro minimum deposit of $100, trading forex has been made to work efficiently with FxPro. The unique features it has are presented in a professional and useful way, which enables all traders to be served in an adequate and efficient way. With there being a reasonable minimum deposit for FxPro, the other unique features are what really takes this platform to the next level. Some of the key features that give FxPro a plus are the transparency and reliability, unique trading tools, multiple support languages and a readily available FxPro demo account, among others.
FxPro is always ready to provide you with all your specific trading needs, as well as guaranteed security for your money. FxPro's stability is based on the several jurisdictions that regulate this broker. Another important thing to note is that trading securities involve exposure to a substantial amount of risk, and profits are not always guaranteed. It is always assumed that the educative materials used, methods, indicators and techniques will provide profitability. You don't need to be nervous: as an investor, you ought to know that risk is the opportunity, so sign up, meet the minimum deposit for FxPro and create the opportunity to achieve your financial goals.
People who read this also viewed: