The international response to COVID-19 and the consequent restriction of movements had a material impact on the valuations of cruise companies.
Government protocols introduced on large gatherings and the movement of people shackled the cruising industry, and for many a month, revenue streams were throttled as cruise liners were mothballed. Operators such as Genting Hong Kong Dream Cruises were not able to make it to the other side.

For the cruise companies that have weathered the storm and are now looking forward to a world living with COVID-19, what are some of the best to invest in?
Asktraders has come up with the below shortlist of the best cruise ship stocks to buy now.
THE CRUISE MARKET
Pre-pandemic the cruise liner market generated over $50bn in revenues per year for three major liner consortiums and a number of smaller private and subsidiary operations.
Three operators that carried over 70% of all the passengers in 2021 dominate the cruise industry (Carnival, RCI and Norwegian). Privately-held MSC Cruises is the next largest company with 10% of passengers in 2021. The remaining passengers split over speciality and smaller operators.
BEST CRUISE STOCKS TO BUY RIGHT NOW
---
1. Carnival Corporation (NYSE:CCL)
This cruise line giant is the largest company of its type and carried 42% of all passengers in 2021. CCL operates over 100 vessels across 10 cruise line brands. Popular cruise names AIDA, Costa Cruises, Cunard, and P&O all make their home under the CCL umbrella.
CCL's short and long-term debt raised from $11.5bn in November of 2019 to $35bn today. The company diluted its equity by issuing another 300 million shares in 2020, raising roughly $7.8bn.
The CCL board has tapped debt and equity markets for almost $30bn in little over two years. The company has suffered losses of approximately $25bn from early 2020 to today.
Currently, CCL sales are growing quickly and on an annualised basis the second quarter of 2022 was half of pre-pandemic on an annualised basis before worldwide reopening. If CCL is able to return to the passenger and revenue numbers of 2019 and generate net income in the region of the 2019 financial year of $3bn, less the higher net interest expense, equals $1.5b net income.
This means CCL is currently trading on a price-to-earnings (PE) multiple of less than 10. The current S&P 500 PE weighted average stands at 21.63  across all stocks.
Carnival Corporation- Weekly Price Chart – 2019 – 2022
Source: eToro
For those investors willing to accept the heightened risk that comes with the increased leverage in cruise stocks, there is relative value in that CCL shares are trading at a discount to the wider market.
Furthermore, the CCL share price from January 2020 to today has fallen by over 75%. Now that the CCL board can start to project a return to business normalcy and ramp up cruise sales, now might be a good time to think about investing in CCL.
---
2. Royal Caribbean (NYSE:RCL)
The next largest cruise liner operator is RCL. RCL owns and operates three major brands, Royal Caribbean International, Celebrity Cruises and Silversea Cruises. RCL carried 24% of all cruise passengers in 2021.
Similar to CCL, RCL has had to tap debt and equity markets in recent times. Raising $12bn of debt and approximately $3.5bn through the issuance of new shares. Over the same period, RCL has lost approximately $12bn, though has stemmed the losses to $500m in the second quarter of 2022 and increased sales quarter over quarter by 100%.
RCL was generating a net income of roughly $1.9bn pre-pandemic. Its interest expense has increased from $400m to an annualised $1.2bn basis second quarter 2022.
In the event that RCL is able to quickly return to 2019 passenger figures and 2019 net operating margins, we can expect a net income of roughly $1.1bn (1.9-1.2+0.4) on a market capitalisation of 10.8bn. An approximation of the forward-looking PE ratio returns a share under 10 – similar to that of CCL and well below the S&P 500 index average.
The RCL PE ratio at the end of 2019 was approximately 15 – the company leverage and outlook for the market is presenting a 33% discount (10/15) on RCL today versus the end of 2019.
Royal Caribbean – Weekly Price Chart – 2019 – 2022
Source: eToro
For those willing to fade the risk of additional lockdowns and back the ability of cruise liners to return the passenger numbers of pre-pandemic, RCL cruise stocks offer a moderate discount to traders.
---
3. Norwegian Cruise Line (NYSE:NCL)
Carrying a little fewer than 10% of international cruise passengers in 2021 is NCL. Headquartered in Miami, NCL operates three major cruise brands, Norwegian, Oceania Cruises, and Regent Seven Seas.
The smallest of the major listed cruise liners, NCL revenues pre-pandemic were approximately $6.5bn for 2019, generating a net income just shy of $1bn.
As a result of suffering nearly $10bn losses as a result of the pandemic, NCL has had to increase debt by $6.5bn and issue new shares worth approximately $4bn. This has left NCL with cash in hand of $2bn. The losses stemmed to $500m for the last financial quarter and revenues rallied over 100% to $1.1bn and returned to almost 70% on an annualised basis of pre-pandemic revenues.
Norwegian Cruise Line – Weekly Price Chart – 2019 – 2022
Source: eToro
NCL market capitalisation is currently trading at a shade over 2 times its net assets though, which offers a market capitalised to net assets ratio slightly better than RCL though not as attractive as CCL's less than 1.75.
With a net interest expense of $2bn in 2021 and a pre-pandemic net income for the two years prior to 2020 of under $1bn, NCL is arguably not an investment for the more risk-averse investor.
---
4. Lindblad Expeditions Holdings (NASDAQ:LIND)
LIND carries just a small fraction of global cruise passengers on its speciality expedition-type adventure cruising. Travelling to far-flung corners of the world for higher paying customers looking to experience our more rugged nature in the comfort of a cruise vessel.
Without the scale of operation, the gross margin of LIND is lower than that of its larger cousins. But given its unique offering, as of Q2 in 2022, the annual revenue run rate is back above pre-pandemic.
Like other cruise vessel operators, LIND suffered losses in 2020 and 2021 and was forced to find additional funding in order to navigate the restrictions of movement due to lockdown.
LIND will have to work hard to return net operating income into the future with a much higher debt burden of 66% of total assets versus 40% pre-pandemic.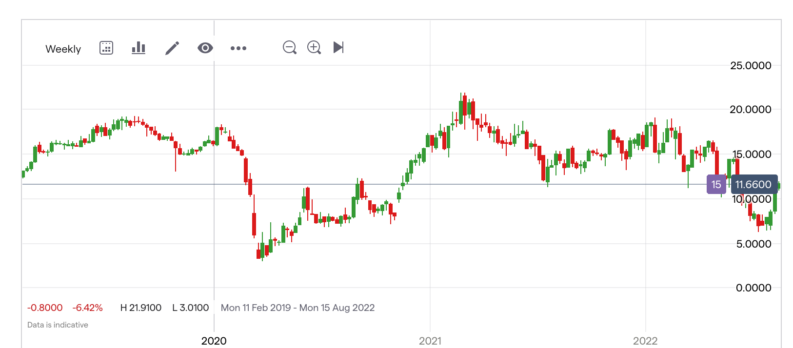 Source: IG
With high employment and an ageing population in the developed world, the market is there and growing for comfortable expedition adventures, if cruise companies such as Lindblad are able to quickly generate revenue to pay down debt, then there are opportunities for investors in this space going forward.
WHY INVEST IN CRUISE COMPANIES?
Cruise companies have been beaten down by the market in recent months due to their high debt burden, diluted stock and not entirely returned pre-pandemic customer base.
For the investor willing to take a bet on cruise companies' ability to avoid any restriction of movement in the near future, quickly return passengers to their vessels and pay down debt, there are traded discounts in the stock price valuation relative to the recent past being offered.
WHAT TO KNOW BEFORE INVESTING IN CRUISE COMPANIES
There are considerable risks when investing in cruise companies. In recent months, all have suffered material losses. Boards anticipated a return to normalcy and largely maintained the existing fleet.
The indiscriminate nature of the pandemic meant that there were no operators immune from its effects, removing all bids for vessel assets and forcing the hand of cruise companies to batten down the hatches and wait out the storm.
The 'wait-it-out' approach has been damaging to the underlying equity of all cruise stock balance sheets, increasing leverage across the board and making an investing decision more risky.
With the increased debt burden, all cruise stocks are now trading at a discount to their net assets and future earnings relative to pre-pandemic.
This opens the door to the prospective cruise stock investor but it is not without risks and you should always do your due diligence. Asktraders has a wealth of quantitative and qualitative tools at your disposal and you should always do your due diligence before investing your hard-earned money.
HOW TO START TRADING CRUISE STOCKS ONLINE
1. Research Cruise Stocks
Whenever you make an investment, it is important that you do your own research and are comfortable with your strategy. You will find a wealth of information on AskTraders that will aid you in your decision-making process. Researching the market, analysing reported financials and quantifying your outlook for the sector and the company you are investing in are all good starting places before deciding on which cruise stock to buy.
2. Find a Broker
The next step is to find a broker to use. There are many brokers out there. Consider how often you would like to invest and factor the fees into the ease of use. Then consider if your due diligence is more weighted to charts or to reported data and will your broker be able to provide you all the tools you need to execute as best you can?
3. Open & Fund an Account
Modern and reputable broking platforms will require Know-Your-Customer (KYC) financial and personal information from you before they sign you on to their customer database. You should be prepared to disclose sensitive personal and financial details and before commencing trading. This is very standard and protects both you and the broker. Depending on the broker, there are many funding methods, before you hand over your personal information check that the broker accepts your preferred funding method.
4. Set Order Types
Understanding order types is critical to completing the stock. A well-executed strategy plays a major part in a profitable strategy. First understand your own financial situation and trading goals. Be sure to read up on the different types of orders such as limits, stop-loss and many others. Partner your objectives with the executing tools at hand in order to have the best outcome. Different order types, when used effectively, can aid you in mitigating risk and reaching your financial objectives.
5. Select & Buy Cruise Stocks
After you feel comfortable with the above it's time to go out there and execute. Remember, it is a process, take your time. Learn from the experts made available to you on AskTraders.com and reach out to your broker for support whenever you need to.