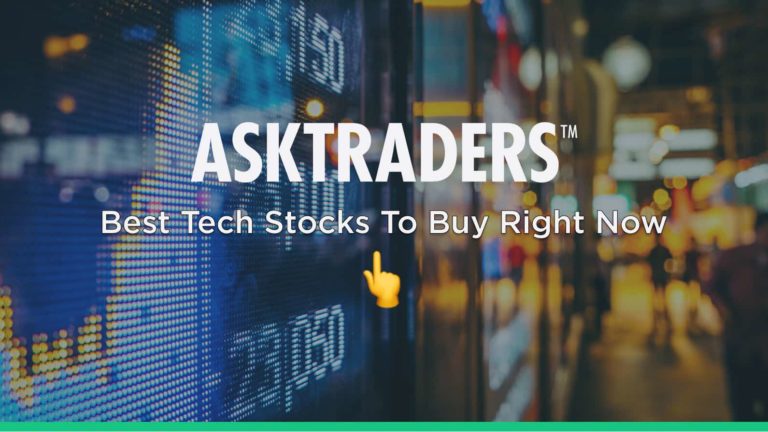 What is even more important is that the world has changed. The pandemic has created a scenario in which work from home becomes much more viable, essentially accelerating what we have been seeing as a society for some time. Now that we have the ability to teleconference, store files on cloud servers, and work remotely in general, society is going to adapt to this very rapidly. This means that a handful of companies are poised to take advantage of this sudden shift in demographics that looks to be more structural than anything else.

Some institutions say that that lockdowns have boosted the overall tech industry by 5 years, where companies like Zoom, Adobe, Amazon and Netflix have seen an overwhelming boost to their services. Meanwhile, the work from home culture shift might just be here to stay as companies like Adobe, Aetna, Amazon, Capital One, and Facebook have all allowed employees to switch to working from home long-term, if not permanently.
Best Tech Stocks to Buy Right Now
Rapidly Growing Tech Stocks
Using the earnings-per-share model, the following companies have been some of the fastest growing tech stocks available. These represent some of the largest gainers in the world as the economy shifts to more of an online presence and according to our panelists represent real value for money.
1. Salesforce.com (CRM)
Salesforce.com designs cloud-based enterprise software for CRM, or customer relation management. The main drive of the company is a technology platform that customers and developers both can build and run business applications from the cloud, allowing sales teams and customers alike to access information from anywhere in the world. The earnings-per-share growth in 2020 has been 2490%, a staggering amount for a company that has a market cap of $220 billion, making this a strong BUY.

2. WEX Inc. (WEX)
WEX is a provider of payment processing for companies around the world. They also provide information management services for vehicle fleets, business-to-business payments, healthcare products, and much more. Essentially, if you are providing some type of payment service as a large corporation, there is a good chance that you are using WEX. The earnings-per-share growth for WEX during 2020 was 418.8%, lifting the market cap to $6.2 billion. This is a company that is poised to gain even more share as payments increasingly become digital, allowing for business-to-business transactions as we get away from paper payments. This is seen as a strong BUY by our analysts.

3. CoreLogic Inc. (CLGX)
CoreLogic specializes in analytics. They offer mortgage and automotive credit reporting, property tax, valuation, and other related services to both business and governments around the world. The year over year gain of revenue at 16.2% in the third quarter of 2020 have garnered lots of people's attention as the net income increased fourfold. With a market cap of $5.4 billion, the company has seen EPS growth of 379.3%. This can be considered a BUY.

Best Value for Money Tech Stocks
1. Norton LifeLock Inc. (NLOK)
With the rapid push to work from home, it makes quite a bit of sense that people would be looking to protect their online identities and information. This is not just individual information, but corporate information as well, where Norton LifeLock steps into the market, as they are one of the industries leaders of online identity protection and encryption. Trading with a 12 month trailing P/E ratio of just 3.3, and with the market cap of $12.2 billion, Norton LifeLock looks to be one of the cheaper stalwarts of technology, bringing value to bargain hunters.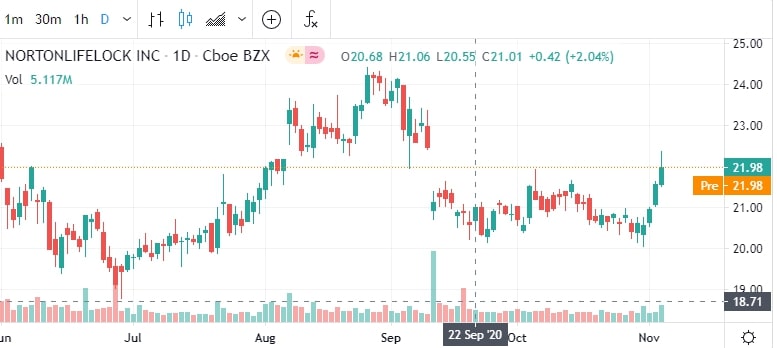 2. Xerox Holdings Corp. (XRX)
Xerox is an old company that a lot of people will overlook when it comes to technology. This is to their own detriment though because Xerox has gone far beyond just photo copying, and has expanded its capabilities to include data analytics, automated solutions for productivity, digital imaging, and of course printing. With that being said, the demand for most of their services should only increase over time. For the third quarter of 2020, Xerox reported an 18.9% year-over-year decline in revenue. With a market cap of $4 billion and a 12 month trailing P/E ratio 4.1, Xerox could be a strong value play.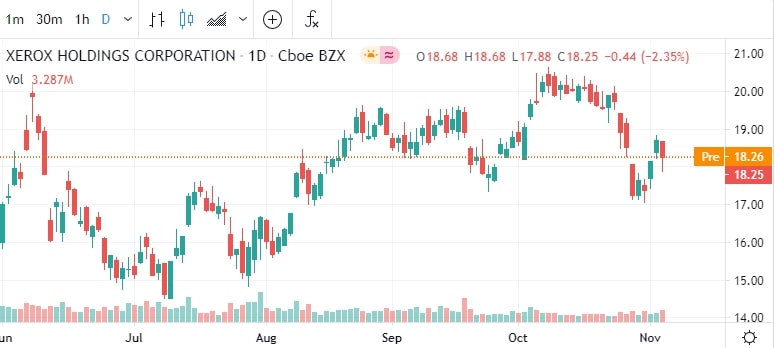 3. NCR Corp. (NCR)
NCR Corporation, or National Cash Register, has been around for ages. That being said, most people do not look beyond the old cash register and realize that they develop multiple types of financial transaction machines. For example, they produce automated teller machines, which are in high demand. However, where they really have started to see growth recently has been the automated self-checkout kiosks, and point-of-sale scanners. As we become more of a "touchless society", expect demand to pick up for these machines. With a market cap of $2.7 billion, and a 12 month trailing P/E ratio 6.8, NCR can be thought of as a potential value play.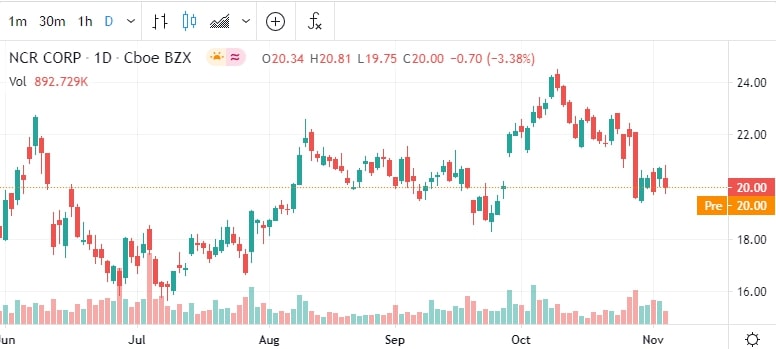 Tech Stocks with the Strongest Momentum
1. Technology Select Sector SPDR ETF (XLK)
The easiest way to play momentum in the technology sector is to simply do it through an ETF. This is why although this is not a single stock, it is worth paying attention to the Technology Select Sector SPDR ETF, known as the XLK. In fact, it is quite common for investors to have a core holding in this ETF as it gives them exposure to a multitude of technology companies and is one of the easiest ways to play the entire sector. Because of this, the XLK is a core holding mainly because it gives you exposure to the stalwarts of the industry, but also the biggest momentum players as technology adjusts and adapts at an almost daily rate.
2. Enphase Energy Inc. (ENPH)
Enphase Energy is a company that you may not be aware of, although it has been around for several years. They provide solar energy cells and monitoring equipment of those technologies for distributors, original equipment manufacturers, homeowners, and even large facilities. It is a great way to play the solar energy play, as it is a vital resource for anybody looking to add panels. With a market cap of $13.1 billion and a 12 month trailing total return of 322.3%, this company has explosive growth.

3. Zscaler Inc. (ZS)
Zscaler is a company that most of you probably will not be aware of. However, they are an important security company for web and mobile services. The unique thing about their product is that it is cloud-based, meaning that a large corporation can easily add users without having to worry about physical location. They also offer threat protection, networking, and of course cloud application services like so many of the fast growers. With a market cap of $19.8 billion and a 12 month trailing total return of 247.6%, Zscaler has been on fire.
Why Invest in Tech Stocks Now
Technology is one of the most exciting sectors to invest in, because you are not only investing in the future, but you are also investing in companies that can have explosive growth. Just a few years ago, fortunes were made buying companies such as Amazon, Apple, and Google. Think about how different your investment portfolio would look if had a bite of any of those companies 15 years ago. This is one of the major advantages of investing in technology stocks, because some of these will literally change the way people live.
As this pandemic has shown us, technology will be used in a multitude of ways that we cannot even anticipate now. It was not that long ago where self-checkout kiosks suddenly popped up everywhere. Think about the massive changes in the way business is being conducted on the retail level alone. Now multiply that by a huge amount of other drivers and industries around the world, and you can see just how big of a portion of growth that technology stocks will be. As computers become faster, technology becomes even more crucial to doing business as well as conducting personal lives. Time is of the essence, and the quicker you get in, the longer you have to enjoy the benefits of the exponential growth in technology.
What to Know Before Investing in Tech Stocks
There are some things to keep in the back of your head if you are going to trade technology stocks. To begin with, a lot of technology stocks are very speculative in nature. This of course, is part of what makes them so attractive, because most traders understand that getting in early with a company like Adobe would have been a massive windfall in terms of profit. Imagine buying Google 20 years ago, your portfolio would be massive at this point in time. This is the allure of technology stocks.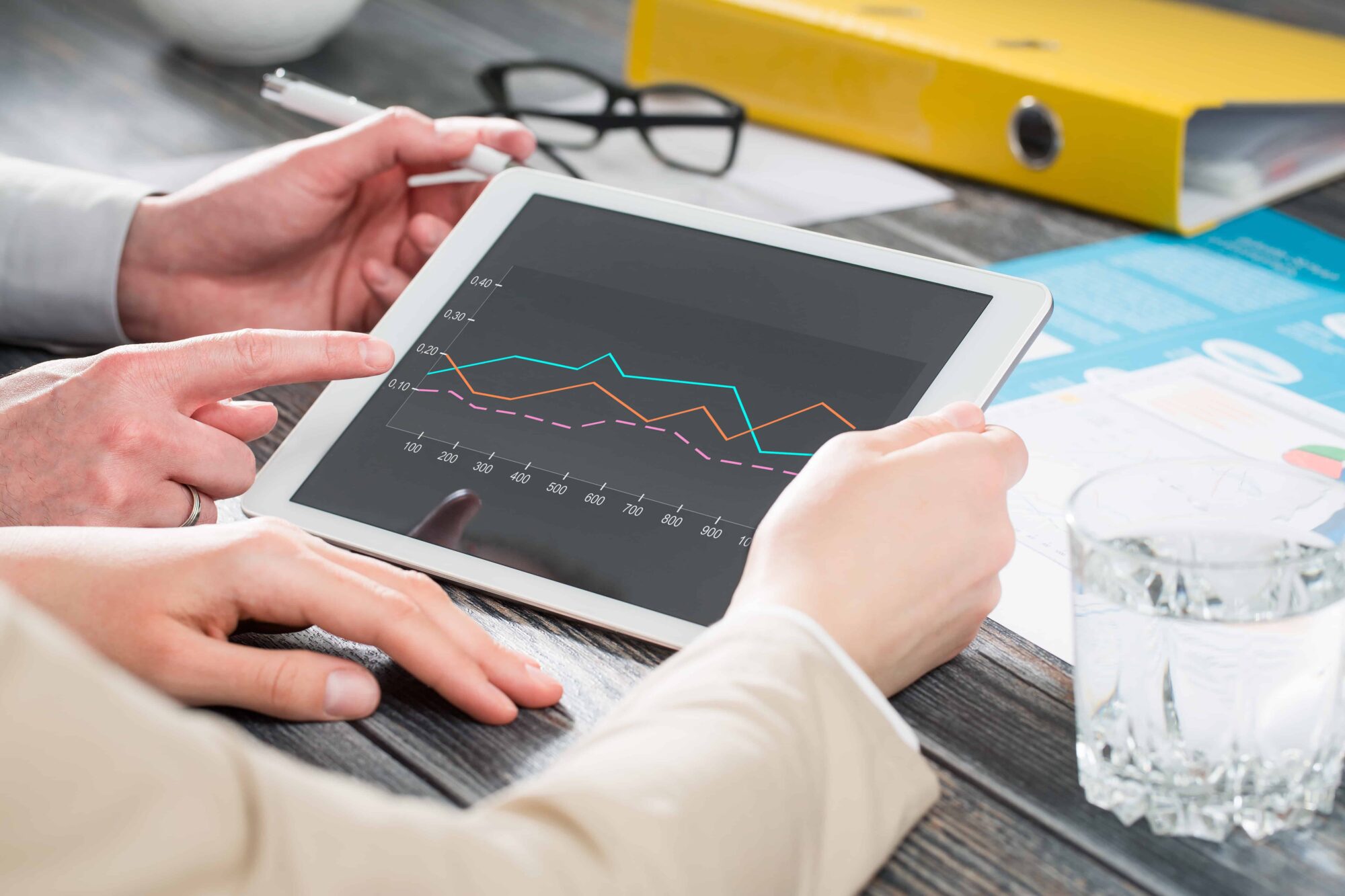 However, you also need to keep in mind that a lot of these companies may or may not thrive. The catch with technology is that it is dynamic and is changing almost continually, and if you do not keep abreast of where tech trends are going, you may find yourself in the same situation that a lot of Betamax owners did when VHS won the war for dominance. In other words, you may have a company that has seen technology going in the other direction. Having said that, that is part of what owning a portion of your portfolio in the XLK ETF is about, because it gives you exposure to companies like Microsoft, Adobe, and Apple, as they are all known winners and stable companies.
Technology stocks will be your fast growing stocks most of the time, but they should not be your entire portfolio. The technology sector is one that can be exciting, but it is also one that can be difficult to time.
How to Start Trading Stocks Online
1. Research Tech Companies
The very first thing that you will need to do is research the company that you are looking at buying or investing in. Remember, things like earnings matter and of course whether or not the company has a technology that is expected to grow. In that sense, you need to look at potential demand as well as whether or not the company is making money. (That being said, some early technologies may actually not be that profitable, but are expected to see increased demand going forward. Think of something like Uber a few years ago.) This information is freely available on multiple websites, and is highly regulated by local authorities such as the SEC.
2. Find a Broker
Your next step is to find a broker to use. Obviously, you need access to the markets and therefore it is your duty to find a broker that you can access them with. There are a multitude of reasons to find one particular broker more attractive than another, so make sure that you look at the "bells and whistles" of each brokerage firm to see whether or not they have the tools and features that you desire.
3. Open & Fund an Account
The process to open and fund an account is essentially the same everywhere. Brokers are required to know who their client is, so you will need to send in some type of information like proof of residency, a copy of your driver's license or passport, and the like. As far as funding is concerned, it is typically done either via bank wire, payment services such as Skrill or PayPal, or in some cases you can do it with a credit card.
4. Set Order Types
Make sure that you understand order types. After all, you simply do not just start pressing buttons as soon as you get your platform opened. Understand that there are such things as market orders, limit orders, stop loss orders, and many more ways to trade the market. A limit order will make sure that you pay the exact price that you wish to, so those are typically preferred. A stop loss order keeps you from losing far too much on one particular trade, which is something that you should do with every position you open.
5. Select & Buy Tech Stocks
Now that you have gone through all of this, it is simply a matter of selecting and buying the shares that you wish to trade. Make sure that you understand your timeline and how long you plan on hanging onto the position, as it will greatly influence how many shares you buy and whether or not you are checking on them daily, hourly, or even monthly.
Best Broker for Trading Stocks Online
Finding the right broker for you is perhaps the most important part of the process. While you can buy Tech stocks with most brokers on the market today, not all brokers are created equal.

Best Brokers to Buy Tech Shares:
If you're ready to buy Tech shares, you'll need to use a broker that is FCA regulated, has low trading commissions and a reliable trading platform. Finding one can be an arduous and daunting task, which is why we've hand-picked favourites that tick all of these boxes to help you get started.
It's worth setting up demo accounts with a few brokers to see which suits you best.
Regardless of whether you are new to trading and wish to get started investing, or even if you are just curious about doing so, these trading platforms are perfect for beginners and experienced traders alike. Not only are all of these brokers fully regulated, but they provide a safe and secure trading environment, as they are equipped with everything you need to succeed in the investment world. This includes a wide range of stocks to choose from and of course educational resources that can help you get started to make your first trade.
Summary
When it comes to investing, there is a lot to learn. However, the reality is that until you get started, you will not understand the mechanics of trading, or the psychology. In order to do this, you need to find a safe and regulated place to do so. Some platforms even allow you to "demo trade" when you place trades using fake money, so you do not risk anything. Please make sure to take advantage of this potential tool when you do sign up.
There are a lot of different types of investing strategies, but it is almost universal knowledge that technology stocks are an important part of any portfolio. Knowing the difference between the types of technology stocks would be the place to start. Understanding the potential risk to reward in any speculative investments will be crucial as well. By going through the checklist above, you can start to understand how to build a tech portfolio.