Investing in shares of non-Swedish firms also offers a degree of geographical and sector diversification. That can help smooth out investment returns and protect investors from the risk of having too much of their capital invested in one area. One popular choice is to buy US stocks in Sweden. The New York Stock Exchange (NYSE) and NASDAQ Exchange, in many respects, lead the rest of the global markets. They operate under the highest standards of corporate governance, and the US regulators SEC and CFTC have a well-earned reputation for keeping their markets orderly.
Another factor to consider is the relative performance of US stock markets. From the lows of April 2020 to the end of 2021, the flagship US tech index, the NASDAQ 100, surged in value by 145.90%, whilst over the same period, the Sweden 30 index was up 91.62%.
NASDAQ 100 Index – 2015 – 2022 – Up 291.58%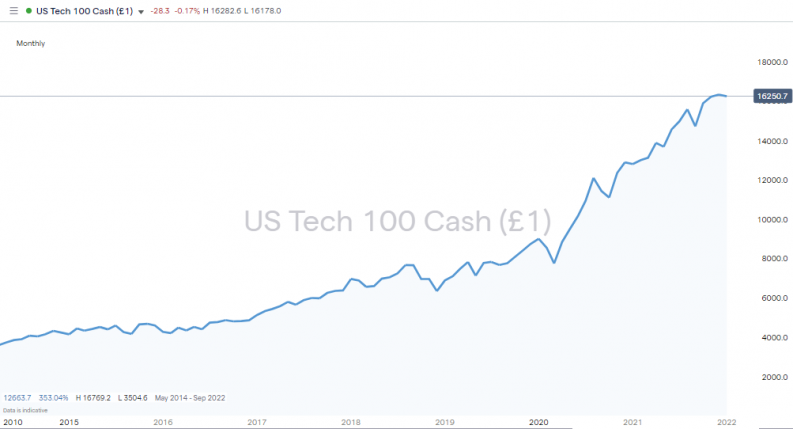 Source: IG
Sweden 30 Index – 2015 – 2022 – Up 61.59%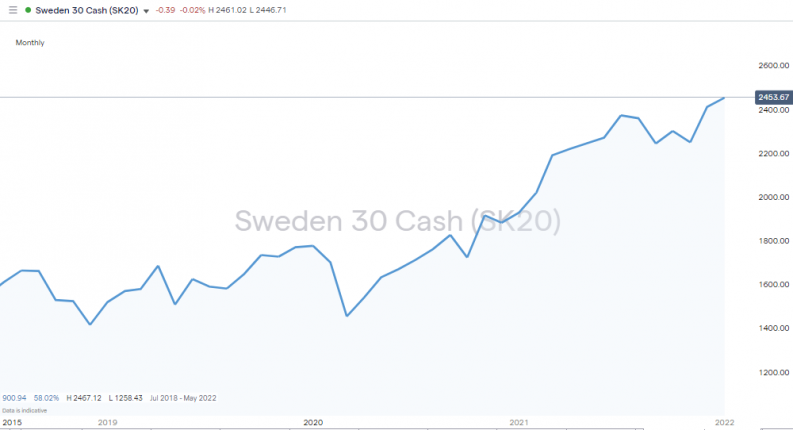 Source: IG
How to Start Investing in Global Trading
The process of buying US shares is essentially the same as Swedish ones. The digital revolution which has taken place in the broker sectors means that buying US stocks is easier and cheaper than ever before. For Swedish investors looking to expand into the US markets, there are two similar but not precisely identical routes to take.
Use an International Broker
International brokers with a global client base already cater to the needs of Swedish retail investors. IG, for example, is headquartered in the UK, where it is regulated by the FCA. It has over 313,000 clients worldwide and offices in 16 different countries. One of the offices is at IG Europe GmbH, Norrlandsgatan16, 114 35, Stockholm, Sweden.
Online brokers like IG tend to offer execution only services. This leaves the decision making down to the account holder and cutting out the middleman keeps costs low. Once an account is set up and the 'buy' button on the platform is clicked, the broker will draw on its network of global relations and IT connectivity to process a trade in whatever US stock is targeted.
One of the main advantages of using an international broker is that they tend to offer a broader range of markets and because they have more clients and higher trade volumes can pass cost-savings on to clients.
Use a Local Broker Foreign Stock Trading
For those who already have an account at a domestic broker or bank, using them to buy US shares can be a convenient first step. As this might not be their core business operation, it can be that they offer fewer markets and that administrative costs are higher.
Whichever route is taken, choosing a trusted broker is of paramount importance and investors looking to buy US stocks should ensure their broker is regulated by at least one of the below Tier-1 regulators.
Finans Inspektionen of Sweden (FI)
The Financial Conduct Authority (FCA)
The Australian Securities and Investments Commission (ASIC)
The US Securities and Exchange Commission (SEC)
Cyprus Securities and Exchange Commission (CySEC)
Can Citizens of Sweden Legally Invest in the US Stock Market?
Whilst it's perfectly legal for Swedish citizens to buy US shares, there can be some tax implications. For most traders, there will be a need to complete a US tax form that confirms the trader's identity and location. This process is typically carried out by checking a box online, but individuals are required to study the T&Cs and how they apply to them
What is the Minimum Budget to Buy Shares in the US?
One of the most significant changes in the investment industry has been a dramatic fall in the minimum amount of funds needed to open an account. Some brokers offer Micro accounts which require deposits as low as $5 or the equivalent. The small stake limits any return, of course, but they are a good way for newbies to get a feel for trading in the US before they build up their positions.
One quirk of the US stock market to keep in mind is that for historical reasons, US shares can sometimes have phenomenally high prices. It's just the way the US market has always worked. For example, one share in Warren Buffet's investment company Berkshire Hathaway has an eye-watering price tag in the region of $465,000.
Even 'cheaper' stocks such as Microsoft have traded in the region of $328, and Apple Inc shares are valued at around $179. To get around the issue of these stocks having large nominal values, many traders look for a broker that offers fractional trading. This is often provided by international brokers and allows investors to buy part of, rather than a whole share in a company.
Best Brokers to Buy US Shares From Sweden
This shortlist of trusted brokers which offer US share trading provide demo accounts that are free to use, take moments to set up and offer a simulated trading experience using live market prices. As the funds used are virtual, it's possible to test a strategy and get used to a new market in a risk-free environment. Setting up a Live account is similar to setting up an online bank account. It can be done online and using a handheld or desktop device.
Why You Should Invest in the US Stock Market
American investors have also been active in the equity markets for decades. Their pioneering efforts mean there are several reasons the US stock market has grown to be particularly attractive to non-US investors.
Efficiencies
One of the advantages of the US stock market being so large is that the vast trading volumes make for low trading costs. The efficiencies of scale apply to bid-offer spreads and administrative costs and apply market-wide, so cost is not a deterrent to buying into small-cap growth stocks.
Investment Gains
The enormous domestic market allows US firms to gain critical mass and generate returns to investors before having to consider the complications and costs of operating overseas.
Diversification
The Swedish stock market has a lot going for it, but US stocks can offer something different and help balance a portfolio. Geographical and sectoral diversification is an essential part of risk management.
Growth
US companies have a knack of picking up on the next big thing, and the NASDAQ exchange has successfully incubated firms such as Google and Amazon. Those stocks returned eye-watering returns to early-stage investors.
What US Stocks Should You Invest in Now?
The NYSE is the world's largest stock exchange and hosts many major blue-chip offerings and established industrial giants. The roll call of firms is a list of top-ranking global brands, including:
General Electric – Industrial behemoth offering exposure to sectors ranging from aviation to healthcare.
IBM – A first generation tech-stocks with a proven ability to keep up with the game.
JP Morgan Chase & Co – Banks are tipped to prosper as base interest rates rise and trading margins improve, and in the banking sector, big can often be beautiful.
Pfizer– A huge market capitalisation of $306bn boosted by the firm's leading role in the fight against COVID.
Procter & Gamble: a household name with global brands and a stock price that rides out booms and busts.
Mastercard – The largest payment-processing firm in the world and well-positioned to benefit from a move away from cash.
Wal-Mart – The #1 retail marketing chain in the world with a massive domestic market.
Walt Disney– Globally recognised entertainment content provider and theme park operator.
Some of what are currently the biggest firms on the planet started as small operations listed on the NASDAQ exchange. Amazon listed on the NASDAQ exchange in 1997 at a price of $18, and that stock has since increased in value 191-fold. Other stocks listed on the NASDAQ include:
Alphabet – The parent company of search engine giant Google.
Amazon – Uses its core online sales services as a platform for new business lines such as Amazon Web Services (AWS).
Apple – One of the world's largest firms that benefit from enduring consumer loyalty.
Microsoft– A proven track record of using its cash reserves to invest in the next big thing.
Netflix – Streaming giant which has revolutionised home viewing.
Tesla – Standard-bearer of the booming electric vehicle EV market.
Summary
The decision to buy US shares from Sweden results from the exchanges getting things right for investors for decades. Make the right choice of broker, and the door is opened to cost-effective trading in a well-regulated and diverse market that has recorded impressive historical returns.