Once a leader in the mobile phone market, Nokia's heyday is now in the rearview mirror; however, the company is still plugging away after a change in direction.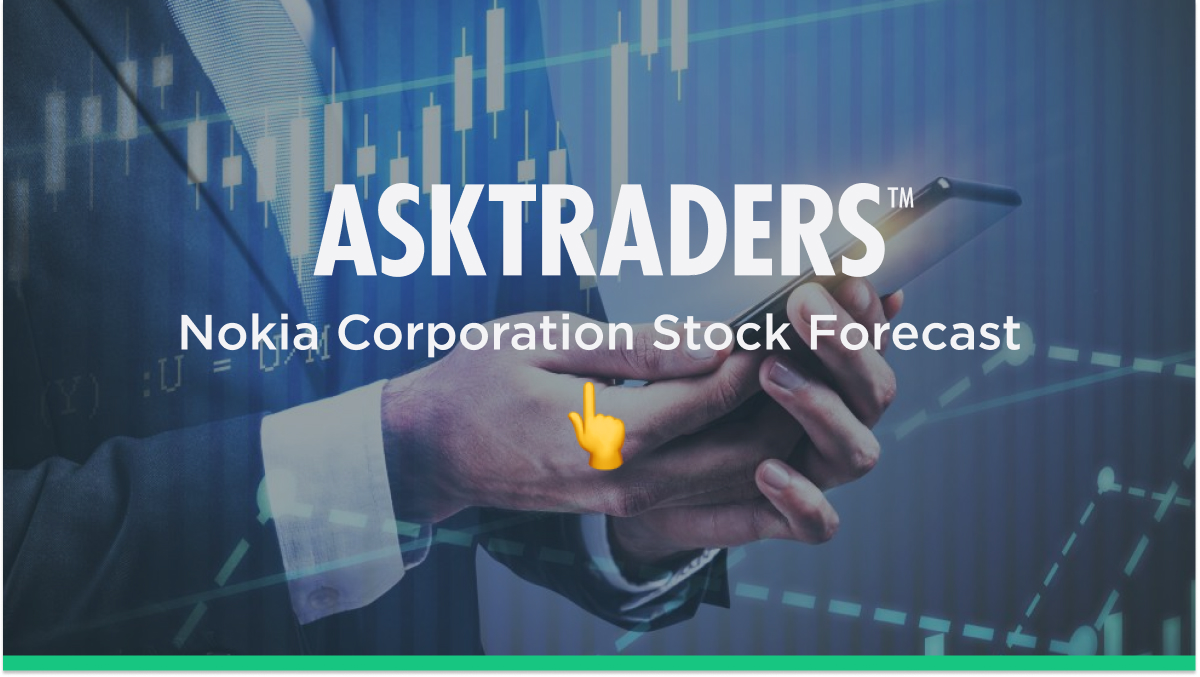 The firm, which was once the largest mobile handset maker in the world, let its competitive advantage in that market slip and barely survived a costly overhaul of its operations. The company's management has steered operations into networks and away from handsets. That change by Nokia was done at an opportune time. As a result, the Nokia share price rallied by a super-impressive +150% in the months between March 2020 and December 2021, making Nokia stock a rewarding investment. Although, the share price has been significantly more subdued since then.
There are good reasons to suggest Nokia stock could rally once again. It has established a strong position in a growth market with a global audience as it plays a crucial part in the rollout of 5G mobile networks.
The 5G sector has the feel of an oligopoly about it, even more so when security fears about China's Huawei resulted in it falling out of favour with Western political leaders. Markets with few competitors operating within them and significant barriers to entry can generate abnormal long-term profits for those companies with a stake in them. The below Nokia stock forecast draws on technical and fundamental analysis to outline whether Nokia could rise or fall over the near and long term.
Who are Nokia (HSE: NOKIA; NYSE: NOK)?
Nokia's move away from handsets and into networks is not the first radical change of direction in the company's history. In its home country of Finland, where it is known as Nokia Oyj, the firm which the rest of the world knows as Nokia Corporation started life as a timber yard/pulp mill.
It started trading in 1865 and has repeatedly jumped from one growth sector to another. The switch which brought it to investor attention was when it forged a position as the world's leading mobile phone handset maker. It managed to hold on to the #1 spot until 2012, when it was dethroned by Samsung, but more importantly, Nokia management realised their performance had been poor, so they scrambled out of the business entirely.
Its primary listing is on the Nasdaq Helsinki exchange, trading under the ticker NOKIA. In an effort to accommodate international investors, Nokia is also listed on the New York Stock Exchange in the form of an American Depositary Receipt (ADR) under the ticker NOK.
ADRs are USD denominated and allow investors to essentially buy the same stock on the exchange, which is more convenient for them (in dollars). Therefore, this Nokia stock forecast will use data and reports relating to its US listing
Where Will The Nokia Stock Price Beat The End of 2023?
Whilst increased short-term price volatility can't be ruled out, the news out of Nokia HQ remains positive in terms of deals and partnerships, having recently signed a long-term patent license agreement with Apple. Meanwhile, analysts remain mostly positive about the stock and company too.
The license agreement with Apple covers Nokia's fundamental inventions in 5G and other technologies, with Nokia receiving payments from the iPhone maker "for a multi-year period." The deal replaces the current license that is due to expire this year. Furthermore, Nokia recently announced a partnership with DXC Technology and secured a deal with Orange Jordan. It was also selected by Charter to support its 5G technology and MetaLink to expand its fixed wireless broadband access.
While supply-side issues, particularly a shortage of chips needed to support the 5G network, helped suppress the Nokia share price in the early parts of 2021, that headwind has now eased. 
According to TipRanks, two Wall Street analysts see Nokia shares moving higher towards the end of the year, with both having a Buy or bullish rating on Nokia shares, with one assigning the stock a Hold rating. The average price target is currently $5.71, representing a potential 35.95% upside from current levels.
From a technical perspective, the stock has remained somewhat subdued for a sustained period despise analyst positivity.
Nokia Long-Term Forecast
Extending the Nokia stock forecast up to 2025 and beyond continues to provide positive signs for the stock.
The current management team successfully managed the teething problems of 2021, and its new business structure is better equipped to navigate its 5G operations. Instead of offering traditional end-to-end solutions in their networks, Nokia has moved to provide best-of-breed offerings on a case-by-case basis. This extra flexibility offers the firm a chance to compete with its larger rival, Ericsson, while political concerns will limit the capabilities of the other major player in the sector, Huawei.
Given that the 5G market could rise to $667bn in value by 2026, any long-term stock prediction for Nokia boils down to how much of that market the firm can capture. Even relative underperformance compared to Ericsson could still be good for NOK shareholders as that growth in the 5G market represents a 1,526% rise in value from its 2020 base value.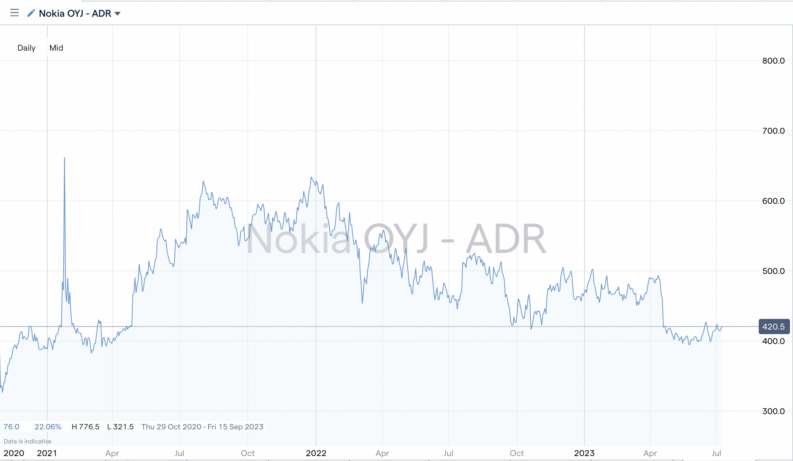 Thanks to the additional revenues coming in, the balance sheet is improving. The firm recently increased its dividend payout to shareholders. Whether the firm chooses to invest its increased cash flow on internal projects or to support the stock price by returning funds to investors, Nokia stock predictions continue to point to further potential upside.
Is Nokia a Good Buy?
You might not have seen a Nokia phone handset for some time, but whether you've switched to Samsung, Apple, or Google Pixel, your mobile phone experience is still likely to be reliant on Nokia technology. Its move to a behind-the-scenes role and the development and maintenance of the 5G network has so far generated positive returns for shareholders, and there could be more to follow.
Even so, a further fall in value can't be ruled out thanks to macroeconomic headwinds. However, Nokia's B2B business model and long-term contracts offer a relative degree of protection to any economic downturn. Even short-term share price weakness may be seen by some investors as a chance to work into positions at a better entry point.
People Who Read This Also Viewed: