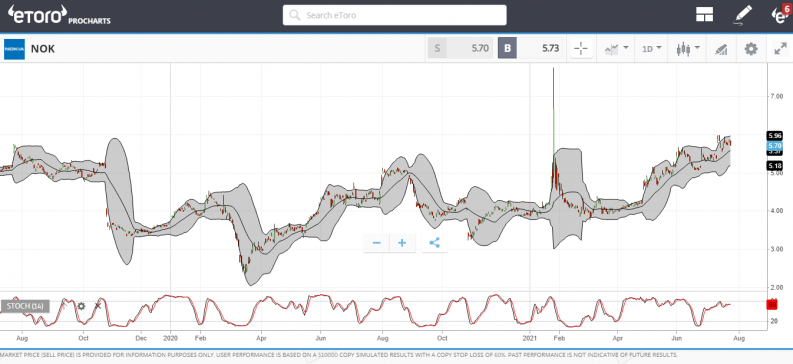 *68% of retail CFD accounts lose money
You have to return to 1865 to find that Fredrik Idestam founded Nokia and established its headquarters in Espoo, Finland. Back then, it was a pulp mill. Now, it's into multinational telecommunications, information technology, and consumer electronics. Today, it employs 92,000 people, conducts business in over 130 countries, and has an annual turnover of €23bn. It is a source of national pride for citizens of Finland and has a market cap of $32.4bn.

By the look of its positive share price trend since April, Nokia appears once again to be a darling of investors.
It is definitely not dead, as some of its competitors might wish – it is making another proverbial comeback from mistakes of the past and rising again from the ashes.
Who Are Nokia?
Nokia may have been a household name in Finland for more than a century, but its fame also spread across the globe as it ascended the cell phone peak and became the leader of the pack. However, those days are far behind us. In 2014, the management team at Nokia had to accept the harsh judgment of the marketplace – it had slipped and badly. If recent stock prices are to be believed, however, it appears that this giant in the 5G and telecommunications space may have risen like a phoenix and may even be making a move back into the smartphone space.
Nokia began its tale in 1865 in the lumber business. Its unique name comes from where its second pulp mill was located – on the Nokianvirta river. The firm would eventually diversify into electricity generation, rubber products and cable networks. In 1967, the Nokia Corporation was formed by merging all operating units into one company structure. In the 1990s, management decided to focus on telecommunications and soon divested its other unrelated businesses. Its glory days soon began.
By 2000, Nokia was the undisputed king of the mobile phone world with a 30% market share of the market, nearly double that of Motorola. What happened next was textbook material for how corporations can take their eye off the ball. A degree of arrogance comes with leadership. Nokia focused too much on hardware and let software problems expand. The smartphone was soon born, but Nokia was behind the curve, with Apple and Samsung taking over the lead.
As Hyman Minsky, a renowned American economist, once opined: "Stability breeds instability. The more stable things become and the longer things are stable, the more unstable they will be when the crisis hits." In 2014, the crisis hit. Nokia sold its mobile phone business to Microsoft. Its stock has yet to recover its peak in that year of roughly $8.75. Nokia has struggled to restructure its business model and invest in long-term research and development.
However, all was not lost. Today, there is a sense that the firm has finally turned the corner. It has yet to return to profitability or to distribute dividends, but the signs are there that point to future successes down the road, perhaps in the 2022 to 2023 timeframe. Stock prices have also turned a corner and have been trending positively since early 2020. There will be hurdles and competition. According to the Motley Fool: "Once the leading maker of mobile phones, it has redefined itself as a telecom equipment stock in the 5G era… [but] Ericsson holds a technical lead of six to 12 months over Nokia in hardware development."
Is Nokia a good stock to buy? Presently, the consensus of analysts is that NOK is a 'Buy' on most counts and a good long-term investment. The management, however, has a history of missing major moves in the market, while it gets embroiled in internal power struggles. If Nokia can finally beat its peers on quality and begin to take back share, the possibilities are endless.
Where Will Nokia's Stock Price Be in 3 Months?
Things are definitely looking up these days for Nokia and its new business plan. After the exuberance that occurred after its year-end results reflected a turnaround, NOK shares spiked, but fell soon afterwards back in February. Its price hovered about the $4 watermark until April's earnings call. Prices gapped and headed north in a nice steady trend right out of the textbook.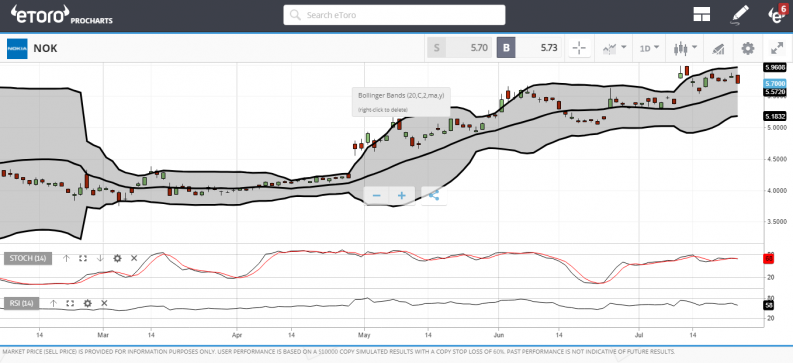 *68% of retail CFD accounts lose money
The market is expecting more good news when the Q2 results will be released, most likely on 29th July. Management has already indicated that it will be adjusting guidance upward, another highly anticipated message to be delivered on that same day. What is the Nokia stock prediction going forward in the near term? The price today stands at $5.85, but expectations 12 months out, at least the optimistic ones, suggest a mid-term target in excess of $7, but somewhere south of $8.
Will this earnings event be a 'sell-on-the-news' event, a typical response to a steady build-up of expectations over months? The answer depends on the strength of the current trend and whether it has extended itself beyond reasonableness. Do not expect a dramatic turn of events, since supertankers can only change direction gradually. The excitement occurred after year-end, when prices spiked into the upper sevens, only to fall precipitously thereafter.
One clue is that the candlesticks only dipped below the midline of the Bollinger Bands once during this run-up. Prices only started to range recently in anticipation of the upcoming announcement, but the Relative Strength Index (RSI) did not pierce overbought territory. It is now pointing toward its midline, as are the stochastics, which tend to give better readings in ranging markets. If the technicals are spot on, then we would be encouraged to expect that Nokia may have turned a significant corner on its road back to success.
If you are a speculator and anticipate a surprise announcement in the near term, then NOK might be a good bet. The rumor is that guidance will be adjusted upward, but the company could announce the resumption of its dividend, an event to behold. As one analyst put it: "You want to get in before that happens. That's when a wave of dividend investors will flood back into Nokia."
Where Will Nokia's Stock Price Be in 1 Year?
Analysts are more confident with a Nokia stock forecast just 12 months out from today. 25 analysts have weighed in for this technology behemoth, offering a range from $5.00 to as high as $7.69. The median is $6.17, which suggests that from an analytical perspective, the consensus sees improvement, but nothing dramatic.

Source: Money.CNN.com
Is Nokia a buy or sell at the moment? Investment houses like this company and the prospects for its stock price. Based on a polling performed by MarketBeat.com, out of 16 ratings, 11 are for 'Buy', five for 'Hold', and only one analyst has issued a 'Sell' signal. In its annual report, Nokia management was cautious in describing 2021 as a transition year. It noted both tailwinds and headwinds in the offing. Prices in the market are eroding, but the firm is focusing on 5G research and development for the long haul, which could cut into short-term earnings and margins.
Where Will Nokia's Stock Price Be in 5 Years?
What is the Nokia stock forecast for 2025? To answer this question, we need to look back at Nokia's history, its current fundamentals, how well the firm's product line is positioned for the future, and what hurdles the market might present for its goods in the long run. The weekly chart presented below reveals a few salient facts. There is no need to go back to the halcyon days of the first decade after the millennium crossover when NOK hit $60 early on and then $40 nearing 2010. Those days are gone in the history books. The most recent decade is more informative.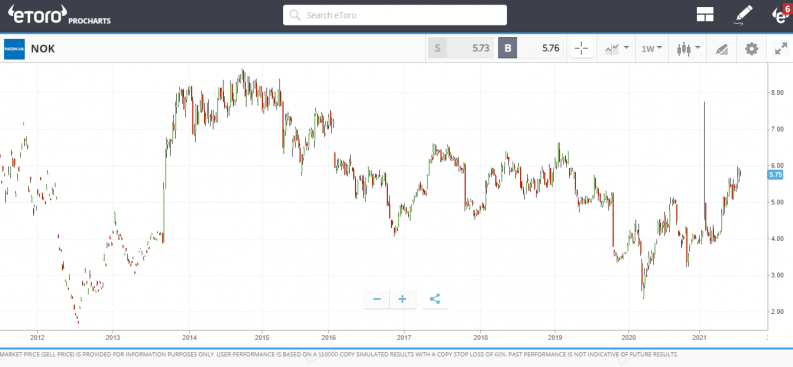 *68% of retail CFD accounts lose money
Back in 2014, Nokia shares hit their peak for the new decade around $8.80. When Nokia finely succumbed to market realities and sold off its mobile phone business in 2014, it marked the end of an era and began the tailspin that literally continued unabated until 2020. The market has been patient, but rumors of the firm's demise were overblown. Righting the ship has finally happened, if the price behavior on this chart is interpreted as such.
The knock on Nokia has been that it has fumbled its way through its 5G expansion, focusing too much on cost-cutting exercises before and during the pandemic instead of investing in 5G R&D. As a result, it has slipped behind direct competitors such as Huawei and Ericsson in this space and lost new business possibilities in China. As it focuses on potential clients outside of the Middle Kingdom, its sales and marketing staff keep bumping into similarly minded folks from Ericsson.
Revenues dropped 6% in 2020 due to these competitive skirmishes, but operating margins improved, a good sign for future periods. A new CEO was installed last August, and his take on the future is that this year and 2022 will both be transition years, but in 2023, revenues for Nokia will begin to grow more quickly than the market. The supply market for 5G semiconductor chips, however, is contracting and could be a significant headwind going forward.
Are these financial goals attainable for 2023 and beyond to 2025 and later? According to Zacks Equity Research: "Major deals with a comprehensive list of leading entities like Amazon Web Services, Mobily, National Cable Television Cooperative, KATCH Network, Chunghwa Telecom, Etisalat, Telefonica Spain, Movistar Chile, PLDT, DITO, Allo, Optus, NetNordic, Vodafone, SaskTel, Orange, DISH and Uninett are likely to have positioned Nokia for the ongoing technology cycle, given the strength of its end-to-end portfolio."
Assuming that Nokia has got its act together on 5G positioning and financial restructuring, analysts are positive in their view of NOK's future price in the marketplace. The general feeling is that the 5G revolution may have a greater impact on our lives than expected when internet speeds are boosted by 100%. There is also a general feeling that Nokia has got past its product issues and is distributing its wares across the globe. Based on these assumptions, the price points five years out appear to coalesce about $10+ a share. Nokia also has a band of critics who foresee another rollercoaster ride in the future based on the firm's track record.
Is Nokia a Good Buy?
Over the past few decades, Nokia has demonstrated that it has the wherewithal to rectify its mistakes, regroup, and carry on for the better. The rollercoaster price ride, as evidenced in the long-term chart at the introduction of this piece, denotes the resilience that this firm can muster when the chips are down. If you were a swing trader, the opportunities for going long and short were there in abundance, as long as you had a good strategy for reaping profits from those swings.
However, is NOK a good stock to buy? Analysts seem to be in agreement that it is a 'Buy' at the moment. Management appears to be turning this big ship around and heading for the big blue sea again. The firm is even seeing an advantage to returning to the smartphone wars with LG bowing out of the picture. There are, however, other worthy competitors. Ericsson is one. The market will also be an issue when the inventory of semiconductor chips begins to contract, as it always does. Nevertheless, even under these uncertain circumstances, NOK may still be worth a look for the long term.
The Best Brokers to Trade Nokia Stocks:
If you are ready to add some Nokia stocks to your portfolio you'll need a broker that is regulated, has low fees and a user-friendly platform. Finding one can be a daunting task, which is why we've selected some of our favourites that tick all of these boxes to help you get started.