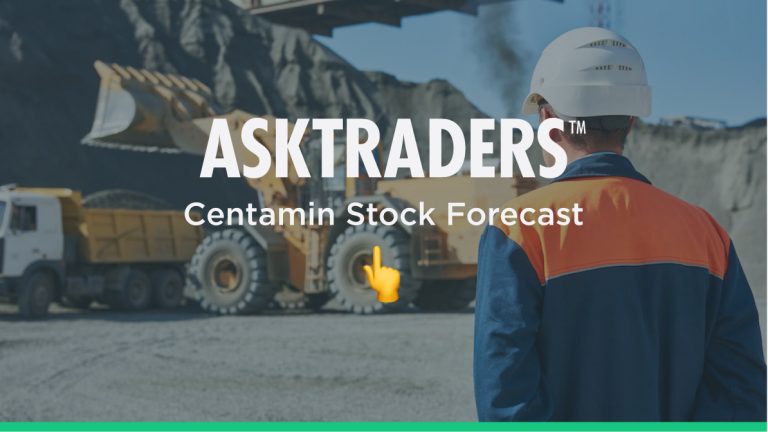 Are you a 'Gold Bug', who believes in the long-term potential of gold price appreciation? Do you like to dabble occasionally in gold mining stocks as a further hedge on inflation when and if the risk/reward demographics are supportive?
If this is your predilection, then Centamin plc may be a gold mining stock worthy of your consideration, so read on for a Centamin stock forecast. Analysts view the Centamin stock and firm as being of high quality and presently undervalued – two factors that usually persuade a value investor to take action.

Investing in gold is one thing, but mining stocks tend to be impacted by several other risk factors, which can be difficult to predict. Their prospects, however, are tied to the price of gold.
The firm recently released second-quarter results that beat expectations. In some ways, these resolved concerns that had developed near the end of 2020 related to its primary mining operation as being unsafe. The company's main mining site is in Eastern Egypt, but it also has operational groups in the Ivory Coast and Burkina Faso in Western Africa.
Centamin is currently traded on the London and Toronto stock exchanges under the call sign 'CEY' on the LSE and maintains a market capitalisation of $1.2bn. Its registered office is in Jersey in the Channel Islands.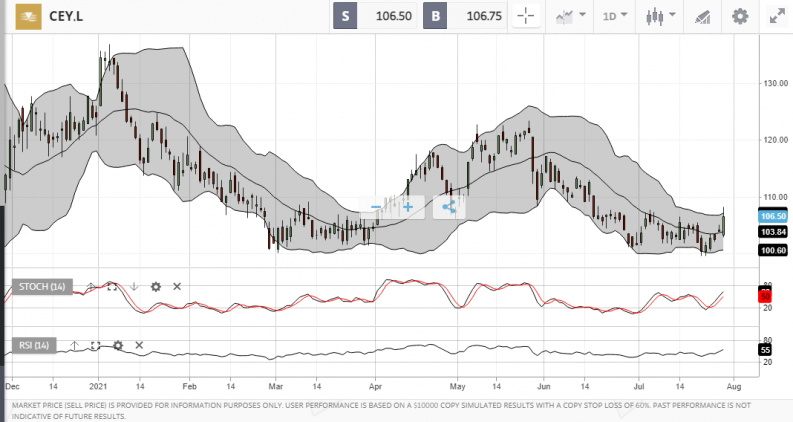 *68% of retail CFD accounts lose money
In October of 2020, Centamin management released a report that warned of ground movements near the west wall of its open-pit Sukari mine in Egypt. Operations were halted until the danger to employees could be corrected. As a result, the firm subsequently had to cut its guidance figures on future gold production, causing the stock to plummet. By the end of 2020, the problem had been addressed and operations resumed.
Prior to this halt in operations, the stock had gained favour with investors. A new All-Time-High (ATH) of nearly 230p had been established, but a round of profit-taking had reduced it to the 200p level. The halt drove the price down 22% in one day. After the impact of a downward revision in production was assessed, the price continued to tumble. It presently rests at 106.4p, but it continues to bounce between 130 and 100p, in line with price fluctuations for gold.
What is the stock forecast for Centamin plc for the near and long term? The company is developing other properties and has a clean balance sheet, free of debt. Analysts are predominantly on the 'buy' side in their recommendations, and if share prices continue to march to the tune of gold, then 290p+ may be in the cards five years out.
Mining companies, however, by their very nature, are risky bets. Timing a move when prices are beaten down and gold is expected to rise may be a prudent bet. Let caution be your guide.
Who Is Centamin plc?
Centamin plc is a relatively small mining company, a mid-cap enterprise with a market cap of under $2bn. It was founded in 1970 and appeared on the Australian Stock Exchange in the same year. The company states its promise to be "creating opportunity for people through responsible mining" (source: Centamin). The success of the company was built around its pioneering mining activities in Egypt in the 1990s.
Centamin acquired Pharaoh Gold Mines in 1999. It had been exploring for gold in the eastern desert of Egypt since 1995 in what is known as the Sukari Gold Mine, located just 25 kilometres west of the Red sea and 700 kilometres from Cairo. Sukari is now the largest and the first modern mining operation in all of Egypt, spanning a tenement area of 160 square kilometres. After obtaining a lease from the Egyptian government in 2005, initial gold pouring commenced in June of 2009, and full commercialisation of the site began in 2010.
In order to raise additional capital funding for production activities, the firm became listed on the Toronto Stock Exchange in 2007, and after initial successes, the company obtained a full listing on the London Stock Exchange in November of 2009. As a result, it dropped its listing in Australia and moved its registered office to Jersey. It also has registrar services in Toronto.
The company has consistently delivered dividends to its shareholders over the past seven years. It is steadfast in its commitment to the health and welfare of its employees and to the sustainability of its mining operations and their impact on the surrounding landscape. COVID-19 has been challenging for open-pit mining, but the firm moved quickly to protect its employees and work with local health authorities to establish a safe work environment.
Gold production at Sukari for 2020 was 452,230 ounces, which was in line with expectations even after a curtailment of mining in October. The problem of ground shifting within the west wall of the facility is not an unusual event in mining, but the management team responded quickly to remedy the situation and modify the direction of its future explorations. The firm had hoped to mine in excess of 510,000 ounces for 2020, but actual results were 6% below 2019 due to COVID impacts.
In its annual report for 2020, the report stated that "we believe there are significant opportunities to unlock further economic potential at Sukari by developing a robust geological model" (source: Centamin).
In addition to Sukari, Centamin also has exploratory licenses in the Ivory Coast and Burkina Faso, just to the north of the former on its border. Ivory Coast projects include Doropo and ABC over its 5,310 square kilometre territory. The Burkina Faso license also explores the Birmian terrane. It covers less than 3,000 square kilometres. Extensive drilling operations have been underway in 2020 at both sites.
Is Centamin a good stock to buy? There can always be a potential for substantial appreciation in a mining stock whenever it hits the mother lode, so to speak, but there are also failure risks to consider, as well. Issues might be geological, as was witnessed with Centamin in 2020. The firm responded quickly, but there could also be engineering, environmental, financial, security, political, and infrastructure issues. Centamin has a reputation for quality, transparency, and consistency in dividend payouts. It is in the FTSE 250, and it may deserve your attention.
Where Will Centamin plc's Stock Price Be in 3 Months?
Centamin has already released its second-quarter earnings report at the end of July. It reported $177.5 million in revenue for selling 97,229 ounces of gold for the quarter ended the 30th of June. It mined 100,228 ounces, which was in line with expectations and another positive step forward for the firm. Feasibility studies in west Africa projects are also positive and are providing future potential for growth for the firm whose balance sheet remains debt-free.
According to Martin Horgan, its chief executive officer: "Centamin has delivered another solid operational performance and we remain on track to meet full-year cost and production guidance. During the quarter, excellent progress was made with the Sukari waste-stripping programme, which has significantly outperformed budget and resulted in record material mined. This is testament to our team at Sukari delivering improvements in operating efficiencies and further supported by the quick mobilization and ramp up of the waste-stripping contractor."
Centamin also said that it would soon declare a dividend in the following week and that it was on track to achieve the projections contained within its previous guidance. The market responded to the news with a 6% bump in price, as depicted in the chart below: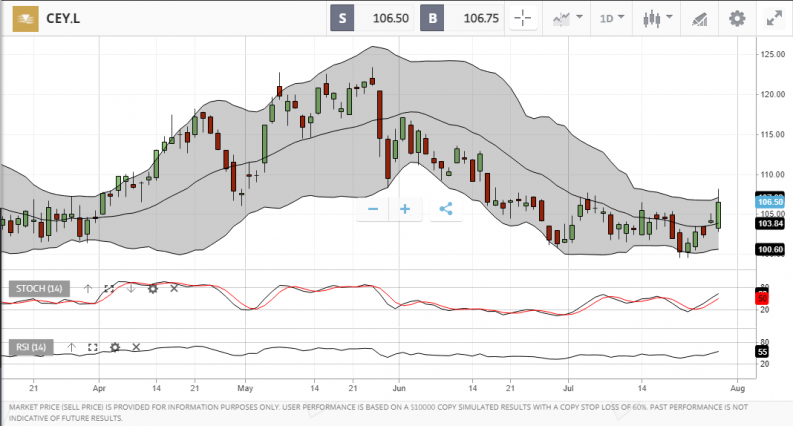 *68% of retail CFD accounts lose money
What is the Centamin stock forecast for the next ninety days? From a technical perspective, it appears that a potential upward trend is forming. Bollinger Bands have contracted, suggesting a breakout might be imminent, and share prices have finally broken through the resistance proffered by the 20-day moving average within the bands. Neither the Stochastics nor the RSI, are showing any type of overbought condition at the moment, so the prognostication is for more of the same.
Centamin stock values are, unfortunately, tied at the hip with gold prices. Inflation has picked up in the Eurozone, but in the US, its Fed chairman has declared that current pricing pressure is temporary. Analysts are not so sure. Gold prices have ticked upward on recent inflationary news – a sign that Centamin stock prices could be carried north upon its wave, as well. Of the six analysts that follow this stock, four have a 'buy' rating, while there are one each for 'hold' and 'sell'. According to these analysts, there may be short-term potential in Centamin shares for gain.
Where Will Centamin plc's Stock Price Be in 1 Year?
Centamin stock predictions 12 months out will be intrinsically tied to the path taken by gold. Here is a current chart of the recent price behaviour in the gold market: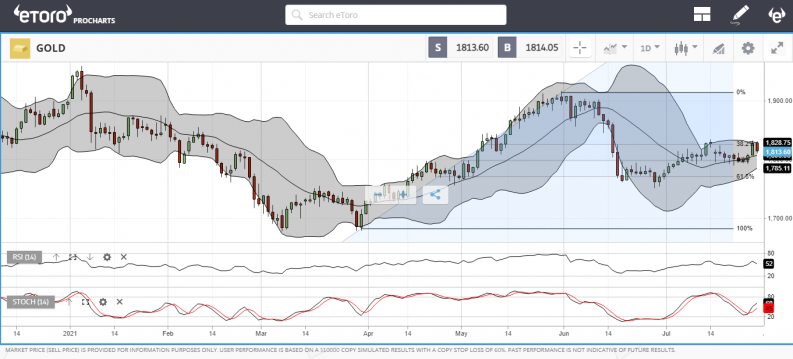 *68% of retail CFD accounts lose money
This price chart for gold is very nearly a mirror image of the initial chart that we displayed for Centamin at the beginning of this narrative. The recent 'hump' from April to the present day is roughly identical in size and proportion, except for the fact that gold has retraced past the 50% Fibonacci level and has settled just below the 38.2% line. This area is often referred to as the 'Decision Zone'. If it is to rally forward, it must break out of this zone to the north and convincingly. Any hesitation will be met with resistance.
If Centamin shares were tracking directly with gold, they would be attacking 114p at the moment. Instead, the CEY shares are stuck at around 107p, an indication that analysts interpret as being undervalued by the market. From their perspective, they are rating Centamin a 'buy' for this very reason. With gold already making an ascent based upon inflation worries, forecasts for the yellow metal 12 months out are bouncing around $2,500 to $3,000 an ounce. Where might Centamin be under these circumstances? If you do the maths, a range of 145p to 175p could transpire.
Where Will Centamin plc's Stock Price Be in 5 Years?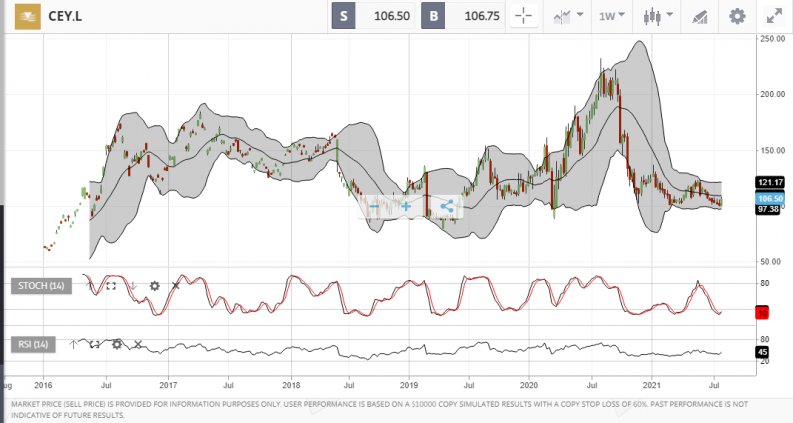 *68% of retail CFD accounts lose money
What about a long-term Centamin stock forecast out to 2025? It is now time to review a longer timeframe, based on previous weekly price behaviour. The past five years are depicted in the chart provided above by eToro. The one-year forecast of 145p to 175p does not look that farfetched when viewed within the context of this depiction. That price level would actually reflect previous support levels, which will now be resistance that must be overcome.
Once again, what are the long-term projections for gold out to 2025? Current estimations peg gold at twice its price one year out, or effectively a doubling multiple. If Centamin maintains its course, keeps Sukari on track, and realises potential future revenue streams from the Ivory Coast and Burkina Faso projects, then a similar 'doubling' would yield 290p to 350p. If the above chart were expanded out five years, these targets would rest on a simple trend line extended from pricing data for the past three years. It is reasonable, but it does include performance risk.
Is Centamin plc a Good Buy?
Is Centamin plc a buy or sell? If you have a risk appetite for mining stocks due to their potential to surprise on the upside, then Centamin may appeal to your interests. It has already demonstrated that it is capable of a double in a short period of time. In 2020, it did jump from less than 100p to over 220p in seven months before running out of steam.
According to Stockpedia.com, it purports: "One of the quality metrics for Centamin is that it passes 8 of the 9 financial tests in the Piotroski F-Score. The F-Score is a world-class accounting-based checklist for finding stocks with an improving financial health trend. A good F-Score suggests that the company has strong signs of quality" (source: Stockopedia).
The firm's operating profits compared to its market cap is presently 19.7%, roughly a four-times multiple of what is reasonable in the market. All things considered, Centamin is considered a quality company that is undervalued and, perhaps, worthy of a second look.
The Best Brokers to Trade Centamin PLC Stocks:
eToro:
68% of retail CFD accounts lose money
Take a look
If you are ready to add some Centamin PLC stocks to your portfolio you'll need a broker that is regulated, has low fees and a user-friendly platform. Finding one can be a daunting task, which is why we've selected some of our favourites that tick all of these boxes to help you get started.