If you have followed the progression of renewable energy sources and their need for specific batteries, then you may have heard about vanadium pentoxide (V2O5), and if you have heard of that mineral, then you might have also heard about Bushveld Mineral Ltd (LON:BMN).
This firm is traded on the AIM London Stock Exchange and is one of the leading mining companies of vanadium ore and related storage batteries, which are in huge demand.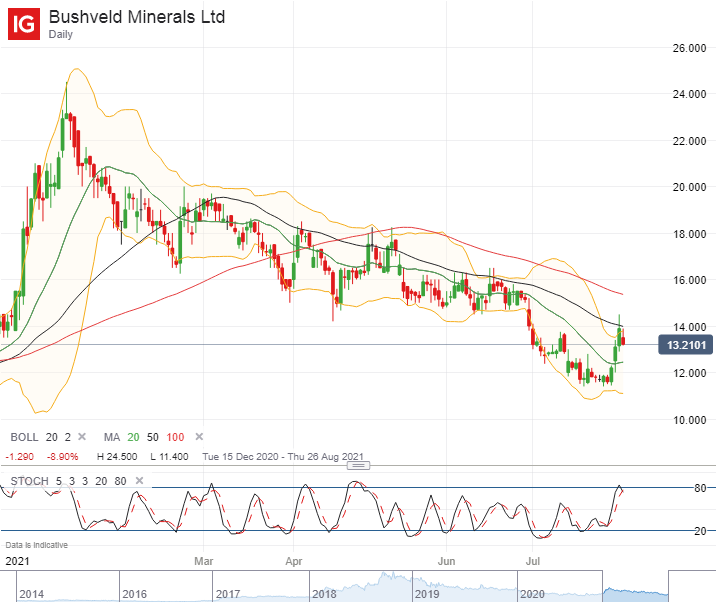 The company derives its name from the Bushveld area of South Africa, known to be one of the world's richest deposits of minerals as chromium, platinum, and vanadium, among others. It was founded in 2012 and is headquartered in Johannesburg, South Africa.
Bushveld Minerals is involved in not only vanadium mining but also with vanadium energy storage systems, primarily what are known as vanadium redox flow batteries or 'VRFBs' for short. It also supplements these businesses with energy generation and coal exploration activities.
Like others in the mining sector, Bushveld's share prices are intrinsically tied to the vicissitudes of market prices for its primary ore. Prices for vanadium have recently spiked, and the miners for this special ore are forecasting several good years to come if prices escalate as predicted.
Renewable energy projects are constantly in the news as countries strive to lower carbon emissions. China is a major factor in these projects and is the major producer of vanadium, as well. VRFBs are often coupled with renewable applications, and these battery units have a larger storage capacity and can be more efficient than lithium-based alternatives.
Investing in mining companies is not for the faint of heart. Prices can skyrocket one day with a favourable discovery, only to plummet like a rock when expectations exceed reality. These firms tend to be high risk, not only because of the prices for the mineral involved but also for numerous other risks that can be financial, political, environmental or geological.
Is Bushveld Minerals a good stock to buy at this moment? At the time of writing, its share price stands at 13.21 and there is seemingly apparent support between two moving averages. Wall Street analysts have posted a 'buy' rating for the near term. It also scores highly on several financial and technical measurements. At its current price, many consider it undervalued. Mining stocks, however, are very risky. If you have a low tolerance for risk, there are better choices.
Who Is Bushveld Minerals Ltd?
Bushveld Minerals Ltd was incorporated in 2012 and was listed on London's Alternative Investment Market (AIM) in March of 2012. Based upon an early study, the firm decided to focus on vanadium ore production, and today it is a vertically integrated vanadium producer. It has two operating divisions – Bushveld Vanadium and Bushveld Energy. The former is the mining component, and the latter promotes the use of vanadium-based energy storage products, i.e., Vanadium Redox Flow Batteries or VRFBs.
The stated strategy for the company comprises two parts:
"Build a sustainable, cash-generating, low-cost production platform, comprising: high-grade, opencast and low-cost primary vanadium mines, and refurbished scalable brownfield processing facilities."
"Use our large, low-cost production platform to build a leading downstream vanadium-based energy storage platform, creating value as a manufacturer of electrolyte, investor and project developer across the Vanadium Redox Flow Battery ("VRFB") value chain."
(Sources: Bushveld Minerals)
Although vanadium is a primary component in storage batteries and draws press attention for this very fact, nearly 90% of vanadium production on an annual basis is used by the steel industry. The primary focus of Bushveld is on the VRFB energy sector, but it also supports the steel and chemical sectors, as well.
Fortune Mojapelo is the Chief Executive Officer and Co-founder of the firm. He is a graduate of the University of Cape Town and was a Business Analyst for McKinsey & Company, working primarily on strategy development in Nigeria and South Africa.
A significant spike occurred in the ferrovanadium ore market back in 2018, hitting a peak of just under $60 per kilogram. China had upgraded its standard for vanadium density within steel rebar, causing a spike in demand while supplies lagged. Prices typically range in the $20 region.
At the time, little attention had been paid at the time to Bushveld Minerals, although its CEO, Fortune Mojapelo, had been espousing that the market had seriously undervalued the company. Word spread and early adopters soon drove the price up from 2p to 10p. In 2018, however, shares of BMN took off like a rocket, rushing to an All-Time-High (ATH) of 50p in a matter of months.
Over the next year, Bushveld shares fell from the stratosphere, as did prices for vanadium. It soon rested upon 20p, but 2020 brought COVID-19. All mining companies had to adapt to the pandemic and protect their workers. In the process of instituting new operating constraints, the firm's share price was cut in half once more, but it subsequently rose to its newly established level of support – 13p.
Analysts are beginning to see the potential for another bull market in ferrovanadium ore. Investors moved early in 2021, pushing share values toward 25p, but the momentum ceased and prices fell again to previous support levels.
After securing a new round of financing in late 2020, Bushveld, after paying down some debt, has $30m remaining to devote to vanadium ore and VRFB production. Renewable energy projects are expanding across the globe, which is creating increased demand for energy storage capacity, and analysts believe that Bushveld is uniquely positioned to capture this coming wave since its products are considered the right fit for these storage needs.
Is Bushveld Minerals a good stock to buy now? Analysts see a doubling effect from both increased vanadium ore prices, primarily driven by steel industry demand, and also from increased demand for VRFB batteries. Stock prices are somewhat depressed at 13.3p, possibly waiting for news from its scheduled annual meeting.
Followers of the stock from the analyst community give it a firm 'buy' rating, but even the experts can be wrong or even right when it comes to predicting the course of mining company share prices. Of course, this also applies to Bushveld Minerals stock predictions. Let caution be your guide.
Where Will Bushveld Minerals' Stock Price Be in 3 Months?
By the look of the short-term daily chart below, at the time of writing, investors are anticipating good news.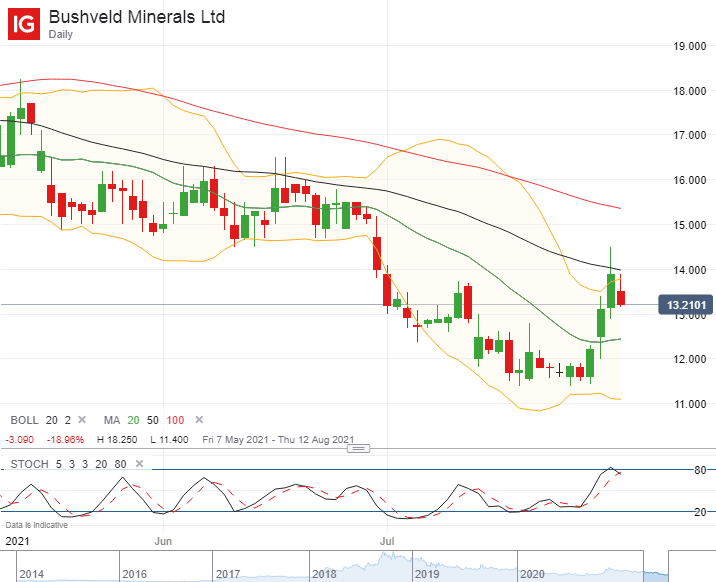 Share prices are sitting at the 23.6% Fibonacci retracement level for the share's dramatic appreciation run back in 2018. It has been a long slow ride down that steep hill, but this level is more a reaction to the uncertainty of mining stocks than cycle expectations. A push forward to 20p would retrace the 31.8% watermark – not seen since last March, but surely attainable if no surprises are heard from management. From a technical perspective, this stock has been beaten down too far. It should be a bargain at these levels unless there is bad news on the horizon.
What surprises could there be in the near term? Adapting an old adage, 'when China coughs, the rest of the vanadium world gets a cold'. China has added stimulus to its economy and set high production targets for slag steel. Chinese steel combines are at capacity. If anything, there could be a pullback. China also became a net importer of vanadium in 2020. Consequently, Bushveld diverted a portion of its sales to the country, but could a slackening in demand occur in the second half of 2021?
What about the energy sector of Bushveld's enterprise? The energy market is in transition, with dependence growing more for electricity and renewables. Electricity, however, is difficult to store, which is where Bushveld's energy strategy kicks into high gear. VRFBs are the wave of the future for a variety of reasons, but in the short term, do not expect surprises on this front.
Bushveld Minerals is uniquely positioned for both the near-term and the long-term, as well. Stocks have been depressed, more to do with concerns related to China and the potential impacts of a COVID resurgence due to the Delta variant. The stock appears to have finally bottomed out, with a potential for appreciation.
Where Will Bushveld Minerals' Stock Price Be in 1 Year?
Unrest in South Africa has not hindered Bushveld's operations, nor has a suspected slowdown in China. CEO Fortune Mojapelo recently remarked: "We are pleased to see strong demand sustained by the increase in Chinese steel production, while momentum continues to build in the application of Vanadium Redox Flow Batteries in the growing energy storage sector. Consequently, we expect the market fundamentals to continue to support the vanadium price going forward" (Source: FT).
Results for the first half of 2021 were encouraging and share prices rose for three successive days in the latter part of July. Management believes that it will meet or exceed guidance for full-year 2021 results, implying there will be no slowdown in the second half of the year. Unrest in South Africa did not impede operations, but it did create delays in getting the firm's product to port. The Group, however, "expects to maintain export volumes during Q3 2021" (source: Bushveld Minerals).
Vanadium prices are on the rise again. Prices increased 17% from the first quarter of 2021 and a full 44% from the second quarter of 2020. Given the tightness in the current market, forecasts are that the vanadium market will actually gain momentum in 2022 and 2023.
What could help this stock move forward? Analysts would like to see more insider buying, although the two analysts that follow this stock are firmly in the 'buy' position. What is the Bushveld Minerals stock prediction one year out? With this firm's positioning for the three years ahead, the expectation would be for a 20p to 25p share price in July of 2022, but there could always be an unwelcome surprise. Such is the high-risk nature of mining enterprises.
Where Will Bushveld Minerals' Stock Price Be in 5 Years?
A five-year weekly chart for the firm can be used to assess a Bushveld Minerals stock forecast to 2025.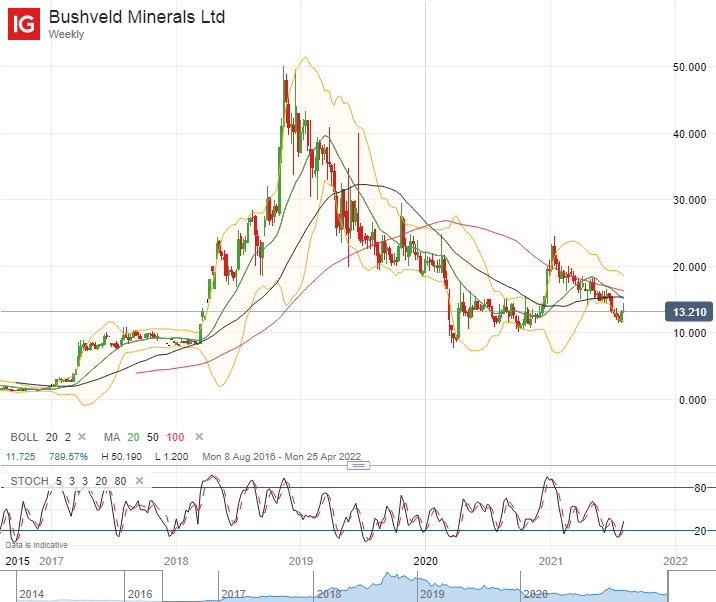 The first insight from the above plot is that the company's share price is at a key crossroad. The 20, 50, and 100-week moving averages are converging on 15p – a level that represents resistance and a hurdle that BMN must clear if higher prices are to happen. Once penetrated, the sky could be the limit if these projections actually pan out:
Large-scale energy storage facilities will place major demand on the VRFB market, with a projected CAGR for wind and solar of 58% through 2027.
As China moves toward its clean air targets, it will be a major buyer of VRFBs with estimates exceeding 50% growth per year through 2027.
The advantages of VRFB technology are low cost, safety, sustainability, flexibility, and low contamination. These can only improve over the next five years.
Analysts are also expecting the company to turn a profit within the next three years. If all goes well according to plan, there would be no reason that Bushveld Minerals could not establish a new ATH in excess of 50p by 2025, but, once again, mining companies are high risk. Anything can happen. Even the experts could be blindsided.
Is Bushveld Minerals' a Good Buy?
Is Bushveld Minerals Ltd a buy or a sell? Mining companies are notoriously unpredictable. They can shine like gold, or they can just as easily fall like a lead balloon. The management team, however, appears to be making the right decisions, and the market for its products seems to be expanding at a healthy clip. BMN could be a fun ride, but are you prepared to lose the price of your ticket in the process?
The Best Brokers to Trade Bushveld Minerals Stocks:
eToro:
68% of retail CFD accounts lose money
Take a look
If you are ready to add some Bushveld Minerals stocks to your portfolio you'll need a broker that is regulated, has low fees and a user-friendly platform. Finding one can be a daunting task, which is why we've selected some of our favourites that tick all of these boxes to help you get started.